Introduction
Last May I purchased a house by putting down 20% and getting a mortgage. In my opinion, this house is not an investment. I see it as a cost avoidance. I plan to live here for 10 or 11 years and it is less expensive than renting for 10 or 11 years.
Part of our family's financial goals are tied to the ability to have freedom later in life. To meet that goal, one of the success factors will be reducing expenses. A big piece of that success will be removing the cost of paying for housing (not housing upkeep -- just the mortgage). This portfolio exists to have the option to pay off the house in 10 years. I do not know if I will choose to pay it off, but I would like to have the flexibility to do so.
The goal of the article is to provide an update on the portfolio that will ultimately lead me to make a decision in the future on what is best at that time. I am leaning towards not paying it off directly, but a lot can happen in 10 years!
Portfolio Goal
The goal is to have a portfolio value of $350k by May 2025. I will be making roughly $250k in contributions over that time period in two monthly installments of $950 each. The return goal of this portfolio is based on a 6% market return. To increase my chance of success at reaching my goal, I will design the portfolio to have a 3% yield with 5% dividend growth.
The portfolio currently sits at a value of $42,726. This is ahead of the goal of $36,755. As you can see in the chart below, I took a nice dip with the market that almost caused me to be short of the goal. Even if I was short, my dividend income is on track and that will give me the flexibility I need to choose to pay my mortgage.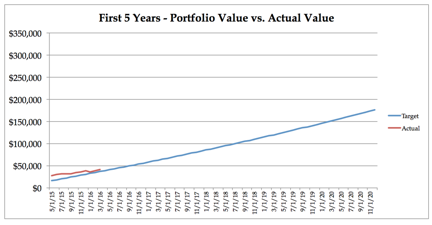 Q1 Dividends Received & Deposits
In Q1, I collected a total of $336 in dividends. Since this portfolio is new, I don't have a good year over year comparison. The best I can do is look at what I made in Q4. In Q4, I made $237 from dividends. There are a couple things that drove the increase in dividends.
The first is how DLR pays its dividend. They make their Q4 payment on 1/15 every year. The Q1 payment is on 3/31. Thus, I get 2 payments from DLR this quarter. This makes the quarter comparison look crazy. If I normalize that payment, then Q1 would be $331 vs. Q4 of $272.
In addition to the dividends collected, I added $5700 in cash contributions. This is done in $950 increments 2 times per month over 3 months. This makes up the majority of the difference in the 2 quarters compared in the paragraph above.
Dividend Increases
In Q1, like clockwork, I had raises from all companies that I expected to give me a raise. I also got a raise from GM that I was not expecting until the following quarter. The raises are as follows:
ABBV: 12%
BA: 20%
DLR: 4%
GM: 10%
TROW: 4%
Stock Sales
I made no sales during Q1.
Stock Buys
I made 3 purchases during Q1. I still have some cash on hand, but I will probably hold off, as I have not had time to take a look to what is available in the market. I will most likely just group those funds with Q2 deposits and dividends before making any buys.
| | | | | |
| --- | --- | --- | --- | --- |
| Company | Shares | Share Price | Dividend Yield | Estimated Div. Growth |
| MS | 75 | $26.00 | 2.3% | 10% |
| BA | 9 | $108.50 | 4.0% | 9% |
| TIF | 35 | $59.99 | 2.7% | 5% |
I have previously covered my interest in MS. I took advantage of the BA accounting "irregularity" to buy in at a dipped price. BA has since bounced back to a reasonable value of $127/share. I as able to lock in a 4% yield though! I have also written a couple articles on TIF (Here and Here).
I usually like to detail what I liked about stocks that I buy. Since I recently covered TIF, I will just give the short version:
They have been around for 175 years.
Current results are being hurt by the strong dollar.
This impacts US-based sales as well as foreign sales due to the amount of sales to foreign tourists visiting the United States.
FCF is strong and capable of coving the dividend (~40% payout ratio).
Credit Rating is something to keep an eye on: BBB+
It is going to be volatile so be ready to ride the rollercoaster!
>20% dividend growth over the 11 years it has been growing.
$150M left on share buybacks through 2017.
I estimated a price of $83/share based on FY17 EPS.
I was able to purchase shares at $60, but it currently trades 15% higher at $69.
Now might not be the best time to start a position.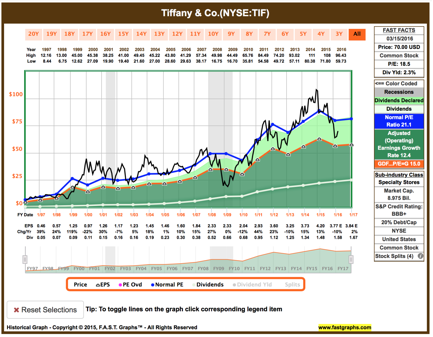 Source: FAST Graphs
Portfolio Holdings
The resulting portfolio has a current yield of 3.2%. This is greater than my 3.0% goal. The portfolio is set to kick off $1,365 in dividend income. This is up from my last report in November, which was $1,143.
The portfolio holds 17 different stocks. I think 20 will be about what I look to have in this portfolio. Right now, GM does not really count as I only have 3 shares.
Company

Ticker

Shares

Price

Market Value

Qrt. Divy

Exp. Income

Yield

AbbVie

40

$56.19

$2,248

$0.57

$91.20

4.1%

Ameriprise

18

$90.85

$1,635

$0.67

$48.24

2.9%

Boeing

9

$127.20

$1,145

$1.09

$39.24

3.4%

Cummins

26

$104.97

$2,729

$0.98

$101.40

3.7%

Digital Realty

40

$86.40

$3,456

$0.88

$140.80

4.1%

Gilead

65

$90.72

$5,897

$0.43

$111.80

1.9%

General Motors

3

$31.40

$94

$0.38

$4.56

4.8%

Intl Business Machine

12

$143.54

$1,722

$1.30

$62.40

3.6%

Johnson Control

89

$37.70

$3,355

$0.29

$103.24

3.1%

Johnson & Johnson

22

$107.37

$2,362

$0.75

$66.00

2.8%

Lexington Realty Trust

100

$8.36

$836

$0.17

$68.00

8.1%

Morgan Stanley

185

$25.40

$4,699

$0.15

$111.00

2.4%

Omega HC

80

$33.40

$2,672

$0.57

$182.40

6.8%

Target

28

$81.24

$2,275

$0.56

$62.72

2.8%

Tiffany

35

$68.96

$2,414

$0.40

$56.00

2.3%

T Rowe

30

$71.03

$2,131

$0.54

$64.80

3.0%

United Tech

UTX

20

$96.91

$1,938

$0.64

$51.20

2.6%

Cash

$1,118

Total Portfolio Value

$42,726

$1,365

3.2%
Conclusion
I am feeling pretty good about the portfolio that I have. Some of the picks are a bit aggressive on the growth side. I keep saying that I am going to add some conservative names to the portfolio, but in my opinion those have been bid up pretty aggressively in the last couple of months. I still want to lower the overall beta of the portfolio and will look to do that during Q2 if possible. Even with the current aggressiveness, I am on track in terms of my portfolio goal. I will continue to provide updates to this real time portfolio here on Seeking Alpha as an example of a real person making real transactions in real time. I appreciate all the feedback that was offered on the original article and any feedback going forward.
Disclosure: I am/we are long ALL STOCKS MENTIONED IN THIS ARTICLE.
I wrote this article myself, and it expresses my own opinions. I am not receiving compensation for it (other than from Seeking Alpha). I have no business relationship with any company whose stock is mentioned in this article.