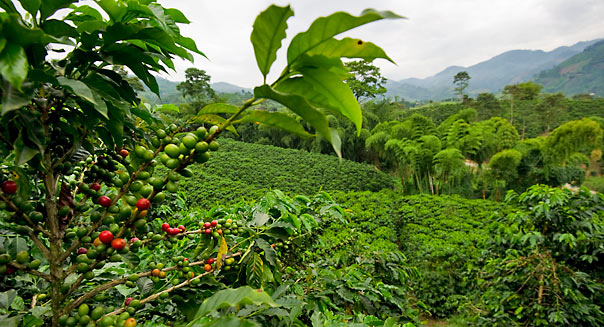 Watch out Starbucks (NASDAQ:SBUX), Krispy Kreme (KKD) and Dunkin' Brands (NASDAQ:DNKN), coffee prices are climbing! As you can see on the chart below coffee has started to rally strongly on concerns that demand is beginning to outstrip supply. When we last spoke about going long with iPath Dow Jones-UBS Coffee ETN (NYSEARCA:JO) we saw the $125 mark on Coffee C (Arabica coffee) as being the key level that the price needed to break through. Well, as the chart shows this happened and onwards and upwards it appears to be now. This is not great news for major coffee buyers. Although they will have hedged at present, they could start to see pressure on margins in the next couple years if prices continue to rise. Krispy Kreme is the one which we fear it could hurt most due to the low margins it works with. Rising coffee prices, and sugar prices too, will mean the company needs to decide whether to absorb the costs itself or pass it onto the consumer.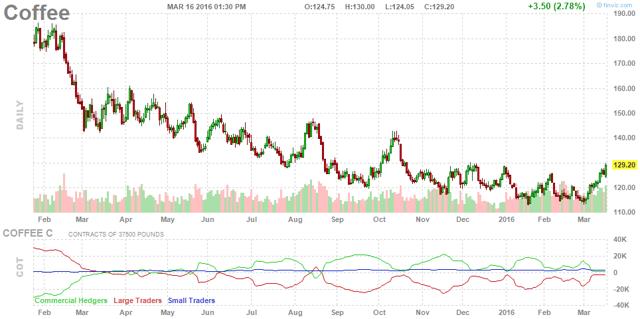 Sourced from Finviz.com
There has been a couple of reasons for the recent rise in the price of Coffee C. The events in Brazil which saw the arrest of former president Luiz Inacio Lula da Silva sent the Brazilian real higher, causing an increase in both sugar and coffee prices.
Additionally, Dutch multinational banking company Rabobank advised last week that it was considering increasing its coffee price forecasts due to its lower forecast for Brazilian coffee production. It is blaming dryness and pressures from pests for the expected lower production levels. This particular forecast is one that we really sat up and listened to and hope investors do also. The reason is that the bank conducted the largest crop survey ever conducted by a financial institution. So when they forecast production below market expectation, we feel quite confident this will be the case.
Many of the major coffee producers have had extremely dry weather since late last year thanks to the weather phenomenon known as El Niño. Although El Niño should fade away in the next few months, we will start to learn more about the extent of the damage it caused as the weeks go by. As news comes out of more and more damage we expect it to be the catalyst to taking the coffee price even higher.
The reason for this is because the demand in coffee worldwide is growing far quicker than we believe supply can cope with. We have spoken previously about the impressive success of Starbucks in China. This seems to be playing a key role in the International Coffee Organization's view that worldwide coffee consumption could be set to grow by 25 percent in the next five years. We don't believe there is much chance of supply being strong enough to cope with this level of demand if the current state of production doesn't improve quickly. We expect this to drive up prices considerably.
For this reason, we think investors could find profitable trades if buying in on any dips. As we explained last time, we took profit at around $124.00, as we were concerned about a sell-off, but earmarked $125.00 as the price to re-enter the market. We opened a new position when the price reached $125.00 and we now plan to hold for the long-term and set a price target of $150.00. This represents a gain of over 15% from the current level, which is very attractive in our opinion. In the longer-term we would expect the coffee price to go even higher than this. Investors with long time horizons could look to sit on their trades for 18 months or so. As demand outstrips supply for a sustained period we can see the coffee price rising back beyond the 52-week high of around $190.00.
Best of luck with your trades. We will keep you informed of our positions as and when changes are made.
Disclosure: I am/we are long JO.
I wrote this article myself, and it expresses my own opinions. I am not receiving compensation for it (other than from Seeking Alpha). I have no business relationship with any company whose stock is mentioned in this article.