A 10-year Treasury Inflation-Protected Security reopened today at auction with a real yield to maturity (after inflation) of 0.315%, 41 basis points below the yield of this TIPS at the creation auction - just two months ago on Jan. 21.
This is CUSIP 912828N71, a nine-year, 10-month TIPS with a coupon rate of 0.625%, which was set at the January auction. That means today's buyers had to pay a premium, an adjusted price of $102.67 for $100 of par value.
However, that price adds in a slight discount, because this TIPS will have an inflation index of 0.99702 on the March 31 closing.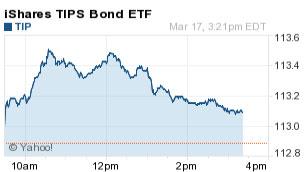 This was the lowest yield for any nine- to 10-year TIPS auction since March 2015, when a similar nine-year, 10-month TIPS went off with a yield of 0.2%. There have been six auctions of this type since last March.
But the yield was higher than looked likely at mid-morning, when the TIP ETF (the one-day chart is show above) was rising sharply. At that time, this TIPS was trading on the secondary market with a yield of 0.29% and a cost of about $103.18. But TIPS began losing steam as the day continued, resulting in the slightly higher yield.
Inflation breakeven rate. With a nominal 10-year Treasury currently trading with a yield of 1.90%, this TIPS gets an inflation breakeven rate of 1.58%, which is low, but up substantially from the ultra-low 1.30% of the original auction on Jan. 21. This indicates TIPS is gaining favor with investors, at least against nominal Treasuries.
Disclosure: I/we have no positions in any stocks mentioned, and no plans to initiate any positions within the next 72 hours.
I wrote this article myself, and it expresses my own opinions. I am not receiving compensation for it. I have no business relationship with any company whose stock is mentioned in this article.