That Rackspace (NYSE:NYSE:RAX) has pretty much given up on its fight against Amazon (AMZN) and Microsoft (MSFT) is an old story. The company is now trying to position itself as a managed cloud services provider. But is this a model that can actually replace its cloud income, considering that its revenue growth is pivotal at this point? I plan to show how Rackspace has found an effective niche that takes advantage of a glaring gap in the cloud IaaS offerings of majors like Amazon Web Services and Microsoft.
Not exactly a reenactment of the David and Goliath story - this is more of a "what if" version where David runs between Goliath's legs and makes friends with the entire army standing behind Goliath, thereby averting a war.
How Did They Get Here In The First Place?
The shift from offering cloud infrastructure as a service to offering cloud management services was not a subtle one. The company was clearly out of the race as far as Cloud IaaS goes because it can't and won't compete in the price wars up high in the cloud business. As I mentioned in my earlier article called Cloud Investing: Buy The Space, Not One Company, Amazon has already made a phenomenal 51 price cuts to its cloud offering, and with a 20%-plus operating margin, it has the power to go much lower to get clients on board.
Pricing in cloud services is extremely aggressive as each company tries to outdo the competitor by offering better services for lower pricing. But there's a flaw in that business model: there's really no margin to offer value-added services such as hand-holding the client as they migrate to the cloud or helping them manage the cloud once they've migrated.
So, instead of going into what could have become a self-destructive price fight, Rackspace is piggy-backing on the success of the cloud IaaS industry by offering cloud management to businesses that sign up with the majors.
In response to the gap left by AWS and Azure, Rackspace has been actively soliciting cloud clients and basically saying "who's going to manage this for you?" The response so far has been promising - it has recently racked up its first 100 AWS clients in a cloud management capacity.
But Wasn't It One of the First Companies in the Cloud Space?
Unfortunately, that's true. It's been in data center hosting and related segments since 1998 - way before Amazon even thought of getting into cloud infrastructure as a service. Rackspace started in the infrastructure business in 2003, but it was only in 2008 with the acquisition of Slicehost that the company entered the market as a virtual service host. It was around the same time that AWS was launched.
But the problem was with Rackspace's growth. In 2009, its total sales were $629 million. As of 2015, RAX reported an income of $2+ billion. While an 11.5% CAGR may not seem like a bad thing, as an industry pioneer, its growth should have been well into two digits - and increasing.
If you think that's just an opinion, take a look at the last segment of this table: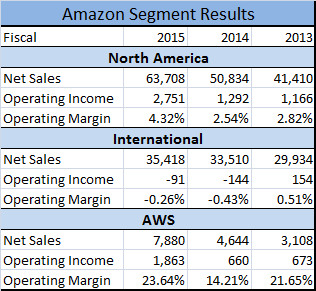 Source: Seeking Alpha
From $3.1 billion to $7.9 billion in just two years. That's what I'm talking about. After nine years in the business, AWS keeps delivering: 49% in 2014 over 2013, and then a whopping 69% the following year. Is there any doubt in anyone's mind that it'll deliver at least 50% over that in the current year?
And that, I believe, is the reason Rackspace is now taking a different approach. It simply didn't have the aggressiveness at the top to make this work, but I think current CEO Taylor Rhodes is the perfect person to take managed cloud services to new heights and rival what could - and should - have been its future in the cloud infrastructure business in the first place.
But don't take my word for it.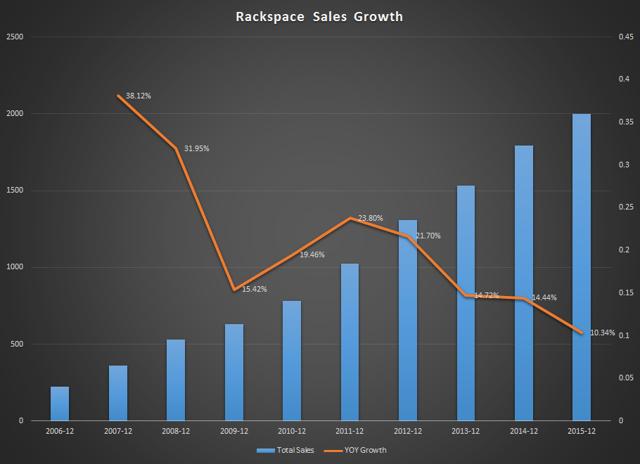 To really drive the point home, this is not the problem of a company showing slower top-line growth as it gets bigger: it's a classic example of the little fish being squeezed out of business by the big fry.
Will Its Managed Cloud Business Sustain Its Current Growth Level?
OK, so we've seen that it's not really hacking it in the cloud infrastructure world. But what about the new direction it's taken? How far have it come? Is it committed to it? Is the market big enough? Is it a growing market?
These are the questions you need to ask - and that I need to answer.
First of all, Cloud IaaS only reduces or eliminates the need for you to buy the servers and stack them in your premises. You still need your own people to manage those servers, and tech resources are expensive.
As an example, here's how the average salary of a cloud administrator has been trending over the past few years: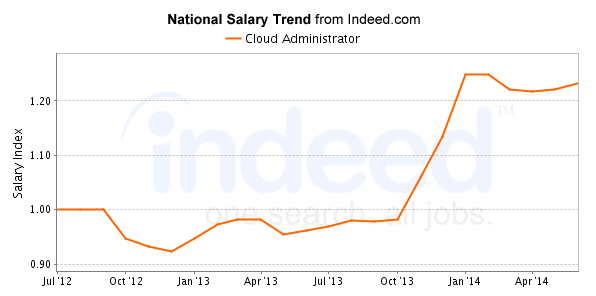 Source: Indeed
The average salary for this position in a place like Washington, D.C., is about $119,000 a year. A cloud engineer can command up to $129,000 a year. This is 25% higher than several other parts of the country, but averages are growing across the board.
Even if you take an average of $100,000 a year, a cloud infrastructure needs constant monitoring. A small business using such a service will need at least 2-3 resources to manage a 24/7 schedule. That puts the business out by at least $300,000 a year.
From a cost perspective for businesses, Rackspace's managed cloud offering certainly seems attractive. For a fraction of what they would have to pay in-house resources, every client of Rackspace gets qualified and experienced people managing their cloud.
What are Rackspace's Credentials? What are Its Recent Achievements?
Talk is easy, but what has Rackspace done toward getting there?
Great questions, all of them - even if I say so myself!
Obviously, in order to be able to attract clientele, Rackspace needs an edge - and that edge is in certifications and accreditations for the platforms it intends to manage as well as the growth of its client base.
So far, Rackspace has over 230 certifications from AWS as well as over 1,100 accreditations. It's an "advanced consulting partner" with AWS, it is AWS DevOps Certified and it is also an official reseller for AWS.
And as for Microsoft:
"Rackspace is a five-time Microsoft Hosting Partner of the Year, with hundreds of Microsoft Certified Professionals running over 500,000 seats of Microsoft Exchange and over 85% of worldwide hosted SharePoint licensing."
And it's not just Azure:
"Office 365 is powerful, but managing it can be a challenge. You don't have to hire your own experts - we already have them. Rackspace Managed Services for Office 365 adds premier support and advisory services to help you get the most out of Office 365.

Rackspace helps take the Office 365 management burden off of central IT by acting as an extension of your IT team. A dedicated Account Manager works closely with you to understand your business requirements for Office 365, and our team of Office 365 specialists assists you with almost every aspect of Office 365 administration-from migration, to deployment, to training for new features and upgrades. And you can rest easy knowing that Rackspace support for Office 365 is delivered with over 15 years of hosting experience and deep Microsoft hosting expertise."
And this is exactly where Rackspace wants to position itself: a highly qualified and competent managed cloud and services and applications provider for the top two cloud services in the world.
An even bigger advantage for potential clients is that Rackspace operates to the strictest Service Level Agreement and Customer Service standards in the world. It's not called Fanatical Support for nothing.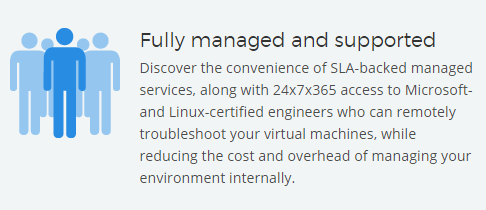 In terms of tangible results, this is what it has to say:
"We made significant progress on our strategic and financial goals in the fourth quarter, including the launch of Fanatical Support for the world's leading clouds," said Taylor Rhodes, CEO and president of Rackspace. We saw encouraging demand for our Fanatical Support for AWS offer, signing up our first 100 customers through the end of January. We intend to be the number one managed services provider for AWS, and we are well on our way toward that goal. Second, we showed that our business is becoming less capital intensive, resulting in higher free cash flow, which we continued to share with our stockholders through our buyback program." - Source: Rackspace Fourth Quarter 2015 Press Release
Investor-speak: BUY Like It's Going Out Of Style
I think RAX would be a great investment at this point. I know you're probably thinking: "Hey, but haven't stock prices been sliding the past 12 months?"
You're right, and under normal circumstances (read: if Rackspace had continued to go head on with Amazon and Microsoft for a share in the Cloud IaaS market), I would have a short interest in RAX. In fact, the market seems to be doing that now - although short interest has been fairly steady over the past year, it's still at a significant 10 million share level.
But I say buy. Why?
First of all, the company has moved into a business model with much higher margins, lower capex and, therefore, more free cash flow. It's still early days, but as a service provider with shared resources, it's going to be spending a fraction of what it would have been investing in servers and other hardware and licensing that it would need to run a cloud infrastructure business.
Second, it still has that component of the business, and that's the reason why its margins are still at around 10%. Over time, that margin will increase significantly as it on-boards more managed cloud customers and gradually shifts the bulk portion of its revenues to managed cloud and related services.
Third, will its revenues in this segment grow? Absolutely. With a 19.2% CAGR projected for the cloud IaaS industry over the next four years (at least), I'm looking at Rackspace matching or even doubling that kind of growth with its client acquisition over the next few quarters.
How can it grow faster than the industry it depends on? Well, think of the $40 billion already being spent on cloud infrastructure services. The majority of those clients moved to the cloud to cut their costs in the first place, so why wouldn't they consider cutting costs even further by having someone manage that service for them?
Rackspace has its credentials ready, it's clearly focused on exemplary customer support, and it's hitting on a virgin segment of an industry that's $40 billion now and expected to double over the next four years.
This will take some time, naturally, but that's all the time you need to get in while the stock is trading at a P/S of 1.4.
I think this is a calculated risk with potentially huge payoffs as long as - and that's my caveat - you're not in for the short term. RAX is the kind of stock you want to grace your tech portfolio for many years as it keeps adding to your returns - and also the kind you want to keep adding to your position until you've reached your investment limit or P/S starts to grow too high for your liking, whichever comes first.