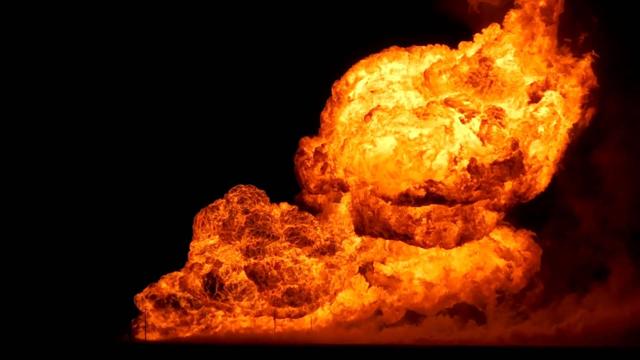 A natural gas pipeline explosion. The pressure will be high on natural gas this summer.
Natural gas (NYSEARCA:UNG) is already deeply punished as it is. Excess production is leading to high inventories and the situation wasn't helped by a warm winter. Greater demand for electricity production, exports to Mexico and now LNG shipments have not been able to contain the rising inventories.
Part of this was already known, when I wrote my article, Natural Gas: How To Play El Niño. We knew that winter was still likely to be warm, on account of the still fading 2015 El Niño. We also knew a respite could come around late March/early April as winter subsides, but surprising demand for electricity remains. This remains true.
However, winter was weak enough that inventories are now at a level that's uncomfortably high. Indeed, inventories are now over the five-year high of their range, up 67.4% from last year's levels and 48.3% from the five-year average: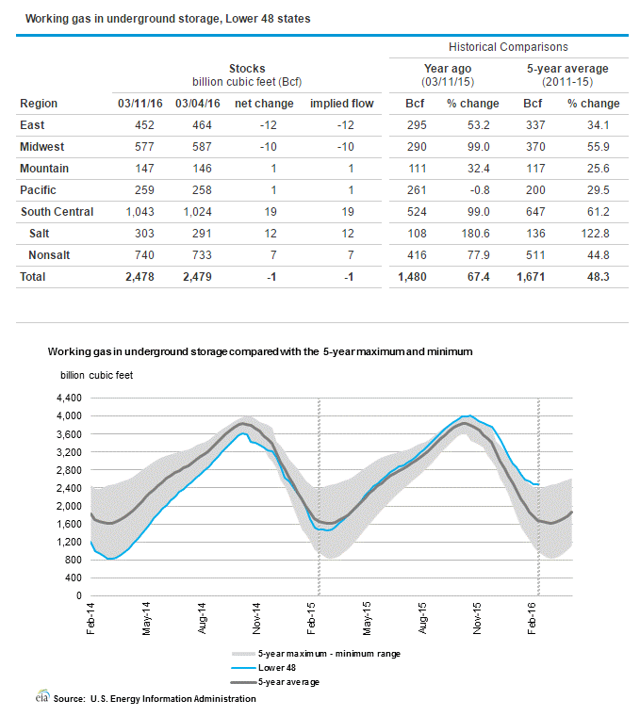 Source: EIA
These inventory levels are so high, they present a significant challenge to the coming injection cycle.
You see, the previous five-year high for these inventory levels was not that much lower from where they stand today. It came during 2012 when natural gas also bottomed during April. However, there are two major differences between now and 2012:
Difference #1 - First Large Instance Of Dispatch Switching
2012 was helped by the first large contribution to demand from dispatch switching. That is, during 2012 natural gas prices fell so hard, natural gas-fired electricity generation jumped ahead of coal-fired generation in the dispatch order in many different power markets. This led to a large increase in natural gas demand that previously didn't exist.
2016 cannot, however, count on as large as an increase in electricity-generation demand. This is so because 2015 already saw a significant such contribution - even if natural gas prices were, at the time, quite a bit higher than they are today.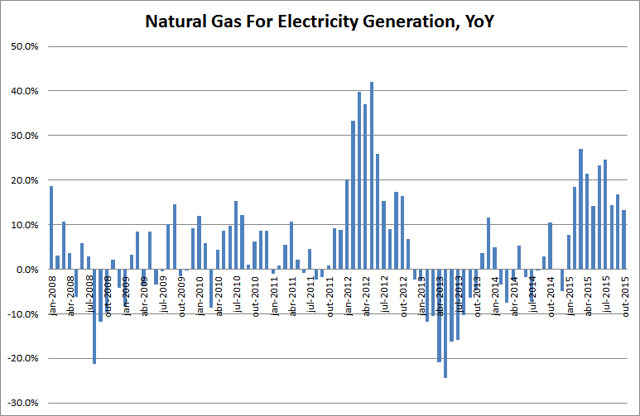 Source: EIA
(Take into account what's being highlighted here are the jumps early in the year - later on, summer is already helped not just by increased dispatch switching, but also by summer demand. That is, by summer there's also increased demand for electricity because of A/C use in particularly hot summers)
Difference #2 - El Niño
This is a major difference. 2012 came after a trough in a La Niña event that took place during 2010/2011. This meant conditions were favorable for a hot 2012 summer, and the hot 2012 summer did indeed happen and favor increased natural gas demand for electricity generation (to power A/Cs).
However, for 2016, the situation is quite different. We're coming from a very strong El Niño during 2015, and if this isn't a protracted El Niño (as El Niño events mostly aren't), then the likelihood is for 2016 to see a mild summer. Look at the following chart illustrating these points: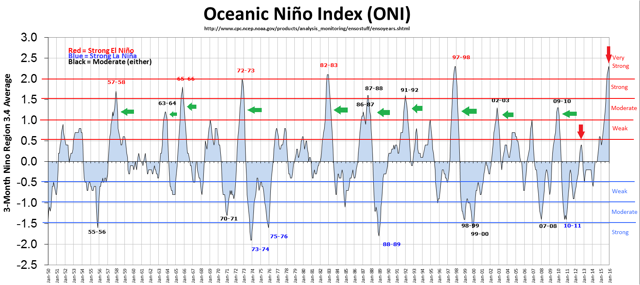 Source: GGWeather.com, based on original data from NOAA.gov, red and green arrows are mine
Green arrows represent large past El Niños. The first Red arrow represents what happened in 2012, and the second is pointing to the top of the El Niño we're currently in, before the predictable collapse that will take place right before summer. These are three-month averages so they lag a bit.
What this all means is that, in 2016, we probably cannot expect summer to save natural gas the way it saved it during 2012. As I've said in my previous article, there are indications that the summer after an El Niño year is subdued. This, in the context of the already existing strong inventories, becomes very relevant - as levels similar to today's have previously had the good fortune of being followed by a reasonably warm summer.
The Perfect Storm
The perfect storm for natural gas thus results from the already record natural gas inventories now having the likelihood of being met by a subdued summer.
Were that to happen - and the odds are that it will, but we don't have any certainties here - and indeed the perfect storm would take place during this summer.
By then, the market would realize that natural gas producers would be forced to shut in production. Such need would then collide with all the desperate natural gas producers on the verge of bankruptcy. Those producers would either:
Absolutely need the cash flow to survive or;
Have no chance but to sell the natural gas at any price due to existing transportation contracts.
Subdued demand meeting the need to sell without the possibility to store can then produce unimaginably low prices.
This event has a better than even chance of happening this year. If it does, the result in terms of coming (LOW) natural gas prices can be historic.