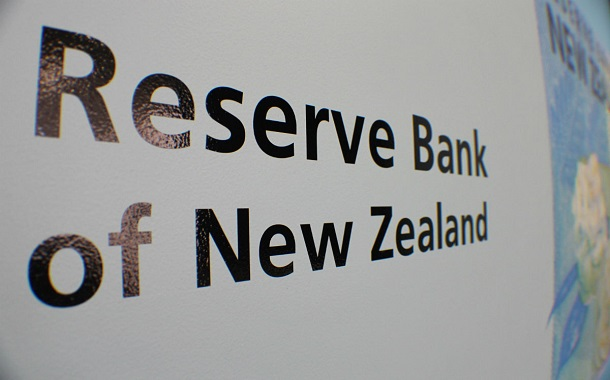 All the good that came from the Reserve Bank of New Zealand cutting its cash rate to a record low 2.25 percent has unfortunately been lost now following the Federal Reserve's decision not to do the opposite and raise its rates.
This is bad news for the New Zealand economy, which is in dire need of a weaker currency. As you can see on the chart below, the initial reaction to the surprise rate cut created the desired result, however now the currency is higher than where it was pre-cut and rates are lower. It really does make you wonder if central banks are losing the ability to control their currencies these days. You only have to look at the Bank of Japan and its inability to weaken the yen to see this.
Sourced from Finviz.com
This week New Zealand recorded GDP growth of 0.9 percent for the fourth quarter. This was the same rate of expansion as the previous quarter, and beat the consensus forecast of 0.7 percent. This meant after a disappointing first half, a better second half led to an annual increase of 2.5 percent. This all sounds very promising and there doesn't seem to be anything to worry about here.
But wait — while the services sector produced a strong reading with a 0.8 percent increase, helping to support household spending, there was a worrying contraction in both the manufacturing and agricultural sectors in the quarter, with agriculture contracting 1.7 percent. Also, a decline in business investment occurred despite construction spending increasing by a strong 2.5 percent. In our opinion this shows that the Reserve Bank of New Zealand is facing some major problems in agriculture, which are counteracting gains it is making in other areas. This is all down to the strength of the New Zealand dollar (NZDS) and the uncompetitive nature of its exports.
We believe at the next Reserve Bank of New Zealand meeting at the end of April the central bank will have little choice but to initiate further easing. This makes shorting the New Zealand dollar against the U.S. dollar a great play now in our opinion.
Supporting this view is the news that, like ourselves, there are few that believe the New Zealand dollar can sustain this strengthening we have been witnessing. The almost 10-month high could soon be a thing of the past if some market commentators are to be believed.
JP Morgan is of the belief that the New Zealand dollar will decline against its U.S. counterpart shortly. They believe that the recent resilience in the New Zealand dollar is nothing to worry about, and that structural and cyclical forces are aligned to force further depreciation on it.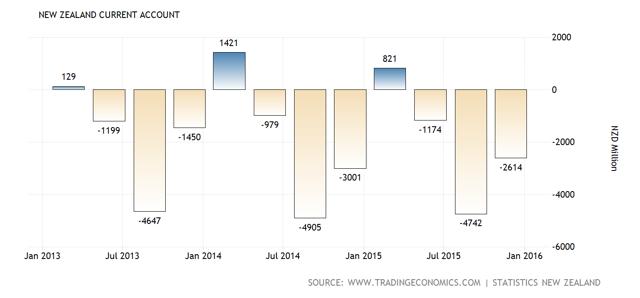 Sally M Auld from JP Morgan has stated that housing exuberance, rising credit growth, a negative and falling saving rate, and a widening current account deficit, as shown above, are headwinds for the New Zealand dollar.
JP Morgan is not alone in this thinking. Morgan Stanley is another company which expects the New Zealand dollar to weaken. It cites inflation as being the key reason, though. Believing that as inflation has missed the Reserve Bank of New Zealand's target since 2011, it will have to conduct further easing. Although not guaranteed these days, further easing should almost certainly weaken the New Zealand dollar.
We agree with analysts that expect the NZD/USD exchange rate to drop to 0.64 by the middle of the year. We believe it could drop even further should momentum shift. Because of this we are still shorting the New Zealand dollar against the U.S. dollar through futures contracts. It has been very resistant to declining, but we do feel it is inevitable. The next Reserve Bank of New Zealand meeting will surely result in the depreciation of the currency to a decent level, and then we believe the Fed increasing rates will start to pressure it into even greater declines.
Best of luck with your trades!
Disclosure: I/we have no positions in any stocks mentioned, and no plans to initiate any positions within the next 72 hours.
I wrote this article myself, and it expresses my own opinions. I am not receiving compensation for it (other than from Seeking Alpha). I have no business relationship with any company whose stock is mentioned in this article.
Additional disclosure: Short NZD vs USD futures