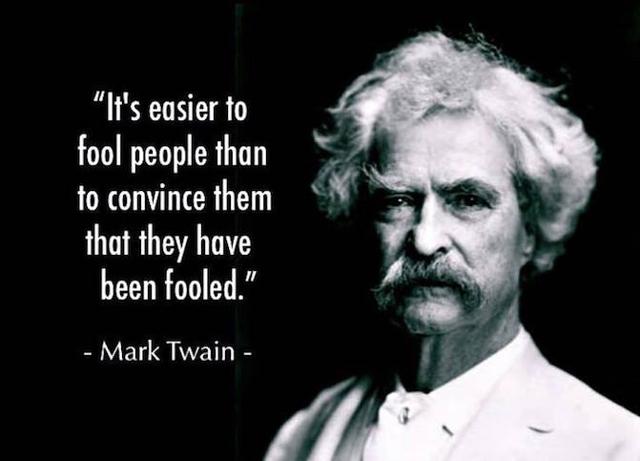 Silver has enjoyed a decent rally so far this year, with spot prices up 14.3 percent year-to-date, after falling 12 percent in 2015 to their lowest level since 2009. In this update, we wish to closely examine the sustainability of the current appreciation of silver prices by analysing the sentiment on the one hand and the fundamental picture on the other.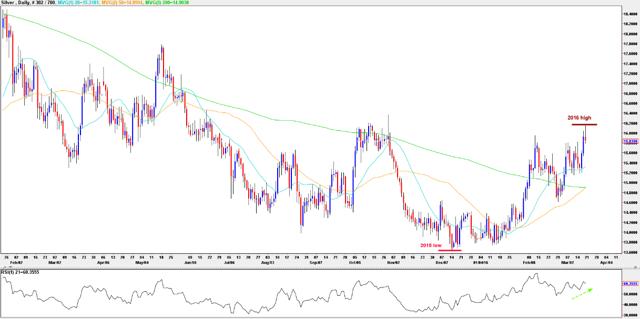 Source: NetDania
Note: All the figures reported are from the Silver Institute unless mentioned otherwise.
Improving Sentiment
We believe the main factor behind the current appreciation in silver prices is sentiment. This improvement in sentiment toward silver is evidenced by the sharp increase in net speculative long positions on the COMEX. According to the latest CFTC statistics, money managers, a relevant proxy for speculators, bought 197 moz in the first two months of 2016. This speculative buying is considerable when we take into account that money managers sold about 61 million ounces in the whole of 2015.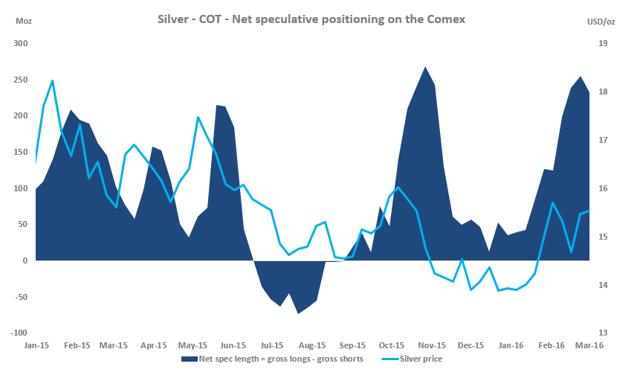 Source: CFTC
What has triggered a pick-up in sentiment? The historical economic behaviour of gold and silver prices suggests that silver tends to be driven by gold. Hence, we conclude that the factors behind the silver's rally have been similar to those driving the rally in gold prices, which by the way have climbed about 20 percent so far this year. Among the most important positive drivers, we note the weakness in the dollar (Box 1), the fall in US real interest rates (Box 2), the higher degree of risk aversion (Box 3), and the broad-based improvement in sentiment across commodities (Box 4).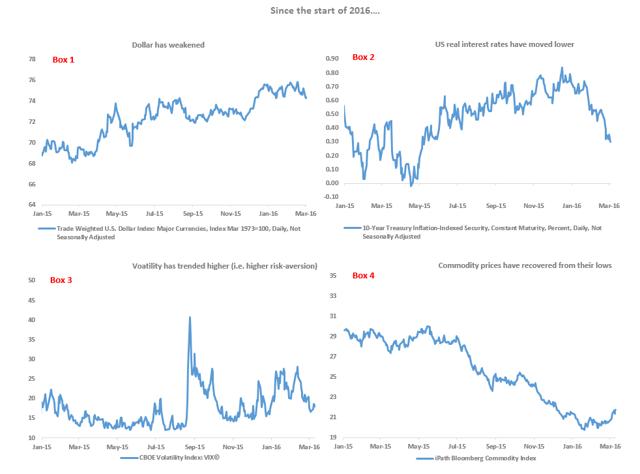 Source: Federal Reserve Bank of St. Louis, Bloomberg, Mikz Economics
Assuming The Rally In Silver Is Sentiment-Driven, How Long Will It Continue?
In a nutshell, we do not expect positive sentiment to last beyond the second quarter of this year. As we wrote in our Q1 Silver Outlook, silver should enjoy a recovery in the first months of the year, reflecting improved investor sentiment, before facing renewed downward pressure later in 2016 due to weaker industrial demand and lower gold prices.
We see a number of reasons behind a possible weakening sentiment over a 1-3 month horizon. First, US economic momentum is improving (solid employment gains, rising inflation), which should reinforce the divergence in monetary policy between the Fed (less monetary policy accommodation) and other major central banks (more policy accommodation, as it is the case with the ECB, which delivered this week at its March meeting a cut of 10 basis points in its deposit rate to 0.40 percent, a cut of 5 basis points in the minimum bid rate to 0.00 percent, and an extension of the QE program at 80 billion euros per month), and thereby drive the dollar and US real interest rates higher. Second, the financial markets are showing signs of stabilisation after being riled by turbulence earlier this year, which should logically reduce demand for safe-havens. Finally, positive sentiment toward commodities is unlikely to be sustainable because it seems to have been technically driven (i.e. overstretched spec positioning, oversold conditions...) rather than fundamentally driven (i.e. demand remains weak, supply ample).
Against this backdrop, we expect sentiment to start steadily weakening from the second quarter of the year. This would translate into renewed speculative selling on the COMEX as well as ETF selling (though modest given that the ETF holdings are predominantly held by retail investors with a kind of "buy and hold" philosophy), thereby depressing silver prices.
Over The Medium-Term, Industrial Demand Is A Major Driver For Silver Prices
Although it is tempting to view silver with "golden lenses", it is important to remember that silver is an industrial metal, with industrial demand accounting for about 54 percent of total silver demand.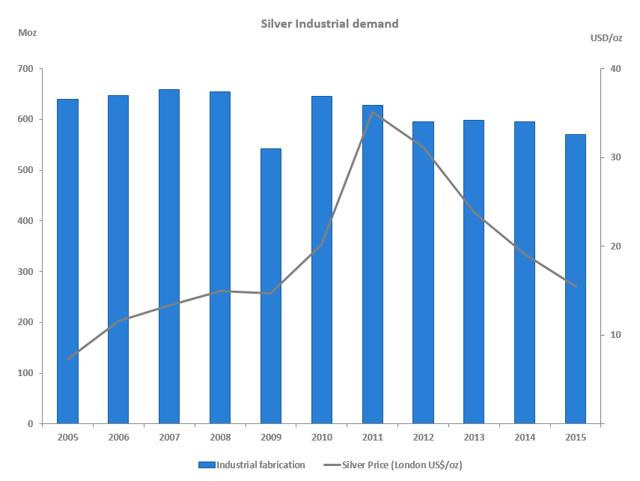 Source: GFMS
According to the Silver Institute, silver industrial demand fell for the second straight year in 2015 to 570.7 moz, down 4.1 percent y/y. Electronics-related demand, which accounted for 50 percent of silver industrial demand, fell to 296 moz, down 4.0 percent y/y, reflecting weaker industrial demand growth, especially owing to the slowdown in China. Solar power-related demand, which accounted for 12 percent of silver industrial demand, rose to 71 moz, up 15.0 percent yoy, reflecting the increasing importance of solar power as a global power source.
Contrary to the Silver Institute, which expects silver industrial demand to rise modestly in 2016, we think industrial demand is set to weaken further this year because weaker industrial demand growth, especially from EM economies, will continue to drive silver demand lower and that solar power demand will rise at a smaller pace than last year and will not be able to offset weakening electronics-related demand.
Will Monetary Demand Put An End To The Silver Bear Market?
To put it bluntly, we think the answer is no.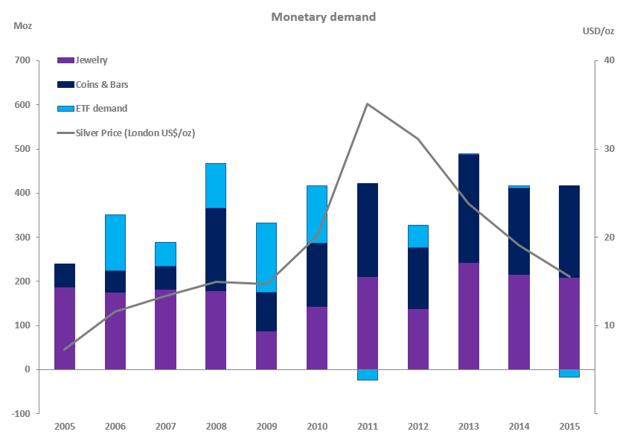 Source: GFMS
Coins and bars, representing about 20 percent of total silver demand, rose to 206.5 moz in 2015, up 1.4 percent y/y. The pick-up in demand came largely from coins, which accounted for 130 moz (including 47 million ounces of American Silver Eagles sold by the US Mint), while bars, amounting to 76.5 moz, were broadly unchanged according to some sources. We expect silver demand from coins and bars to remain at elevated levels this year amid a positive retail investor appetite.
Jewellery demand, representing 25 percent of total silver demand, fell to 280 moz last year, down 2.0 percent y/y. Stronger demand from India and other EM countries was more than counterbalanced by weaker demand in China, which represented 16 percent of silver jewellery demand. We expect jewellery demand for silver to pick up only slightly this year, mainly driven by a boost in buying interest triggered by lower silver prices.
Finally, ETF demand for silver was negative last year at -16.3 moz, principally driven by a negative macro environment for commodities (i.e. rising real interest rates), following positive demand of 5.8 moz in 2014, 2.6 moz in 2013, and 51 moz in 2012. Importantly, the fall in silver ETF holdings since 2011 has been relatively modest (both on an absolute level and relative level (i.e. vs. gold)). So far this year, ETF demand has rebounded, up 9.79 moz ytd, with most of the buying taking place in March. Nevertheless, we expect ETF holdings to remain relatively sticky (as they have been somewhat since 2013) insofar as a dominant part of these holdings are held by retail investors with a "buy and hold" philosophy.
Taking all together, although monetary demand could slightly pick up in 2016, we do not think that this will be able to offset the fall in industrial demand that we currently expect.
What About The Supply?
Global silver supply fell to 1,014 moz in 2015, down 3.3 percent y/y. Mine production, which accounted for 85 percent of total silver supply, rose marginally to 867.2 moz, up 0.3 percent y/y. But scrap production, which corresponded to 15 percent of total silver supply, fell to 147.2 moz, down 20.0 percent y/y.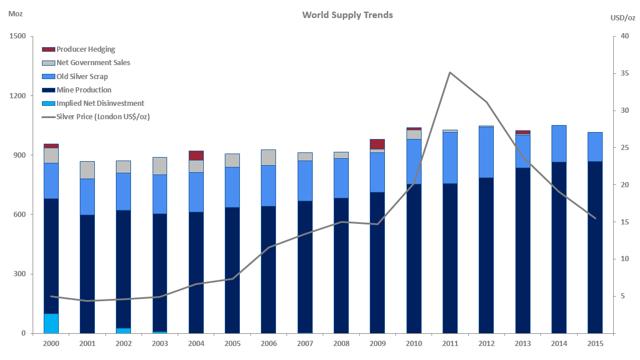 Source: GFMS
We expect global supply silver to fall further in 2016. First, mine production could decline for the first time since 2002, reflecting, on the one hand, a lower by-product output from base metals (75 percent of mine supply) on large production cuts in base metals, and on the other, a weaker primary mine production amid fewer capacity expansions at existing operations. Second, scrap supply should continue to fall because the current low price environment makes the recovery of silver from industrial products unprofitable.
iShares Silver Trust ETF (NYSEARCA:SLV) Positioning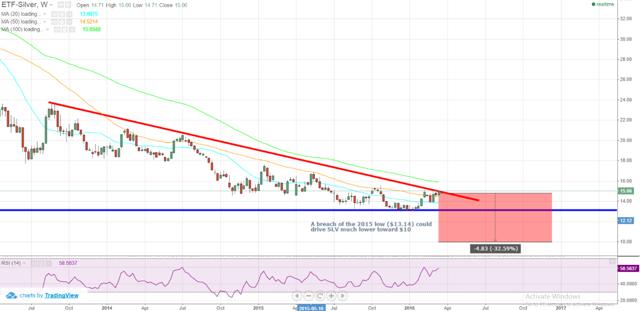 Source: TradingView
As can be seen in the above chart, SLV is at a crucial juncture. From a technical perspective, SLV is overbought, which suggests that a consolidation from current price levels is likely. In addition, the downtrend line (red) drawn from 2013 could prevent SLV from rising by exerting downward pressure on the ETF.
In this case, a sharp sell-off in SLV could occur in the weeks ahead toward crucial support at the 2015 low of $13.14. In an extremely bearish scenario, a break of this key support could send SLV much lower toward $10, which represents a downside risk of 32.59 percent.
Against this backdrop, we are inclined to think that the bear market is not complete and the room for further appreciation in SLV seems to be limited.
We forecast SLV to trade around $10-12 in the coming months.
Conclusion
To sum up, the recent rally in silver prices has largely been driven by sentiment, but we do not view it as sustainable given the weaker fundamental picture. Indeed, we believe downward pressure stemming from weakening industrial demand will more than offset upward pressure from strengthening monetary demand and tightening supply. Against this backdrop, we expect weakness in silver prices to re-emerge in the second half of 2016.
Disclosure: I/we have no positions in any stocks mentioned, and no plans to initiate any positions within the next 72 hours.
I wrote this article myself, and it expresses my own opinions. I am not receiving compensation for it (other than from Seeking Alpha). I have no business relationship with any company whose stock is mentioned in this article.