Lululemon (NASDAQ:LULU) is one high-end clothing retailer truly embracing the power of technology in a bid to become a global market share leader in the growing activewear clothing category. The company has recently made significant strides in increasing sales through its direct to consumer platform, and this is one of the bright spots we would like to highlight in our assessment of Lululemon as a long-term holding.

Total Revenue and Earnings Growth
Lululemon has experienced continued growth in revenues (14.4% YOY to Q3), driven in part by increased sales of pants and bras. Lululemon's recent promotion of Lee Holman to creative director has garnered attention from the market, which has anticipated the new product lines and designs scheduled to be released this fall will further enhance top- and bottom-line growth.
Lululemon has continued to make large investments in new technologies and personnel to further enhance growth, as shown in its significant (20.5%) increase in SG&A expenses YOY. The decline in income from operations YOY is due largely to the major investments in website redesign, management reorganization, and technology (new RFID systems).
Despite the drop in unadjusted net income, Lululemon has benefited from a strengthening U.S. Dollar, as the majority of company revenues come from outside Canada, where the business is domiciled. Lululemon's cost advantage arising from SG&A expenses largely denominated in CAD with revenues denominated primarily in USD and other foreign currencies will continue to provide the company with tailwinds moving forward. Adjusted comprehensive income year-over-year is actually up 68% and year-end results which are scheduled to be released at the end of March are expected to reflect a similar trend.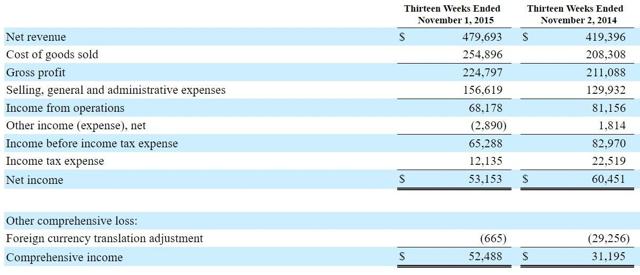 Source: Lululemon Q3 2015 results.
In-Store Revenues and Growth Model
Lululemon's business model has been traditionally built upon in-store sales in corporately-owned stores, with additional revenue streams coming from third-party sales and their direct to consumer channel. In-store sales have been relatively robust, and new locations (including Lululemon and Ivivva brands, excluding franchises) continue to be opened at a rate of approximately 17% per year (for the first three quarters of 2015), financed solely with cash from operations. Additional store openings and increasing in-store revenues are expected to continue to grow at the 15% range in the medium-term, although we expect the biggest long-term growth driver for Lululemon undoubtedly being their rapid expansion of the direct to consumer channel.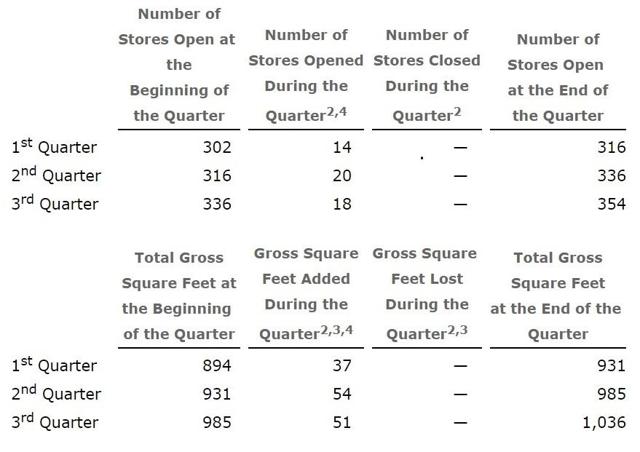 Source: Lululemon Q3 2015 results.
Direct to Consumer
The direct to consumer channel has grown substantially since the development and launch of Lululemon's new website which is tailored toward direct to consumer sales, supported by new RFID technology which gives the company greater control over inventories held both at stores and distribution facilities. Changes in revenues (adjusted for foreign exchange rates) for the D2C channel show increases in revenue consistently above 20%, an incredible feat in the world of retail.

Source: Lululemon Q3 2015 results.
Increased traffic and conversion rates on Lululemon's e-commerce website have driven the increase in D2C sales. Although the average order value is lower than in-store sales, Lululemon's marginal increased revenue realized through servicing smaller orders from areas underserved by Lululemon retail stores has provided a substantial revenue boost which we anticipate will continue in the long-term.
Lululemon is currently ranked #108 out of the top 500 internet retailers, taking advantage of a global website redesign which has boosted the retailer's ability to personalize content to geographical regions of the world. Analytics obtained from website revenues also provide Lululemon with validated market data for new market expansions, which are another fantastic revenue driver for Lululemon. We expect international expansions to continue, and further enhance revenues and earnings moving forward.
RFID Technology Implementation
The RFID technology implemented to track Lululemon inventory at the retail and distribution levels is expected to provide a significant incremental improvement in operational efficiency. CEO Laurent Potdevin has said, "This technology is a powerful new tool in creating seamless guest experiences across all channels and has greatly enhanced our ability to access inventory quickly across all channels and locations." Forward-looking innovations such as the recent RFID implementation speak to Lululemon's commitment to both physical and e-commerce global expansion, allowing the company to accelerate testing on how to continue to improve the guest experience in existing markets and explore additional testing of new market expansions.
Global Expansion
Europe and Asia continue to be two markets in which Lululemon is actively expanding. CEO Laurent Potdevin has spoken to the need for international expansion in the company's long-term growth plan:
In the second week of Q4, we launched our shop-in-shop on Tmall, a web shopping portal operated by Alibaba Group Holding Ltd. (NYSE:BABA), attracting 165,000 unique visitors on the first day, clearly validating the strength of the platform as key to building our brand awareness in China.
Additional successful expansions into new markets such as South Korea have "far exceeded expectations," and the 83 showrooms operated by the company, largely in emerging markets, will continue to provide data on market interest in specific regions where further in-store and e-commerce expansion iis expected to take place.
Conclusion
Lululemon is growing its dominant market position in the activewear clothing segment through both technological innovations and continued reinvestment of cash flows from operations into new store openings and a newly designed e-commerce platform. We expect revenue and earnings growth to continue in both the short and long-term and are bullish on this company.
Disclosure: I am/we are long LULU.
I wrote this article myself, and it expresses my own opinions. I am not receiving compensation for it (other than from Seeking Alpha). I have no business relationship with any company whose stock is mentioned in this article.