Vale (NYSE:VALE) had a tremendous run in the past weeks. After falling to a low close to $2 in February, the stock gained more than 100% until early March when it briefly touched $4.50.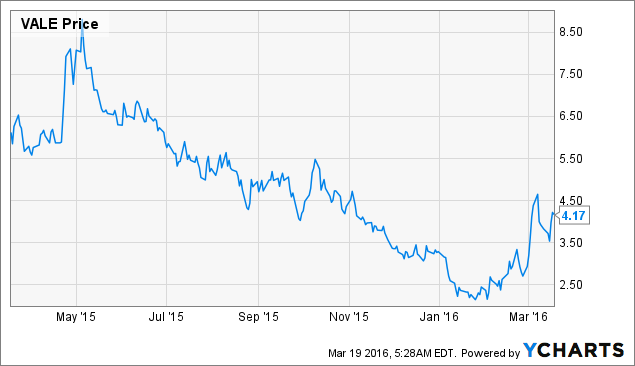 The driver behind Vale's rally is the iron ore price. After dropping below $40/dmt (dry metric ton) in December, the commodity started a quick an unexpected recovery mid of February which lifted the price briefly above $60/dmt. Since then, iron ore fell back, but still successfully defends the $50 mark.
Cash commodity price [$]/ton for Iron Ore, 62% Fe CFR Tianjin China

Source: The Steel Index via quandl.com
In this article I will discuss some of the most important key aspects which will influence Vale's performance going forward. Unfortunately for Vale, many of them are external factors which are beyond the company's control. Vale's primary target for 2016 is to generate as much cash as possible to fund the S11D expansion project and to avoid a further increase of debt.
Iron Ore Price
The most obvious and most important factor for Vale is the iron ore price. There is no way to deny it: Vale's fate depends solely on this commodity. Most market participants are pessimistic and expect a continued decline after the surprising rally in early March. Fundamentally, the market is still oversupplied, and demand from China, the by far largest consumer of iron ore, is stagnating at best. Common sense tells that prices have to come down again, but the crucial question is to which level. I believe that $45 to $50 is a range Vale can live with, but a price below $40 for a longer period of time continues to burn an even larger hole in the company's already empty pockets.
With a production volume of 350 mmt (million metric tons) per year, a $10 difference in price realization has an impact of $3.5B on the company's EBITDA and cash flow in one or the other direction. Using Vale's $32/dmt total costs delivered to China in Q4/15, and assuming an average realized price of $50/dmt, the company would generate an annual EBITDA of about $6.3B in the Ferrous Minerals segment. If the average price fell to $40/dmt, the EBITDA would drop to $2.8B.
Exchange Rates
Vale became the lowest cost iron ore miner in the third quarter of 2015. This is partly the result of the company's efficiency improvement measures, but even more because of the dramatic decline of the Brazilian real. The C1 cash costs FOB port per wmt (wet metric ton) for iron ore fines ex-royalties were further reduced to $11.90 in Q4/15 while costs in BRL were actually slightly higher (BRL 45.6 vs. BRL 45.2 in Q3/15). In the first quarter of 2016, the negative currency trend has somewhat reversed and the real stabilized below 4 BRL/USD.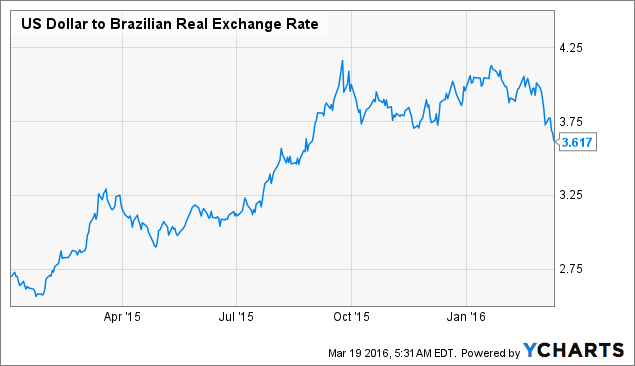 At the present level, no further tailwinds from exchange rate effects can be expected, and it is very well possible that Vale's cash production costs in dollars could rise again in the first or second quarter of 2016.
The USD/BRL exchange rate also has an impact on capex, primarily the costs related to Vale's S11D project which stands for the larger share of the company's capital expenditures. As the company reports in dollars, but costs are mainly denominated in reals, Vale would suffer from a more unfavorable exchange rate.
Shipping Costs
Shipping costs are possibly the main lever in order to reduce Vale's landed costs in China. Vale has the advantage of being the lowest cost iron ore miner, but compared to its major competitors which are located in Australia, the company currently has a significant transportation cost disadvantage which outweighs lower cash production costs. Lower bunker fuel prices as a result of the oil price drop already helped Vale to some extent to reduce this gap. Nevertheless, due to bunker fuel hedging and fixed contracts, the company did not benefit from lower oil prices as much as one could expect.
Vale decided to hedge against rising oil prices in the past which means that the company benefits from lower bunker fuel prices or freight rates now, but has to recognize losses from hedging. Depending on the type of contract (CFR or FOB), the hedging losses either increase COGS or negatively impact the financial result. Vale has no open positions which will affect the CFR deliveries in 2016 anymore, but in Q4/15 these hedges increased COGS by $2.5/ton. On the other side, open contracts related to the FOB business will continue to have an impact on the financial result in 2016, but this effect will also diminish as more and more positions will be settled during the year.
Vale's current average freight rate of $14/ton in Q4/15 is still high compared to the spot rates. As more and more freight contracts at higher prices will expire throughout 2016, Vale will be able to negotiate better rates. In addition, Vale plans to increase the percentage of spot versus fixed rates.
Cash Flow, Capital Expenditures and Divestitures
Cash flow remains the key word for Vale going forward. The company will almost certainly have to deal with another cash flow gap in 2016, unless commodity prices recover unexpectedly. Operational cash flow does not cover capital expenditures, primarily the project expenditures related to the S11D mine. In the FY15 conference call, Vale guided towards reduced capex of $5.5B in 2016, $700M below what was announced in December. Vale has already suspended the 2016 dividend which brings some relief and is still trying to raise cash through sales of non-core assets.
A new development is that Vale is also considering to sell core assets for the first time. After the release of the 2015 results, Vale's CEO said that the company plans to reduce net debt to $15B from the current $25B within 18 months. Vale is "actively exploring more aggressive actions for this deleveraging, including the sale of core assets". However, the goal of raising $10B through asset sales sounds highly ambitious in the current commodity price environment.
If Vale really intends to substantially deleverage or if commodity prices return to the depressed level of late last year, the company might have to consider the issuance of new shares, although Vale has avoided to discuss this option so far.
The Fortescue Metals Group Alliances
After talking about core asset sales, the announcement about a possible deal between Vale and FMG (Fortescue Metals Group), the world's fourth largest iron ore miner, which includes the option of Vale buying up to 15% of FMG shares, surely came as a surprise.
The rationale behind the deal is blending FMG's low quality iron ore (58% iron content) with Vale's higher content grades to match the standard 62% quality. FMG currently has to sell its ore for a higher discount than the calculative 6.4% difference reflecting the lower iron content. Vale on the other side cannot fully realize the higher price that some of its high grade ore should theoretically fetch. The quality of the iron ore from Vale's different production systems varies, and the Northern System currently has the highest grade with 66-67%. The new S11D mine which is expected to become operational by the end of the year will also produce higher iron ore grades with a content of 66%.
FMG's average price realization stands at 85-90% versus the 62% benchmark grade. Assuming an index price of $50/dmt, a 1:1 blend of FMG's and Vales products should fetch exactly $50/dmt compared to $43.75/dmt for FMG's (@ 87.5% price realization) and an assumed $52/dmt for Vale's premium ore. Two tons of the blend would fetch $4.25 more than one ton of each of the individual products. This leaves a theoretical gain of $2.13/ton, before blending and additional transportation costs. It is also not yet known what the volume of the blended product could be, but based on my former estimation, the joint approach is not likely to have a significant impact on Vale's or FMG's performance.
Conclusion
2016 is a crucial year for Vale, and from all what we have seen so far, the share price will remain volatile. The company needs to deliver in time and on budget on the S11D project which will help to increase Vale's competitiveness. In 2017 capital expenditures will be significantly lower, lifting some weight from the company's shoulders. Raising cash by any means will remain the goal for the rest of 2016 in order not to rely on asset sales, the credit markets or even worse on a capital increase.
Disclaimer: Opinions expressed herein by the author are not an investment recommendation, any material in this article should be considered general information, and not relied on as a formal investment recommendation. Before making any investment decisions, investors should also use other sources of information, draw their own conclusions, and consider seeking advice from a broker or financial advisor.
Disclosure: I am/we are long VALE.
I wrote this article myself, and it expresses my own opinions. I am not receiving compensation for it (other than from Seeking Alpha). I have no business relationship with any company whose stock is mentioned in this article.