This is one of the articles I did not expect to write. Growth slowing started in 2014 and resulted in contraction a few months ago. However, things are changing a bit - to the better.
First of all we saw a better than expected ISM print a few weeks ago, which was a huge relief for stocks. If we add the new regional PMI surveys, we see further strength. The chart below shows the comparison between the ISM Manufacturing Index and the Empire State Manufacturing Index.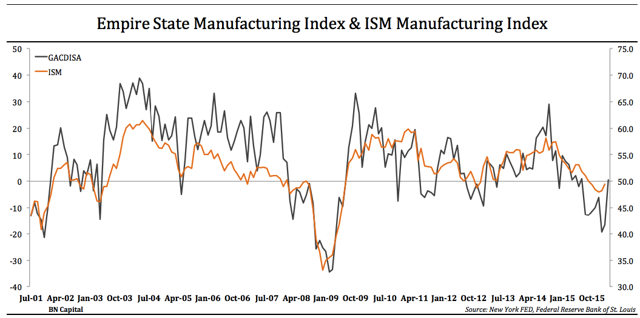 Source: BN Capital
New Orders soared to 2013 levels.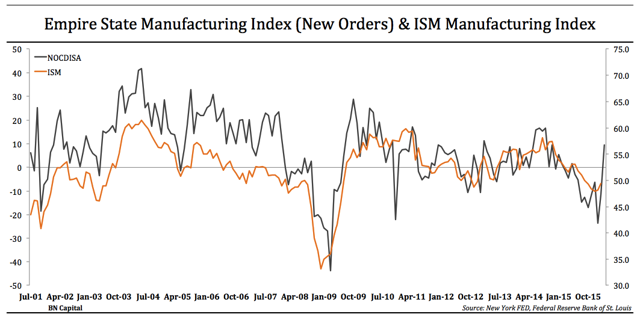 Source: BN Capital
Please note that regional surveys are way more volatile than the ISM Index which is not surprising since the ISM Index covers the entire US. Nonetheless we witness a huge jump in the Empire State Index. I believe that the ISM Index will stay around these levels a little longer before falling again. The next ISM print could be above 50 next month.
The Empire State Shipment Index soared to 2014 highs. At these levels, transportation stocks like United Pacific UNP almost look cheap.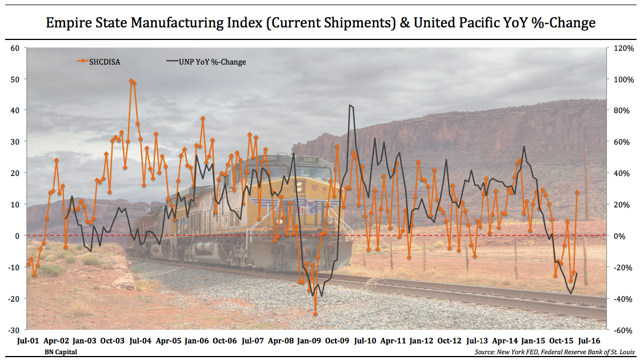 Source: BN Capital
Transportations are signaling further strength. The ratio spread consisting of transportations and the Dow Jones Industrial Average show a strong RISK-ON sentiment (SPDR S&P Transportation ETF XTN, SPDR Dow Jones Industrial Average DIA)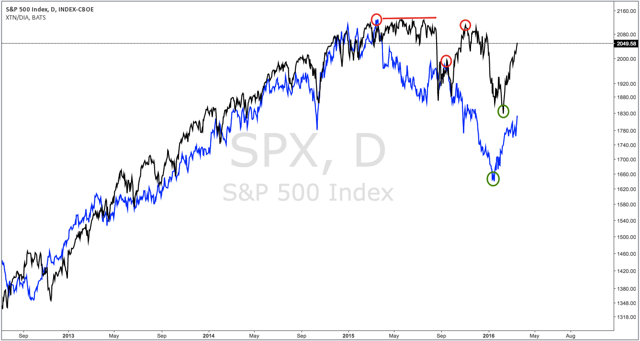 I believe that stocks have to potential to surge further. It seems that growth is returning and transportation stocks look cheap at current levels. However, I've written a few articles regarding the long term picture and think strongly advise you to hedge any long positions.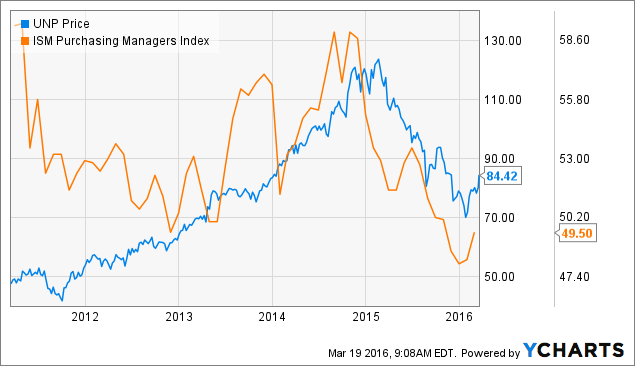 For the short term however, I think UNP is able to soar above 90 USD. When it comes to the mid and long term picture we will get confirmation or denial after the next ISM print.
Disclosure: I/we have no positions in any stocks mentioned, and no plans to initiate any positions within the next 72 hours.
I wrote this article myself, and it expresses my own opinions. I am not receiving compensation for it (other than from Seeking Alpha). I have no business relationship with any company whose stock is mentioned in this article.