Introduction
I used to like B2Gold (NYSEMKT:BTG) in the past, but I was a little bit reluctant to back the company after seeing how much it paid for the Fekola asset in a deal with Papillon Resources (OTC:PAPQF). In a previous article, I argued the company paid approximately the NPV for the asset, which means any additional value creation would have to come from an increase in the gold price. This doesn't mean I started to dislike the company. I continued to keep an eye on B2Gold, and the recent updates were pretty interesting.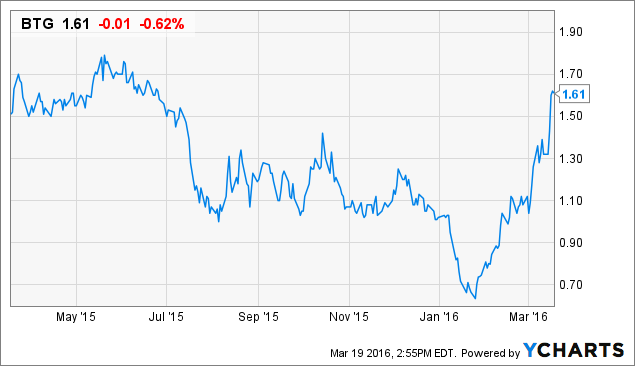 BTG data by YCharts
B2Gold was treading water in 2015, which isn't necessarily a bad thing
2015 was the seventh consecutive year wherein B2Gold was able to break its own production record. Last year, the company produced almost 495,000 ounces of gold, a 26% increase compared to the previous financial year. This obviously also resulted in a very nice increase in its revenue, as the higher production rate compensated for the lower gold price.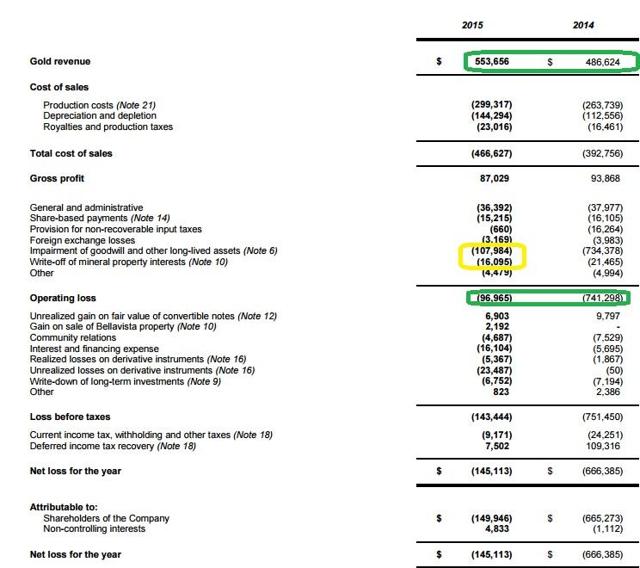 Source: Company Financial Statements
The total revenue increased by almost 15% to $553M, and despite the increased production costs, the gross profit remained relatively stable. This wasn't sufficient to ensure a positive operating income, as an $108M impairment charge caused the company to report an operating loss of almost $97M. Excluding the impairment charges and write-offs of its exploration properties, the operating income would have been positive at $27M for an operating margin of approximately 5%. That's still not great, but it would indicate B2Gold is able to keep its financial situation under control.
If you're generating an operating loss and don't have a net cash position (which could generate a positive financial income), you can't expect a company to write black numbers (unless there's a tax benefit). That was also the case with B2Gold, and its bottom line is showing a net loss of $145M attributable to the company's shareholders. That's a net loss of $0.16, and it's not really extremely bad considering the weak gold markets and the start-up of the Otjikoto gold project in Namibia.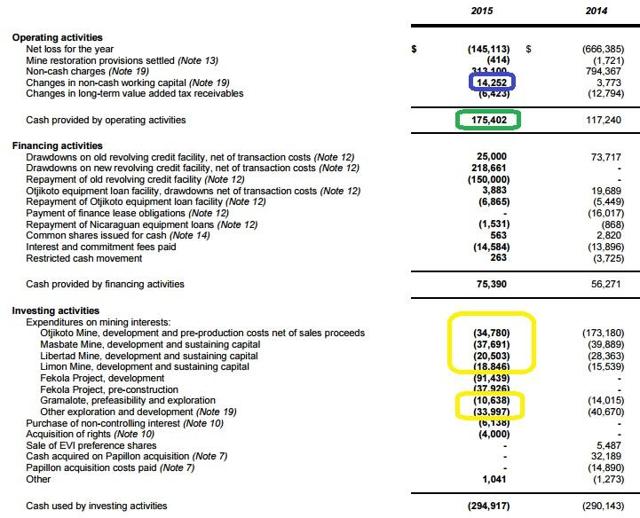 Source: Company Financial Statements
Okay, B2Gold was able to do some damage control on its income statement, and the majority of its net loss was caused by non-cash impairment charges. Moving over to the cash flow statements, you can clearly see the company generated $175.4M in operating cash flow, which was approximately $161M on an adjusted basis (as I prefer to deduct the changes in the company's working capital position. That's an excellent performance and almost 50% better than the operating cash flow of $114M in FY 2014.
After deducting the total capex on its properties (excluding Fekola, as the cash spent at Fekola should be seen as growth capex and not as sustaining capex, considering the mine is still being built), the free cash flow status of B2Gold was pretty decent, and the company generated a positive free cash flow of $4M (which also includes the slightly higher capex numbers at Otjikoto, where a part of the $35M net capex was growth capex rather than sustaining capex).
The $200M financing commitment for Fekola was definitely necessary and reduces short-term worries
I don't think anyone could be unhappy with B2Gold being essentially free cash flow-neutral in a sub-$1200 gold price environment, but as it also spent $130M on the Fekola project, the market was damn well aware of the company's need for additional (external) funding to complete the construction activities at Fekola.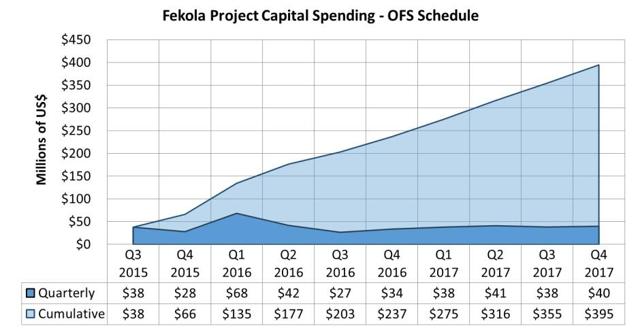 Source: Company Presentation
As of at the end of last year, B2Gold's working capital position decreased to just $105M, of which just $85M was cash, so "something" had to be done, and the company was able to reassure the market after signing a $201M financing deal.
One part of the deal consists of a $120M pre-paid gold facility provided by a banking syndicate led by HSBC. That's a good deal for B2Gold, as it probably is the most cost-efficient way to fund the Fekola project, considering the company already has almost $500M in debt on its balance sheet. As consideration for the $120M pre-payment, B2Gold will have to deliver 43,100 ounces of gold in both 2016 and 2017 in return for receiving a first tranche of $100M in cash. The total number of ounces that will have to be delivered was based on a forward pricing scenario based on a gold price of $1248/oz. Keep in mind, this is NOT a gold streaming deal on the Fekola project, as HSBC has stipulated B2Gold will have to deliver the gold anyway from any of its operating mines. So, even if the Fekola mine gets delayed or doesn't ramp up as fast as possible, it will still have to deliver 43,100 ounces of gold in 2016.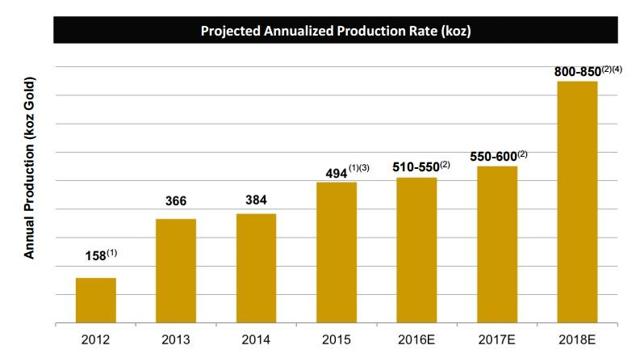 Source: Company Presentation
A second part consists of an equipment financing deal with Caterpillar (NYSE:CAT). Caterpillar is providing a $81M equipment facility, repayable in 20 equal quarterly installments. This deal is a win-win situation for both B2Gold (access to relatively cheap funding) and Caterpillar (increasing its sales numbers, whilst receiving a decent interest rate on the facility (EURIBOR + 3.85%)).
Investment thesis
B2Gold is slowly working towards opening the new Fekola mine in Mali, and the additional cash infusion of up to $201M will definitely help to cover a large part of the anticipated $233M budget for Fekola this year. Fekola remains on schedule to start production by the end of next year, and this will increase B2Gold's gold production from 510,000-550,000 ounces in 2016 to in excess of 800,000 ounces in 2018.
Disclosure: I/we have no positions in any stocks mentioned, and no plans to initiate any positions within the next 72 hours.
I wrote this article myself, and it expresses my own opinions. I am not receiving compensation for it (other than from Seeking Alpha). I have no business relationship with any company whose stock is mentioned in this article.