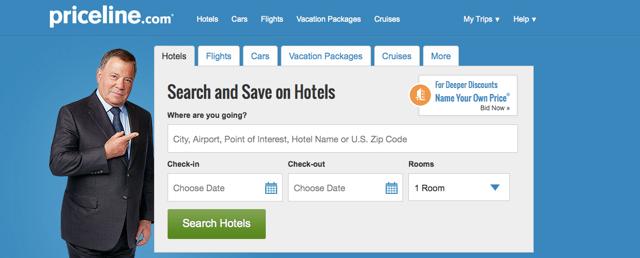 Just over six weeks ago, we wrote about buying into Priceline (NASDAQ:PCLN) after the share price dropped to an appealing level. At that point, we laid out key reasons we felt the company was a great purchase and set a target price of $1261.00. If you were to take a quick look at the share price now, you'd see it is all the way up at $1344.22. We are of course incredibly pleased with the return we have made shown below, and after a re-evaluation of the company's prospects expect further gains ahead and therefore intend on holding onto the shares.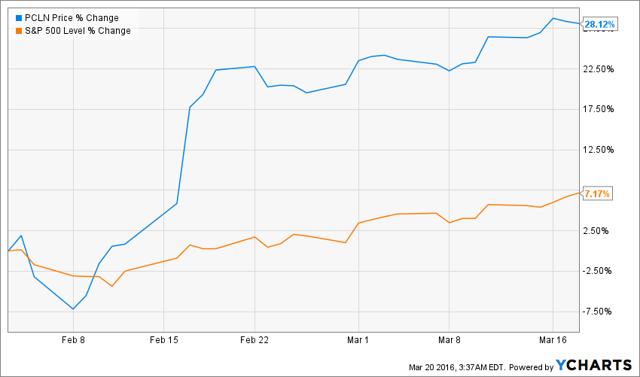 Sourced from Ycharts.com
Why the shares climbed
The cause of the climb is largely attributable to Priceline producing an outstanding fourth quarter which smashed consensus forecasts. Earnings beat by 83 cents and revenue beat by $40 million. We thought the company would have a great quarter, but this exceeded our expectations. We might have to get used to this because we cannot help but think this will be happening again in the next year or two.
Chinese tourism will be key
We are incredibly excited about the growth prospects in China which will complement its already excellent growth prospects in other regions. Recently the China National Tourism Administration reported that China provided 120 million outbound tourists in 2015. That's just outbound tourism, let's not forget. According to research by Statista, there were 3.22 billion domestic trips made in 2014 between its residents, up from 1.202 billion in 2004, as you can see on the chart below.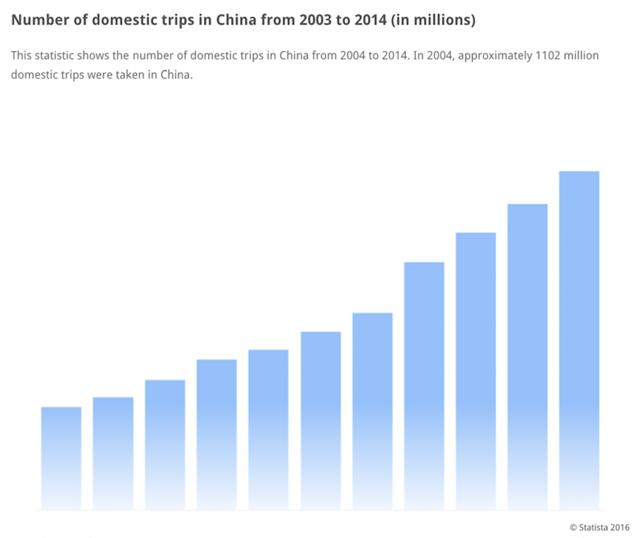 Sourced from Statista
6,500 to 35,000 in twelve months
Investors should take a lot of confidence in the company's future with the knowledge that it has grown its properties in China at an unthinkable rate. On its earnings call, management had this to say about its China operations.
"China, we've entered the year with about 6,500 properties, exited the year with 35,000 properties, a lot of that was organically built. In China we have a lot more to do just adding really large hotels and properties. The challenge in China is making sure you have enough domestic demand to fill those. Inbound China is not a huge market, but domestic China is a huge market. And we're filling those beds through partnerships within China including our relationship with Ctrip."
6,500 properties to 35,000 is a huge increase and one which we feel will be a big boost to the top line. The relationship with Ctrip (NASDAQ:CTRP) is going to be very important in the next few years, and the company's strategic investment has been a great move. After a recent $500 million investment, Priceline brought its total investment in Ctrip convertible bonds and American Depository Shares up to around $1.9 billion. If the company fully converted these It would hold around 45.5 million shares in Ctrip. Far more than the current top institutional holder Baillie Gifford and Company which holds approximately 27 million shares.
Booking hotels online will grow in China
As we mentioned last time, just a quarter of all hotel bookings made in China are made online. The majority of flights are booked this way, so we believe this trend will change and align itself with the 65 percent of hotel rooms which are booked online in the United States. When the consumer trend does in fact change, we believe Priceline and its 35,000 properties will be able to satisfy the overwhelming demand.
Tourism in the United States
We expect U.S. outbound tourism to increase thanks to the strong U.S. dollar. In many respects there hasn't been a better time for U.S. citizens to travel overseas this decade. Rising levels of disposable income and the strong U.S. dollar are a great combination which we expect Priceline to benefit from.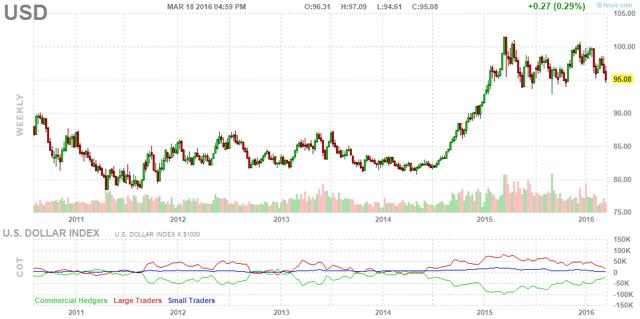 Sourced from Finviz.com
The dollar may have weakened slightly since the Fed became somewhat dovish, but it is still comparatively stronger to previous years as you can see on the chart above. As the Fed raises rates this year we expect it will start to ascend toward 100.00 on the U.S. dollar index.
Plenty of gains ahead for shareholders
We are expecting the company's top line to grow by 17 percent this year, and at a 15 percent compound annual growth rate for the next five years. This equates to revenue of $10.79 billion for financial year 2016, up from $9.22 billion in 2015.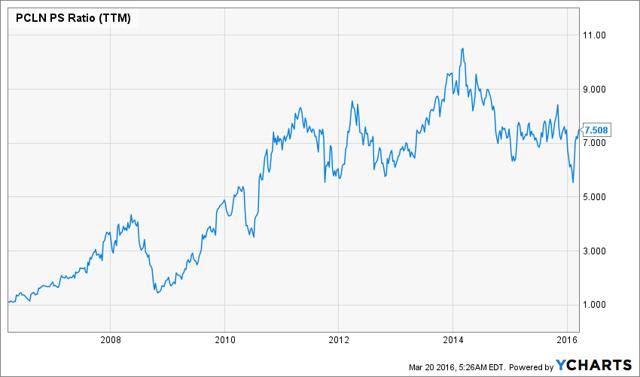 Sourced from Ycharts.com
7x sales has been a nice base for the shares to trade at in the last five years. They do fluctuate greatly, but always seem to gravitate back to it. As long as growth continues to remain strong we see this multiple being sustained. As we feel there is no danger to this happening in the next five years we believe it is safe to value the company at this level.
If we take the $10.79 billion revenue forecast, an estimated 50 million shares outstanding, and a price to sales ratio of 7 we have a new target price of $1510.60. This would give shareholders a return of 12.4% from the last traded price of $1344.22.
Thanks to the growth of Chinese tourism we feel Priceline is positioned to provide shareholders with strong returns for years to come. Despite the strong gains in the last six weeks we continue to hold onto our shares as tightly as the day we bought them.
Best of luck with your investments.
Disclosure: I am/we are long PCLN.
I wrote this article myself, and it expresses my own opinions. I am not receiving compensation for it (other than from Seeking Alpha). I have no business relationship with any company whose stock is mentioned in this article.