Fashion retailer Guess? (NYSE:GES) finished the week down 15.5% after reporting its fourth quarter results. It posted a reasonable performance in the fourth quarter of fiscal 2016, but it was management's guidance which sent the shares tumbling. We feel the stock now represents good value and expect a turnaround to cause strong gains for investors in the year ahead.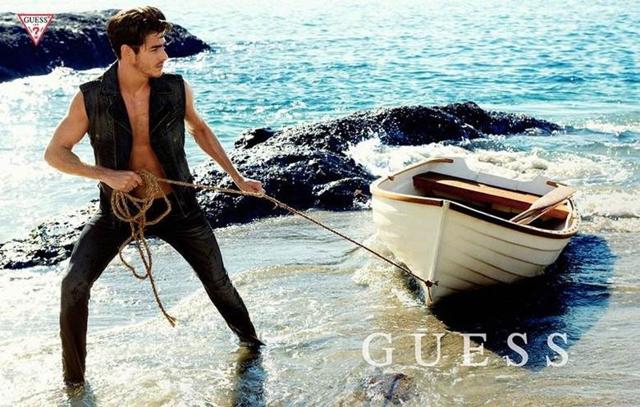 As many readers will have picked up from our previous investments, we like to find beaten-down stocks with the potential for strong gains. It has served us well in the past and we expect it to continue to do so in the future.
Guess caught our eye when the company was sold-off en masse after disappointing guidance. Sure, earnings did miss as well, but only slightly. The company missed on earnings per share by one cent, but beat on the top line.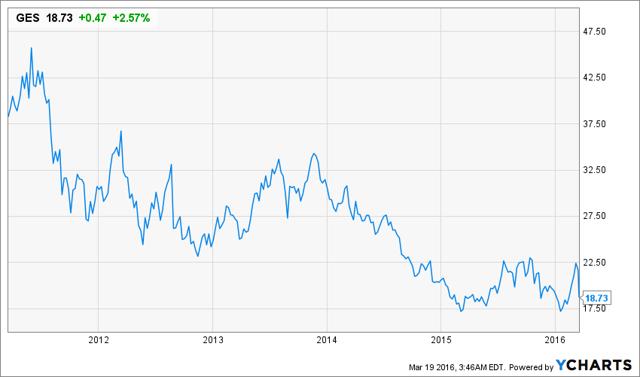 It was the full-year earnings per share guidance that caused the panic. Guess guided to full-year earnings in fiscal 2017 of 65 to 85 cents, compared to the market consensus of $1.05. The company has said currency headwinds would impact earnings per share by 11 cents, which would otherwise leave earnings flat year-over-year. The market didn't like this and the shares, which have climbed in recent times, suddenly came crashing back down to earth as you can see above.
We can understand why the market reacted this way, but unfortunately we feel they are missing the bigger picture. As disappointing as this result may be, the company is still aiming to produce a 20% CAGR for earnings in the next three years. Whilst it now has a lot of catching up to do, management still appears to be confident. On the earnings call it said:
"A question you may ask is why are we not seeing EPS growth in the first year when the three-year goal outlined by Victor call for a 20% compound annual growth rate in EPS? As a reminder, Victor said that the first half of this year would be a transition period. Capital investment in new stores and cost reduction plans vital to our three-year revenue and operating margin goals start getting executed during the first year of the three-year plan, but the returns extend over the second and third year of the plan."
We have a lot of faith in the new CEO Victor Herrero and his three-year plan. He is vastly experienced in the retail industry with his executive positions with Zara-operator Inditex (OTCPK:IDEXY) in Europe and Asia-Pacific. If anyone can get Guess ticking in these regions and in fast-fashion, it will be him. For this reason, we think investors should look at the bigger picture when investing in Guess. Selling off on this guidance was unnecessary in our opinion, but their loss is our gain. So we won't complain here.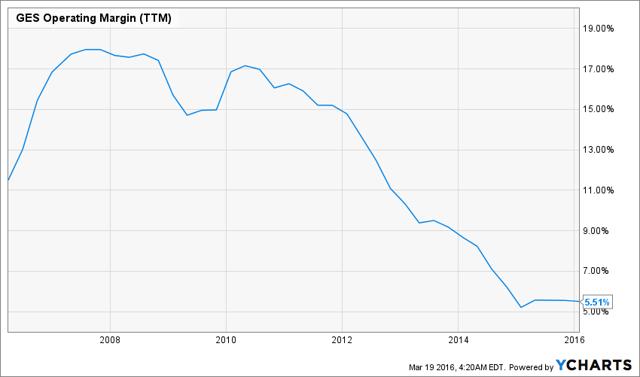 The first-year of the three-year plan will be centered on capital investment in new stores and its cost reduction plan. These are necessary steps in our opinion for the company to achieve its targets. We expect to see margin expansion as a result of it, and that will be music to our ears. If you look at the chart above, the operating margin has been on a steep decline for years. If management can steer the margin back towards its previous levels, then profitability will be increased substantially. Because of this we are very bullish on Guess at present, especially at this price.
Another reason we are attracted to the stock is its robust balance sheet. Currently the company has a negligible $2.3 million of long-term debt, cash and equivalents of $445 million, and is producing positive free cash flow. This is exactly what we look for in our investments.
Valuation is quite tricky at present because of the fact that the first year is about getting things in position. We would say ordinarily that a price-to-earnings ratio of 18 times earnings is perfect for Guess. This puts it in line with one of its industry rivals Urban Outfitters (NASDAQ:URBN).
For fiscal year 2018 we believe the company will be producing earnings per share of $1.25. This gives us a two-year target price of $22.50. Which equates to 20% upside from today. It is worth pointing out that the shares yield a 4.2% dividend at present also. So in reality, the total return we would be expecting in the two-year period will amount to over 28%. The third year should also see similar earnings growth, and thus a strong return for shareholders.
So whilst the market may have been short-sighted, we certainly won't be. At this price we feel Guess is a great investment which will reward shareholders greatly.
Disclosure: I am/we are long GES.
I wrote this article myself, and it expresses my own opinions. I am not receiving compensation for it (other than from Seeking Alpha). I have no business relationship with any company whose stock is mentioned in this article.