When I wrote about Mobile TeleSystems (NYSE:MBT) in November last year following their Q3 results, I concluded they have a good yield and dividend. The company's forward-looking comments at that time also were quite optimistic. The stock price is up slightly since that time which is quite hopeful given general market conditions.
This being Russia there are of course risks, both economic and political. Macro trends for Russia seem to be slowly improving, especially due to the improvement in oil prices. However the real attraction of MBT is the high yielding dividend. This may be at risk when the company announces its results on Monday 21st March at 15-00 hours Moscow time.
Results.
At the time of Q3 results, MBT announced a 5% increase in revenue and a 32% increase in sales of handsets and accessories. Net income increases were though offset by increased finance costs. The company has been outperforming its domestic competitors by most data points. It has been rolling out LTE developments to maintain its lead position, much of it on a long-term rolling contract with Cisco Systems (NASDAQ:CSCO) for their SON (Self Optimization Network). Additionally they have a cooperation agreement with Ericsson (NASDAQ:ERIC) for a 5G network deployment.
For those who follow the company, they should watch out in Q4 earnings for how the company does against a consensus earnings forecast of US$0-15 per share. That is within a range of US$0.12 to US$0.18. However, more important may be what the company has to say about Uzbekistan. The results announcement has been delayed from its original proposed date. It is not fanciful to think this may be connected with developments in the Uzbekistan case.
Uzbekistan.
At the time of the Q3 results MBT had stated that none of the company's assets were currently affected by the federal investigation into alleged bribes to officials for better access to the telecoms market there. It should be emphasized that MBT have not admitted to any wrongdoing in Uzbekistan. It is admitted by them though that they are under investigation as part of a general investigation into corrupt practices there by telecoms companies.
Since the Q3 results briefing in November, MBT rival VimpelCom (VIP) has settled with US and Dutch Authorities for US$835 million. They admitted to bribes they paid to relatives of Uzbekistan's dictator Islam Karimov. This payment was divided up between the US Securities Exchange Commission (SEC), the US Department of Justice, and the Netherlands public prosecutor (VimpelCom is incorporated in the Netherlands). Norwegian telecoms company Telenor (OTCPK:TELNF), as a minority shareholder in VimpelCom, had been somewhat embarrassed by the case. There was no suggestion that they were involved in the bribery, however.
Swedish company TeliSonera AB also has been mentioned in connection with the probe into activities of telecoms companies in Uzbekistan. They deny any wrongdoing but have taken an approximate US$844 million write-down in connection with it.
In fact the share price of VimpelCom rose after the fine. Investors were no doubt relieved that the affair seemed to be behind them. The company had previously set aside US$900 million to cover the case. There are however 10 class action suits pending.
Both MBT and VimpelCom are subject to SEC scrutiny as they are traded in New York as ADRs. Most relevant to MBT is the fact that VimpelCom could have been fined a lot more, but their cooperation and admission of criminal activity lessened the amount. So there is a big question of how implicated is MBT?
Transparency International reported last year that President Karimov's daughter, Gulnara Karimova, received over US$1 billion in shares and payments from mobile phone companies. The formerly high profile Gulnara has been conspicuous by her absence for the past couple of years. Some reports say she is under house arrest.
A contributor to SA Aleksandr Sidorkin interestingly calculated in a recent article that a fine for MBT might come to about US$600 million. This would presumably lead at least to a temporary halt to dividend payoutsand no doubt to a fall in the share price as a result. MBT's average free cash flow per quarter for the past five years stands at US$384 million. The company has been committed to paying out approximately 75% of free cash flow in the form of dividends.
At the Q3 2015 briefing CEO Andrei Dubovskov stated:
"MTS continues to cooperate with the authorities. At the current stage of the investigation, we don't have any reliable basis for making any provisions or predictions in outcome."
In regard to their operations in the country as a whole, these are not yet profitable. CFO Alexey Kornya confirmed:
"In Uzbekistan we are going better than the initial plans. And we do not expect any specific events which will deteriorate our performance there."
The Russian Economy.
MBT's fortunes are of course tied closely to that of the Russian economy as a whole. There are some signs that 2016 could be better than 2015 for Russia, though that would not be difficult. 2015 saw GDP fall by almost 4% and inflation reached almost 13%. The rouble dropped a further 20% after a precipitous collapse in 2014 and hit new lows in January this year. The IMF predicts a further 1% fall in GDP in 2016.
There are some brighter signs for the economy. Foreign debt of companies has fallen by a third since 2014 and the banking sector is better after recapitalization measures. The recent improvement in the oil price is a key factor, in a country where oil production actually grew by 1.4% last year.
The government's finances seem less healthy than that of the private sector and are based on an oil price of US$50 a barrel. The recent increase in the oil price will have brought some cheer to the government. WTI crude closed at over US$42 this week, its highest rate this year.
If government finances don't add up then Putin may resort to printing more money. This would have the inevitable effect of increasing inflation and further devaluing the rouble. The value of the rouble is key in whether MBT's dividend payout of 10.7% is worthwhile for foreign investors.
MBT's fortunes as the leading telecoms provider in Russia are naturally closely tied to consumer spending. In 2015 real wages fell by 9% after the 4% fall in 2014, so the company has done quite well to produce the revenue figures that it has.
Inextricably linked with the economic risks are the political risks which come with the presidency of Putin. The cooling of tensions in the Ukraine should be a big plus factor for MBT. They have substantial interests there, along with Uzbekistan, Armenia, Turkmenistan and Belarus.
Conclusion
MBT's share price over the last three years does not make very pretty reading, as the graph below shows.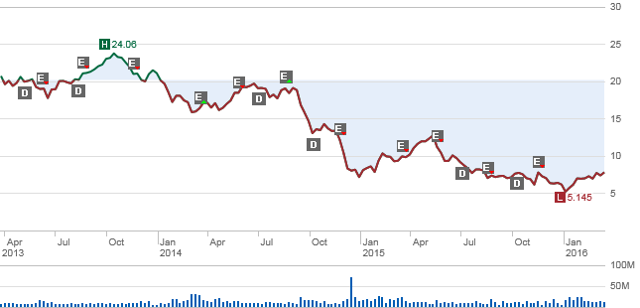 It is much in line with the decline of the Russian economy. Investment in the company's shares now should not be undertaken unless one thinks that the Russian economy will see some improvement this year. Analysts in general are bullish on the stock, though Citigroup did downgrade from Buy to Neutral in early March.
if one does believe the Russian economy has bottomed out, then the dividend yield of 10.7% is of course attractive, as is the P/E of 12.03 and the forward P/E of 9.24. The company is committed to paying out approximately 75% of its fairly stable free cash flow in the form of dividends.
However whether they will do so this year will probably be dependent on what they announce next week. If the news on Uzbekistan is good and the dividend is maintained, then I think that would make the shares a Buy at this price point.
Disclosure: I/we have no positions in any stocks mentioned, and no plans to initiate any positions within the next 72 hours.
I wrote this article myself, and it expresses my own opinions. I am not receiving compensation for it (other than from Seeking Alpha). I have no business relationship with any company whose stock is mentioned in this article.