There are several small bank stocks that I follow and own that are worthy of your consideration. I will cover each of them one by one, starting with Elmira Savings Bank (NASDAQ:ESBK). I wrote about this bank several years ago when I first started following it, and have owned the stock ever since. The share price has not moved very much since I first wrote about it. So, I am going to review the business again.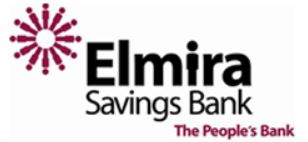 ESBK is headquartered in Elmira, New York, which is in the northwest corner of the state near Watkins Glen and Ithaca. It is a New York chartered bank with 13 full-service offices all located within a 50-mile radius of Elmira. The latest full-service office was opened in Watkins Glen in March of this year. Besides banking, the company has 2 subsidiaries: ESB Realty Corp. and ESB Advisory Services, Inc. ESB Realty Corp operates as a REIT, and ESB Advisory Services offers financial planning and products geared around financial planning.
The market area for the company is distinguished by its diverse industrial and service corporation base, which offers stable employment and reasonable incomes for the population. The bank's Ithaca market contains many Cornell University employees as well as employees of Ithaca College.
Elmira Savings Bank has been paying a quarterly dividend since 1991, and you can see the dividend history below: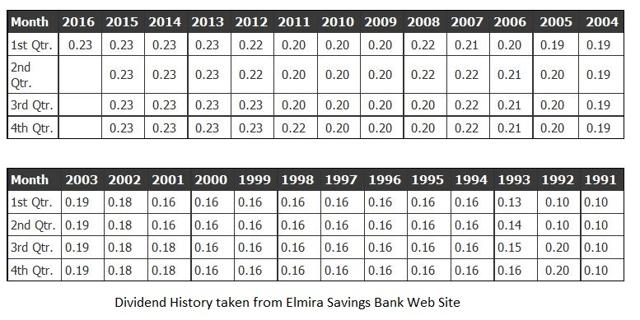 The dividend history above does not tell the whole story. If you owned the stock from 2001, the amount of shares you own now would have more than doubled because of stock dividends paid out by the company. Therefore, the dividend has increased at least two times more than the chart indicates.
Currently, the stock trades around $18.50 per share with a yield of 5% or $0.92 per share. Book value was $16.53 per share as 12/31/2015. EPS for the bank was $1.17 per share for the 2015, which makes the P/E just shy of 16 and represents a 17% increase over the $0.99 per share it earned in 2014. Elmira Savings Bank also purchased back from the US Treasury warrants at $1.5 million in May. This transaction finished all the obligations hanging over from the Treasury's Capital Purchase Program (CPP) from 2008. Going forward, there will be no more expenses or purchases associated with the bank bailout of 2008, so we can expect to see its book value and earnings begin to increase again.
Directors and executive officers of the bank as a group held 785,156 shares of the company, or about 28% of the outstanding shares as of 4/15/15. This indicates that those closest to the bank's operations have a great deal of confidence in the future of the bank. There have only been a few sales by insiders since that time, and these were small sales of option awards.
Conclusion
Since the bank has finally bought back all preferred stock and warrants from the US Treasury, it is in a much better position to grow profits and increase book value once again. Elmira Savings Bank has added an additional full-service office in the past year that should increase its footprint in its home area and increase profitability. While the dividend will not likely grow over the short term, since the company is now paying about 80% of its earnings to shareholders, it should begin to grow again in a year or so. This has been a very shareholder-friendly company through the years, and should continue to be so into the future, since insiders own over 25% of the shares. EPS growth was in the double digits last year, and if the bank continues to grow profits in the same way, the price of the shares should begin moving upward shortly. Meanwhile, one collects a 5% yield while waiting for this to occur.
Disclosure: I am/we are long ESBK.
I wrote this article myself, and it expresses my own opinions. I am not receiving compensation for it (other than from Seeking Alpha). I have no business relationship with any company whose stock is mentioned in this article.
Editor's Note: This article covers one or more stocks trading at less than $1 per share and/or with less than a $100 million market cap. Please be aware of the risks associated with these stocks.