Vivus (NASDAQ:VVUS) has now seen yet another sales week in the 2016 weight loss season pass without correcting the negative trends. Vivus' sales dipped 0.9% to about 9,300 scripts this past week and sales are still lower at week 10 of Q1 than they were at week 1. Cost-cutting initiatives have cut representation in the market, while sales strategies that are supposed to demonstrate growth are instead simply treading water.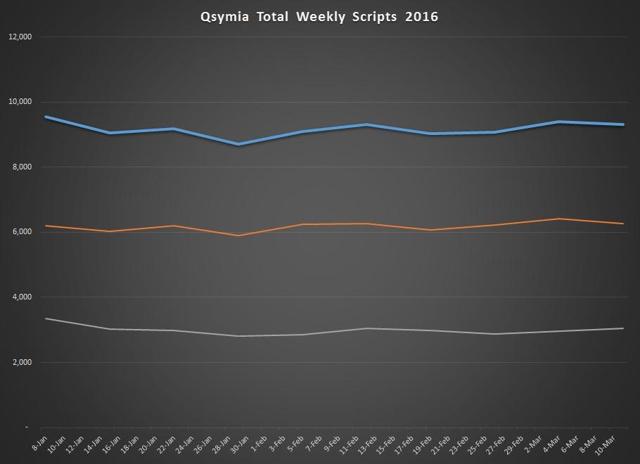 Chart Source - Spencer Osborne
On a quarter-over-quarter basis, there is nothing positive happening. Sales are about 11,000 scripts lower here in Q1 of 2016 than they were in Q4 of 2015. Adding insult to injury is the fact that Q4 is typically the worst performing quarter of the year, while Q1 usually demonstrates a growth spurt and the beginnings of weight loss season. Sales in Q1 of 2016 are 10.57% behind the Q4 pace.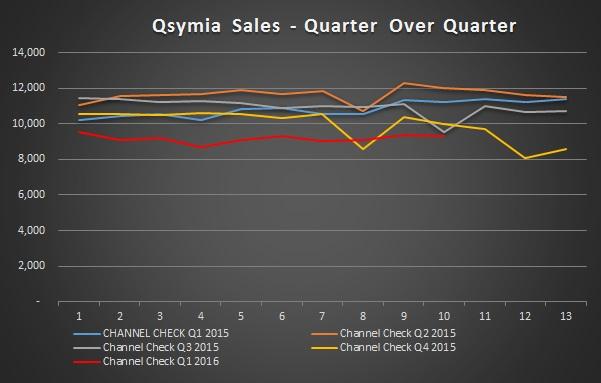 Chart Source - Spencer Osborne
On a year-over-year basis, we see what we would expect. Sales are down over 14% from what Q1 of 2015 delivered. Part of this is added pressure from the newly launched Saxenda, an anti-obesity injection from Novo Nordisk (NYSE:NVO). A big contributor is that cost-cutting measures put in place in Q2 of last year are still showing their negative sales impacts this year. In fairness, the savings in marketing will help the bottom line, but the realities of cutting marketing are beginning to show through. It is one thing to improve the bottom line, and even make Qsymia appear to be "profitable." It is another to demonstrate growth that will allow for the stock to appreciate. In many ways, Vivus is telegraphing the classic signs of a company that is about to go on the market.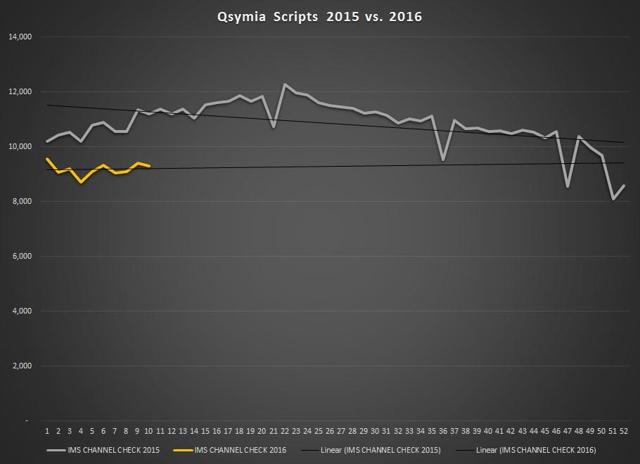 Chart Source - Spencer Osborne
From a market share perspective, Vivus seems to be hanging in there, but at the same time losing ground. It is a 1 step forward and 2 steps back situation. Over time, the negatives in market share are outweighing the positives. In the branded anti-obesity pill space, Qsymia now sits at 26.85%. In the overall branded anti-obesity space, Qsymia sits at 24.77% with Saxenda growing in share pretty much every week. As you can see, the Qsymia trend line among the pill companies is worst.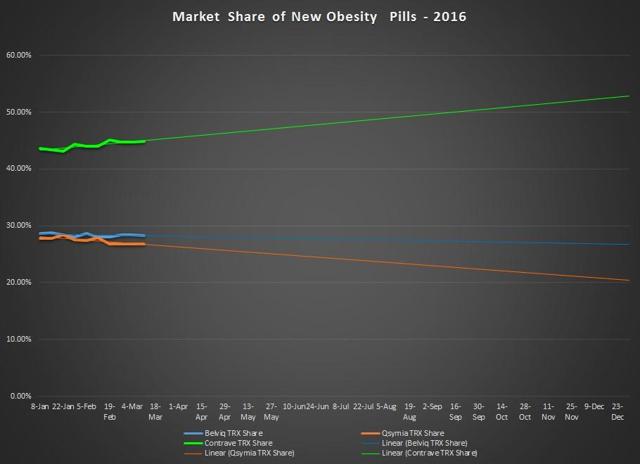 Chart Source - Spencer Osborne
The Qsymia trend line in the overall space is not better, and in fact is worse.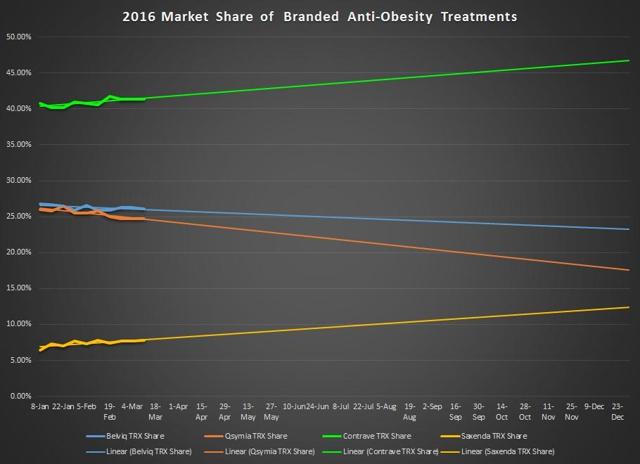 Chart Source - Spencer Osborne
The biggest issue here is sector growth. The anti-obesity sector is not growing at a rate that can support four players, nor at a rate that can bring about equity appreciation for any players that are heavily reliant on their weight loss solution to grow the company. There is an efficacy issue, a consumer sentiment issue, an issue with convincing doctors to treat, and an issue with getting insurance companies to cover. Vivus cutting back on advertising and sales reps does not help any of these issues plaguing the space.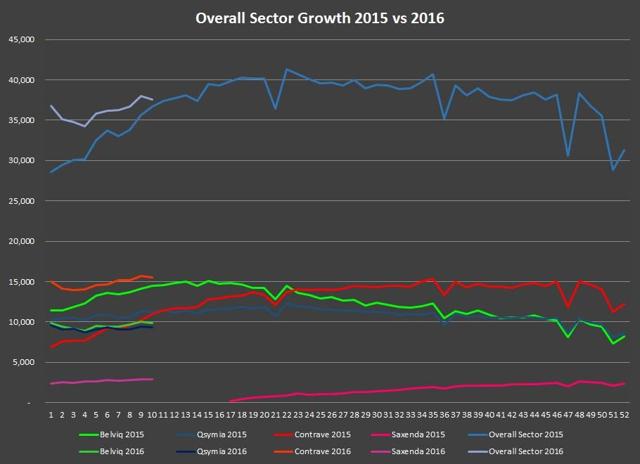 Chart Source - Spencer Osborne
At this stage the only people that are likely mildly bullish on Vivus are those that bought at $1 dollar or under. Even those people are not truly bullish on Qsymia. They swarm like used car salesmen telling you that the SUV on the lot seats 7 comfortably while totally ignoring the bald tires, the 250,000 miles on the car, and the quart of oil that the engine burns every week. Is that car really going to take you far? Unless Qsymia sales can get to 5 times their current level and there is a clear path to get there, I have no interest in the 1992 Ford Explorer that some want to sell me.
There are a few aspects of Vivus that could be attractive for those that bought at these levels, or those looking for a play. In my opinion, Vivus is on the market. That could mean a buyout premium that is better than today's stock price. In my opinion, the only thing attractive about buying Vivus is the NOLs and the erectile dysfunction drug Stendra. Neither of these represents the ability for a quick triple, but they do present an opportunity for a decent trade if timed right. The bottom line is that Qsymia is headed in the wrong direction in many ways. The company would probably be better off selling the rights to the drug to Actavis or Teva or at least spinning off the Stendra franchise to separate it from the anchor that Qsymia has come to represent. Stay Tuned!
Disclosure: I am/we are long NVO.
I wrote this article myself, and it expresses my own opinions. I am not receiving compensation for it (other than from Seeking Alpha). I have no business relationship with any company whose stock is mentioned in this article.
Additional disclosure: I have no position in Vivus