National Retail Properties (NYSE:NNN) is one of my favorite companies. Even as their share price climbed substantially I maintained my position because I see this as a great dividend growth company. Shares may open a little cheaper on Monday as REITs tend to fall in share price when indicating they intend to issue new shares. NNN made the announcement on Friday. There was no press release on their website, but a new filing was listed with the SEC indicating they registered to issue as many as 12 million shares. As I pointed out in a previous article, NNN uses issuances to fund new acquisitions which should be immediately accretive to FFO (funds from operations) and AFFO (adjusted funds from operations) on a per share basis.
Signals
When National Retail Properties announced their fourth quarter results, they also raised guidance for FFO and AFFO per share for fiscal 2016. The raises weren't much, but the increase in their estimates may have been tied to an expectation for new acquisitions to increase growth in FFO and AFFO per share.
Some companies choose to announce a plan to repurchase shares when their shares are at an all-time high. Shares of NNN are hitting record highs and the strategy of issuing new shares is excellent. It may sound like I'm suggesting that prices on NNN are too high, but I don't believe that to be the case. When the 10 year treasury trades at low yields, high quality triple net lease REITs rally.
To put this in a nutshell, NNN announced guidance that they would be making more money than they previously expected. Since their leases are designed to lock revenues in several years (often more than a decade) in advance, the updated guidance was a fairly strong sign that they would seek new acquisitions soon. Those acquisitions could be funded with debt or equity, but having shares trading near record highs indicates a fairly solid time to issue the new equity.
Dividend Increases?
In 2010 National Retail Properties raised their dividend starting with the July payment. Each year since then they have raised the dividend starting with the July payment and I expect that to happen again. It isn't just because they have done it each year though. Their forward dividend yield calculated by annualizing the last dividend of $.435 provides a projected forward 3.81% yield. I'll grant that this is very low for a REIT, but it is in line with peer Realty Income Corporation (NYSE:O). O currently has a 3.89% forward yield.
The bigger sign indicating another dividend increase is due comes from looking at their long term ratios of FFO to dividends: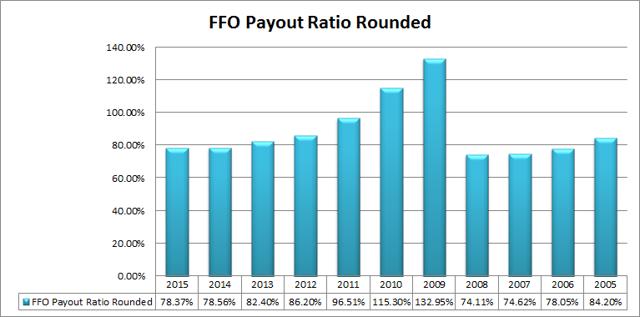 It is worth pointing out that FFO was suppressed fairly hard in 2009 and 2010. Dividends were increased very slightly throughout that period. Dividend increases were ranging from about .67% to 1.35% from 2009 through 2011 before they started to pick up. Their last dividend increase of 3.64% was the biggest since 2009.
Using projected FFO and AFFO
Management's guidance for FFO gives a midpoint (average of high and low estimates) for FFO of $2.32 and the guidance for AFFO gives a midpoint of $2.37.
If we compare the midpoint for FFO with the forward dividend (annualizing the last dividend) it would give a payout ratio of only 75%. The last time payout ratios were that low was in 2007 and 2008. If we assume a payout ratio of only 78%, it would still indicate an annualized dividend of $1.8096, or roughly $1.81. That would indicate a 4% increase compared to the most recent dividends. Getting a dividend yield under 4% isn't very compelling, but getting a 4% growth rate would be fairly attractive.
The Biggest Risk
I own shares of National Retail Properties, but I think potential investors should be aware of the risks. In my opinion the biggest risk to NNN is the potential of higher rates. As an analyst that spends the majority of my time on mREITs, I'm constantly dealing with interest rates. It is my opinion that "lower for longer" is the correct monetary policy, but I'm not convinced that the Federal Reserve will follow that path. I believe there is a significant chance for at least one increase this year. If the S&P 500 continues to rally towards record highs despite weakening earnings (primarily thanks to the energy sector), it would give the Federal Reserve all the ammunition they still need. Falling unemployment (under 5%) and increasing wages for middle class employees (feels overdue) will support arguments for inflation to run near 2% and would let the Federal Reserve declare their dual mandate was supported by raising rates. If the market reacts by selling off bonds and sending rates higher I would expect the high quality triple net lease REITs to sell off in line with the decline experience by treasuries and very high quality debt.
Conclusion
I don't see risks to the underlying business as the biggest problem. I believe NNN has done an excellent job diversifying their tenants and ensuring they avoid doing business with entities that have questionable credit quality. I see the dividend as being fairly stable even if we see a decline in share prices or a decline in the level of the S&P 500. I don't love the price of $45.65 (Friday's close), but NNN trades in fairly close levels with O and STORE Capital (NYSE:STOR). If share prices of NNN significantly underperformed O and STOR over the weekend, I would see it as a sign that shares of NNN were offering the best value and would expect the difference to disappear over the next few weeks. At the latest I would see the Q1 earnings report and call as a catalyst to get NNN back into line with peers if they open weak on Monday morning. The earnings call would be an opportunity for management to announce a brilliant acquisition. Since they are discussing issuing around 8% or so of their market capitalization, I would expect acquisitions to be close on the horizon.
Congratulations to NNN for whichever attractive investment opportunities they've found, and I look forward to my raise this summer. I haven't decided if I can stomach adding to my positions at these levels, but I'll have to consider if NNN opens weaker. If we saw a run up in treasury yields and a broad sell off in the sector, I would be adding heavily.
Disclosure: I am/we are long NNN, STOR.
I wrote this article myself, and it expresses my own opinions. I am not receiving compensation for it (other than from Seeking Alpha). I have no business relationship with any company whose stock is mentioned in this article.
Additional disclosure: Information in this article represents the opinion of the analyst. All statements are represented as opinions, rather than facts, and should not be construed as advice to buy or sell a security. Ratings of "outperform" and "underperform" reflect the analyst's estimation of a divergence between the market value for a security and the price that would be appropriate given the potential for risks and returns relative to other securities. The analyst does not know your particular objectives for returns or constraints upon investing. All investors are encouraged to do their own research before making any investment decision. Information is regularly obtained from Yahoo Finance, Google Finance, and SEC Database. If Yahoo, Google, or the SEC database contained faulty or old information it could be incorporated into my analysis.