Nike (NYSE:NKE) is set to announce 3Q16 earnings after the close Tuesday, 3/22. While we believe the company can top analyst estimates, we do not think shares are attractively valued here. We think upside is limited by an already rich valuation.
Our biggest issue with the stock is the rich multiples which accompany it. At a $63 quote, the market cap of the company is roughly $107.3 billion. Striping out roughly $6.1 billion in cash and adding back in $2.1 billion of debt, the current enterprise value of NKE is $103.3 billion. This is a big number to value the operating business of the world's largest athletic apparel company and indicates that significant growth expectations are baked into the valuation.
Sales are roughly $31.3 billion (NYSE:LTM), so that is a 3.3x EV/Sales multiple on 4.8% sales growth so far this fiscal year. This isn't a terribly unattractive multiple (a discount to growth), but it gets more unattractive the further down the income statement you go. The ex-cash P/E is ~28.5x on diluted EPS growth of ~23%, so the stock is trading at a slight premium to its earnings growth. The EV/OCF multiple is ~24.8x while the EV/FCF multiple is ~33.6x, and this is on operating and free cash flow that are down significantly Y/Y. Granted, operating cash flow is down roughly $500 million this year due to a large decrease in accounts payable, so this huge decrease in cash flow Y/Y isn't a glaring red flag. It is, though, significant when considering that the stock is valued at almost 25x LTM operating cash flow (ex-cash).
Bulls can present a strong argument for why this rich valuation is justified. The company is still benefiting from secular consumer spending tailwinds in the athleisure and wellness spaces. Just see the stock performance of NKE, Under Armour (NYSE:UA), and Skecher's (NYSE:SKX) over the past 2 years to understand the amount of money pouring into these stocks behind this secular growth in fitness. UA and SKX both reported very strong results recently, and NKE reported incredibly strong Global Future Orders in the Q2 CC. Growth in largely untapped international markets should continue to propel global sales growth for athletic apparel companies like NKE over the next several years.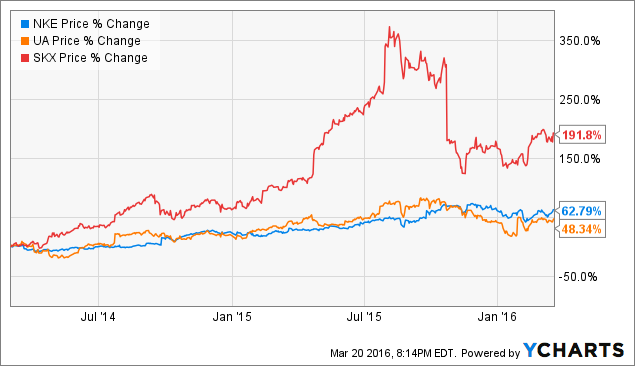 More specific to this quarter, Footlocker (NYSE:FL) reported results which underscored strong demand for basketball footwear, a high-margin centerpiece of NKE's operating business. Particularly, FL reported strong demand for Jordan and Kyrie basketball shoes, both of which are made by NKE. Looking into future quarters, the company's new "Back to the Future" styled products look promising and could create an influx of new NKE buyers.
All this considered, the estimates for the quarter look beatable, especially on the earnings side. On the Q1 CC, management reported Global Future Orders were up 9%. This spilled into 4.2% revenue growth in Q2. On the Q2 CC, management reported Global Future Orders were up 15% (1.67x Q1), and the estimate calls for 9.9% revenue growth (2.41x Q1). The revenue estimate seems pretty aggressively baked with high hopes for continued strong sales throughout the quarter, but UA, SKX, and FL have given analysts good reason to believe that this is the case. The consensus EPS estimate is $0.49, only 4 cents higher than last year's Q3 EPS (split-adjusted according to Yahoo Finance). Considering NKE grew EPS by 8 cents in Q2 and FX headwinds haven't gotten worse, we think the EPS estimate is actually very beatable. Our sentiment herein is further backed by a NKE history of beating the coneEPS estimate.
Despite beatable estimates, we are tempered by NKE here as we feel the stock doesn't provide a favorable risk-reward profile. To support this, we have crafted a quick DCF model in which we think the fair value of NKE is $64 per share. This is only a 1-2% higher than the current market value.
In our model, we assume NKE hits its $50 billion revenue target by 2020 and grows revenues another 8% in 2021 to $54 billion. We apply a steady 15% operating cash flow margin to those revenues and assume capex ramps about 10% per year to support a more global infrastructure. We use a 2% perpetuity growth rate and a 7.5% discount rate to arrive at our $64 fair value.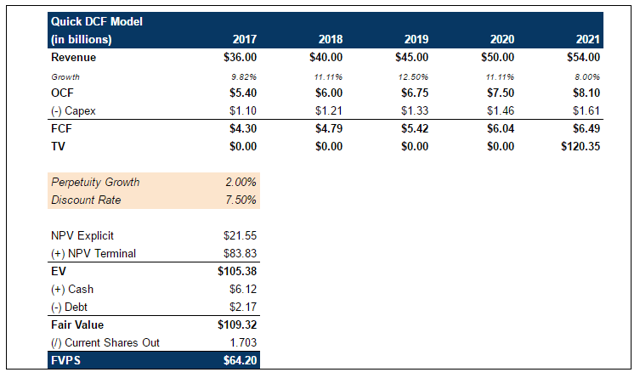 In sum, we believe NKE is currently and will continue to benefit from secular tailwinds in the athleisure and fitness spaces. This growth, though, is already aggressively priced into the stock, and we believe the valuation makes the stock an unattractive buy at these levels. While we believe the estimates for the quarter are beatable, we do not think shares possess an attractive risk-reward profile.
Disclosure: I am/we are long SKX.
I wrote this article myself, and it expresses my own opinions. I am not receiving compensation for it (other than from Seeking Alpha). I have no business relationship with any company whose stock is mentioned in this article.