Whole Foods Market, Inc. - An Organic Story
In recent years, you may have begun to notice a trend in eating better and more "organic" produce. All of a sudden it seems like your local groceries stores are selling fresher, more organic and natural foods. What you may have not noticed was that stores such as Whole Foods Market, Inc. (WFM), Sprouts Farms Market, Inc. (NASDAQ:SFM) and Natural Grocers by Vitamin Cottage, Inc. (NYSE:NGVC) have been around for many years. The biggest of the aforementioned is by far Whole Foods Market, Inc, which was founded by one of their current CEOs, John Mackey, in September of 1980.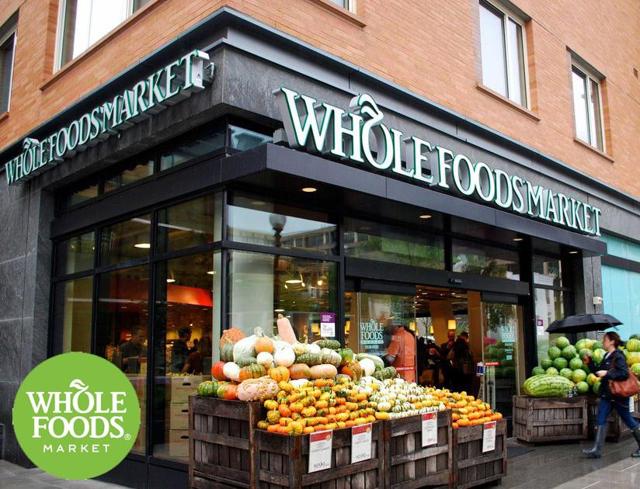 John Mackey first opened a natural foods grocer called SaferWay with $45,000. It wasn't until SaferWay merged with Clarksville Natural Grocery did the first Whole Foods Market open in Austin, Texas. WFM almost didn't make it when a huge flood hit Austin and most of its equipment and inventory perished resulting in a $400,000 loss. Without insurance, WFM's stakeholders and communities pitched in funds and labor to keep Whole Foods alive.
Currently WFM is the largest natural and organic foods supermarket in the United States ("U.S."). and ranks 5th largest in public food retailers. As of September 27, 2015, WFM operated 431 stores in the United States, Canada, and the United Kingdom, averaging over eight million customer visits each week. In comparison, Albertsons Companies Inc. (NYSE:ABS) has over 2,200 locations and Kroger (NYSE:KR) with over 2,600 locations in the U.S.
Highlight Fundamentals
Whole Foods Markets, Inc. ("WFM", "Company") has branded itself to be a premium natural grocery store. Last week Ralphs had chicken thighs and drumsticks on sale for $0.93 a pound, a couple weeks prior the local WFM was selling whole chickens at $1.93 a pound and called that "on sale". WFM's competitive advantage comes from being able to market their products and mark-up higher than typical groceries.
As a matter of fact, WFM enjoys a healthy gross profit of about 35% for the past five years for the year-end period ending September 25, 2011. Operating income was $548 million and $861 million from the years ended September 25, 2011 and September 27, 2015, respectively, which was a 57% increase. Another astonishing fact is that WFM's selling, general and administrative expenses have remained approximately 29% of their total sales for the last five years beginning in September 27, 2015, which shows that management is conscious of controlling costs even while growing the company.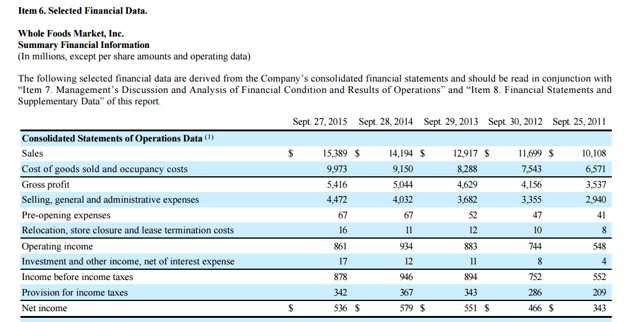 The company has opened 120 stores since fiscal year 2011 at a rate of approximately 24 stores a year. Each store bring in on average $36.4 million in revenues a year or approximately $700 thousand a week. Comparative stores sales growth has slowed in the past five years from 8.4% in 2011 to 2,5% in 2015. Over the last five years, average operating income has been about $2.2 million per store. Whole Foods Market's ability to grow while controlling their costs to continue to achieve high profitability is a tremendous accomplishment.

Whole Foods Markets, Inc. Fiscal Year 2016 Outlook*
The company remains focused on the metrics it believes are key to the long-term health of its business and is targeting:
Sales growth of 3% to 5%
Approximately 30 new stores, including three 365 stores and two to three relocations
Square footage growth of 7% or greater
EBITDA margin of approximately 8.5%
Capital expenditures of 5% of sales
ROIC greater than 13.5%
*Released by WFM via Q1 2016 press release
During Q2 2015, Whole Foods Markets, Inc. announced they would open up a new chain of smaller stores (30,000 sq.ft vs the 39,000 sq ft Whole Foods) whereby they will be targeting millennials who are more price sensitive all the while keeping the same high quality standards. What remains to be seen is whether or not these stores WFM later revealed to be called "365" can be successful and not significantly cannibalize their existing store sales.
Highlight Technicals
Whole Foods Markets, Inc. has been tumbling since its high of approximately $65.00 in 2013. While the stock did rebound in late 2014 and early 2015, since then it has gone back to 2007 levels.
From a technical perspective, WFM is currently in a $28 and $35 range. While at the same time we've seen that the support levels of 2014 have become resistance. If we see WFM break out of the $35 range and sustained price action, there would be a good chance of $35 becoming support again. Otherwise we will see a roll over below $28. We are in a long-term downtrend.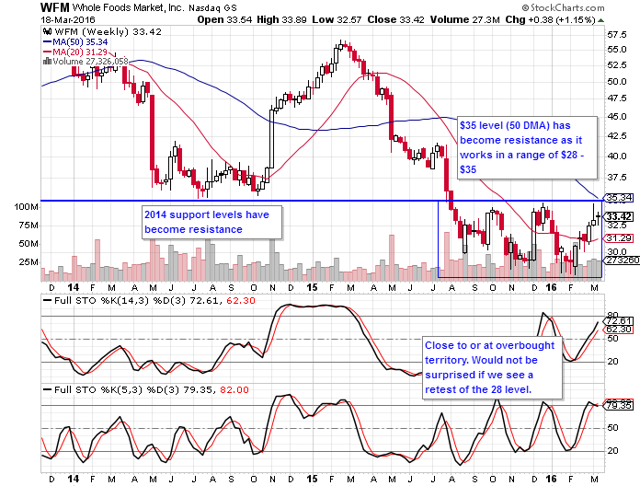 In the short-term, one strategy would be to play the range bound action until it breaks. The ideal entry in the short-term would be at about $28 and then selling at $35. Or alternatively you can short at $35 and then cover at $28. If it breaks $35 and you are long, consider putting your stop at $35 and ride the wave up to possibly $47.5. A roll over below $28 could prove to be a great buy from a fundamental perspective.
Walter Robb, Co-CEO of Whole Foods Markets, answers a great question from a Duke student regarding how you rationalize or balance working for large corporations that make billions of dollars and giving back. Start at 45:10.
Disclosure: I have a position in WFM.