Over the past several months, oil production has held firm (though has finally started to show meaningful declines in output). The main reason behind this is that, even as the rig count in different regions within the U.S. has dropped materially (rig counts are down 53.1% year-over-year and down by far more compared to where they peaked during 2014), rig productivity has only continued to improve across the board.
Part of this can be attributed to improvements in technological innovation, which allow output per rig to rise over time, but it's also likely due to the combination of companies trying to maximize production by focusing on their highest-quality assets during the downturn. Either way, though, the notion that the rig productivity improvements will keep oil production high moving forward (absent an increase in rig count), is very unrealistic in my opinion. In what follows, I will dig into the relevant data regarding the Permian, Eagle Ford, Bakken, and Niobrara, the four largest regions covered by the EIA (Energy Information Administration), and discuss why I believe this to be the case.
Massive improvements in productivity over time
In the graph below, you can see the historical trend that rig productivity has taken between January of 2007 and what the EIA has estimated for the month of April of this year. During this timeframe, the Permian saw rig productivity rates soar by 534.3% from a modest 70 barrels per day for each unit to 444 barrels per day. In the Bakken, the growth rate was 547.3% from 112 barrels per day to 752 barrels. Meanwhile, both the Eagle Ford and Niobrara saw the most improvement, skyrocketing by 1,876.2% and 2,261.8%, respectively, from 42 and 34 barrels per day to 830 and 803 barrels per day for each unit.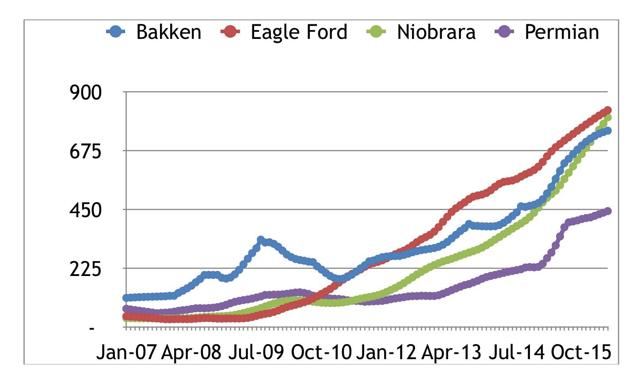 *Source: Created by author with data from the EIA's Drilling Productivity Report
With such massive upticks in productivity over a period of less than a decade, it might be tempting to think that the market will continue to find ways to increase rig productivity moving forward. Certainly, with prices as low as they are and with the continued push toward improvement, this will almost certainly happen and could, in theory, result in oil becoming an easily-had and cheap commodity for a while (but only until shale oil is mostly gone in the next few decades at the latest). On the other hand, though, this isn't likely to happen anytime soon.
You see, despite the terrible oil price environment, which should spur improvements at the quickest rate possible by E&P operators that are desperate to produce as much as they can for as cheap as they can, the rate of improvement hasn't been getting much better. In the graph below, you can see the month-to-month improvement in rig productivity for each of these four regions between January of 2014 (when oil prices were high and rising) and the most recent data available. What it shows is that, in late 2014 and early 2015, we saw rig productivity rates go through the roof, likely as a result of trimming away excess fat in operations and shifting away from low-quality assets to high-quality ones.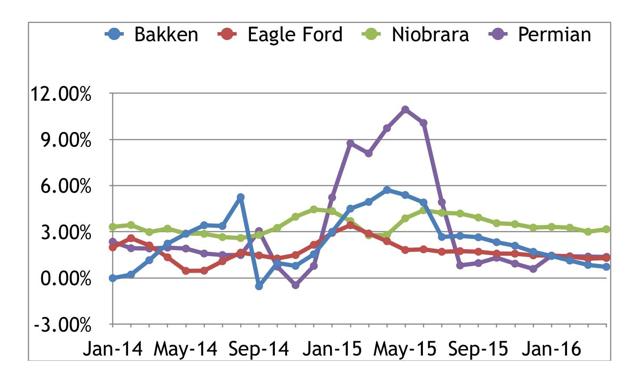 *Source: Created by author with data from the EIA's Drilling Productivity Report
However, since then, the rate of improvement in these areas has dropped down, more or less, to what we saw when energy prices were much higher. This, to me, suggests that all of the easy improvements that could be had was already taken and we are likely back to normal rates of improvements moving forward. In fact, in regions like the Bakken, Niobrara, and Eagle Ford, we're seeing a slight downtrend in improvements so that could be even more bullish for oil-oriented investors moving forward.
It should be noted, however, that oil production in the U.S. isn't just about rig productivity improvements. Rather, it's a product of multiple factors. Although there are different ways of expressing this, the way that I believe is the most appropriate is by using the following equation below:

In this equation, the rig count is taken from two months prior (something I've adjusted so that my graphs accurately reflect the data) in accordance with the EIA's estimates, and the Decline subject represents the actual decline of the wells associated with the region in question.
In theory, this equation could permit a region where the decline rate is low and the change in rig productivity is higher to see output rise (at least temporarily) even as the rig count plummets. This has been the case in the Permian and the Utica (which I'm not covering in this article) for months now but the tide is starting to turn. In the graph below, you can see exactly what has been happening in the four major regions I've covered in terms of daily output (from January of 2014 through what's projected so far this year). As the rig counts have fallen hard, we've finally started to see a drop in output in most areas (production declines should start in the Permian very soon).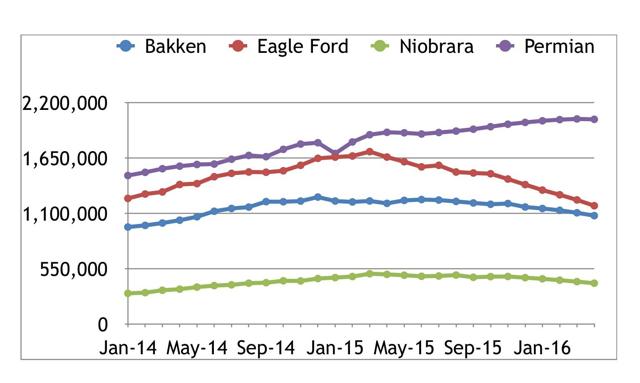 *Source: Created by author with data from the EIA's Drilling Productivity Report
Another way I chose to express this was to create a "Rig Count Factor". This is merely a number (I chose 1 million to bring it to scale with the change in oil output in the regions) multiplied by the change in the number of rigs from month-to-month. This shows the time when the rig count started to fall significantly and, by comparing it to the change in production in each region, you can get a glimpse of the time lag between each area in terms of when rig counts as a whole started to fall and when production began to fall.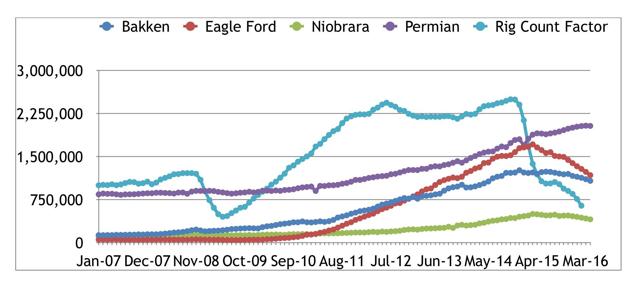 *Source: Created by author with data from the EIA's Drilling Productivity Report
Takeaway
At this moment, there's no denying that the change in rig productivity rates has helped the oil bear stay out longer than many investors (myself especially). However, with those rates not really improving at a quick pace anymore and the major drop in rig count more than offsetting improvements more or less across the board, it seems that the future path of crude production is, inevitably, down unless we see rig counts rebound meaningfully. For investors in the United States Oil ETF (NYSEARCA:USO) or other oil-oriented opportunities, this should prove bullish in the long run.
Disclosure: I/we have no positions in any stocks mentioned, and no plans to initiate any positions within the next 72 hours.
I wrote this article myself, and it expresses my own opinions. I am not receiving compensation for it (other than from Seeking Alpha). I have no business relationship with any company whose stock is mentioned in this article.