The stock market continued its impressive run last week. Since early February, bulls have been in complete control. Anyone who bought stocks near the 1,800 area on the S&P 500 has enjoyed almost 250 points of straight-up move with hardly a scare along the way:

Someone asked me on Friday my thoughts on the market. For the intermediate term, I'm neutral. I see about equal odds for both sides. It's very plausible that we continue on higher to 2,100 and push for new highs.
However, the market is severely overbought at the present juncture. Since there haven't been any meaningful selloffs for six weeks now, pressure is building for a reversion to the mean sort of event. All the technical traders that have been adding in long as the rally has continued probably have trailing stops around 2,000 or so now. After so much sustained buying, the first meaningful dip could pick up some steam.
In particular, to the extent that the rally has been built on oil (NYSEARCA:USO), it could quickly be reversed. I see little on the supply/demand front to suggest that oil will hold the $40/barrel level for very long.
The big part of this move has probably already happened. This is a good time to step aside and let someone else try to make the last buck off the rally. If stocks blast through 2,100, we can reevaluate. But we're approaching an area of serious resistance, and markets will likely drop or at minimum consolidate around here for a bit. Don't feel compelled to buy into the market now because you feel that you're "missing out."
Cuba: Overblown As An Investment Theme
With the recent thawing in Cuba-America relations, many investors have gotten excited about the possibilities of the newly opening economy. As the joke goes, everyone wants to visit before the first Starbucks (NASDAQ:SBUX) opens. But implicitly, it's assumed that the country will be a great investment opportunity.
And on that front, I have my doubts. Yes, Cuba has warm weather and is conveniently located in relation to the United States. And beyond that? Well, not a whole lot comes to mind.
For comparison's sake, think of Caribbean neighbor Dominican Republic. Both have roughly the same population and GDP level, and are located near each other geographically. Unless you live in a very different bubble than I do, the Dominican Republic gets basically zero interest from investors. Apart from a gold mine or two, I can't even think of an angle by which I could invest there.
Cuba's ~$75 billion GDP puts it roughly on par with the US state of West Virginia. Its 11 million people put it slightly behind Guatemala on that front. This is neither a large market nor a wealthy one. Cuba's openness will be a boon for its citizenry, but don't mistake it as an important development for your portfolio.
There is one Cuba-flavored investment available on US markets already. The Herzfeld Caribbean Basin Fund (NASDAQ:CUBA) invests in things that it say may benefit from the opening of Cuba's market, since it has not been able to invest in Cuba itself up until now.
CUBA's top holdings are a mix of tourist-focused stocks generally. Panamanian airline Copa (NYSE:CPA) is the top holding. Royal Caribbean (NYSE:RCL), Norwegian Cruise Line (NASDAQ:NCLH), and Carnival (NYSE:CCL) are all among the top 10.
I'm not sure why this fund needs to exist. If you want to buy tourism-focused stocks, you don't need a fund focused around the Cuba theme to do so. Copa's airline business is unlikely to benefit to any meaningful degree, for example, due to Cuba.
Copa already has flights to Havana, and hardly anyone will use Copa to go from Cuba to the US, since you'd have to make a stopover in Panama first, which geographically would make no sense. As for cruise lines, they tend to make bad long-term investments due to having huge CAPEX needs.
The CUBA fund seems like a mediocre solution in search of a problem. I see no reason to buy it. Do be forewarned that since it is a closed-end fund, it can (and often does) trade at huge premiums to its actual asset value depending on speculative interest in Cuba at the moment.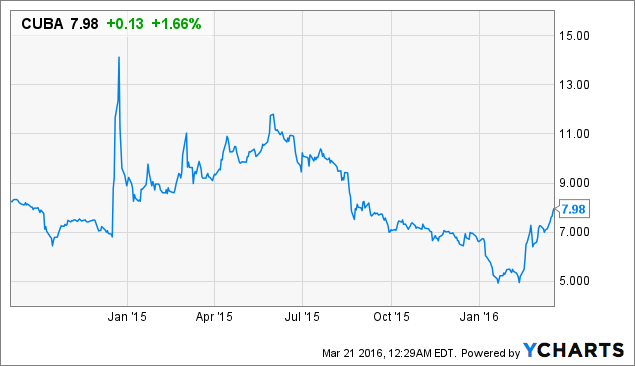 CUBA data by YCharts
As you can say, in late 2014, for example, the fund almost doubled in the span of a week following some Cuban political rumors. If you do want to trade this fund for some reason, make sure you aren't buying it way over NAV.
More Soda Taxes
Britain has tentatively decided to roll out a new sugar tax starting in 2018. This came as a surprise, since the British government had previously been thought to be against such a proposal.
The tax would cause the price of a can of coke to increase by roughly 12 cents. Britain's move follows in the wake of other countries taking a similar approach.
France, Chile, and Mexico have all adjusting their beverage taxation policies to try to discourage soda consumption. Chile, for example, raised the sales tax on sugary beverages while simultaneously reducing sales tax on water to try to promote substitution.
In Mexico, the soda tax has resulted in a roughly 10% decline in soda consumption; more than many people had expected. For soda titans such as Coca-Cola (NYSE:KO) and PepsiCo (NYSE:PEP), it should be slightly troubling to see. Perhaps, their product isn't in the same category of addictiveness as alcohol, tobacco, and other such goods that are virtually immune to higher taxation.
There has been much effort to impose more soda taxes in cities across the US, however, with little effect thus far. The industry has spent a great deal of money in lobbying efforts to maintain the status quo.
However, while they are defending their home turf rather successfully so far, it seems internationally that anti-soda regulation is picking up momentum. As the global obesity problem grows, it will be harder and harder for the soda giants to avoid taking their share of the blame.
I own Coca-Cola and am not greatly concerned about its long-term prospects. It will find a way to distribute and sell whatever sort of non-alcoholic beverages that people desire in the future. But be aware that, like the tobacco industry, they could face significant political opposition along the way.
Disclosure: I am/we are long KO.
I wrote this article myself, and it expresses my own opinions. I am not receiving compensation for it (other than from Seeking Alpha). I have no business relationship with any company whose stock is mentioned in this article.