A Primer on Pelorus
For those unfamiliar with my fund, Pelorus Capital, it is a long/short equity fund located in Vancouver, BC. I run the fund for family and friends, and also have most of my liquid net worth tied up in Pelorus.
I follow a value investing framework, looking for fundamentally over or undervalued assets in the market. We do not trade (portfolio turnover is roughly 33%), and while we pay attention to technical factors, such as the risk of a short squeeze, we use them to inform the timing of our position only, not the underlying thesis.
I value being adaptable in the application of my analysis: if a view on the state of the world is more efficiently expressed as an option position, or a capital structure arbitrage position, or simply a debt position, Pelorus is able to execute on those differences in efficiency. We are not limited only to equities, but often our views revolve around the equity of a company, and so the majority of our positions will be equity, or equity options.
I design the portfolio to be relatively insulated from macro or market moves, which is why it is structured as a long/short portfolio rather than a long only portfolio. Pelorus' exposure can move from 70% net long to 70% net short, and anywhere in between, again playing into adaptability of the fund. I firmly believe that this flexibility in adjusting exposure gives us the ability to manage market volatility and control risk.
Global Market Analysis
The United States
The Fed kept interest rates (shocker) unchanged, and reduced their expected rate hikes in 2016-2018 to two from three. We view this as neither positive nor negative: the low rates are a reaction to legitimate problems around the world. However, the risk is that asset markets are becoming increasingly distorted by low rates. The markets (S&P, NASDAQ, and Dow), however, viewed the FOMC decision as a positive and continued their upward climb back into a territory where we feel they are overvalued.
It is worth noting that among the gainers since the bottom in February, the stocks with the largest short interest have significantly outperformed the market.
We remain short the S&P 500 and Russell 2000, largely as hedges against our long portfolio.
China
Next up this week was China's approval of a new 5-year plan. Key items include reforms to SOEs, reducing barriers to private enterprise, and a growth target of 6.5-7%. We view these as good ideas, but difficult to implement in a way consistent with growth at 6.5-7%. Cutting waste, excess corporate borrowing, and slashing jobs (even with a multi-billion dollar fund to ensure re-employment of lost workers) is difficult to achieve when China's growth is largely driven by waste in public and private projects which shows up in GDP, huge expansion in credit to fund said waste, and the jobs that these two economically unsustainable activities create.
The (expected) rhetoric from Chinese officials, such as Premier Li, is also illustrative of the government's unwillingness to acknowledge how bad things are on the ground. While we cannot know how much of his own optimism Li truly believes, if it is even 50%, it shows that he is somewhat disconnected from the true gravity of China's problems. It is also key to note that many of Li's assurances were effectively empty phrases: "New forces that drive China's development are fast taking shape, in a way that has gone beyond our expectations." We do not see any such new forces: credit expansion continues, banks are facing increasing loan losses, and to take one example, patent and IP rules in China are still woefully lax, inhibiting the ability of the country to innovate outside of government sponsored and controlled environments.
We also ask the question, given the significant stimulus the PBOC has already enacted, coupled with the stimulus accounted in Li's proposals: why does an economy with such potential need stimulus in the first place? Further, we look at the proposals in this new 5-year plan and see little connection between them and the actual problems that China is facing. As such, we have not adjusted our significant short on Chinese equities and the Yuan. This is in spite of the risk of government intervention affecting both of these positions.
Europe
In light of the fallout of last week's ECB decision (to decrease negative rates further and expand QE) and this week's BOE decision (to stand firm on rates), the most notable change this week in Europe were the financials which continued a broad based decline, spurred largely by the increased pressure on earnings from easing. We believe that QE has reached its limits in Europe, and that monetary policy has reached its limits worldwide. What Europe needs is fiscal stimulus, and until it gets it, continued manipulation of markets by central banks is not a positive for anything except continued asset bubbles (Spanish 10 year at 1.43% vs. the US at 1.87% and the UK at 1.45% anyone?) which will deflate at some point.
Portfolio Holdings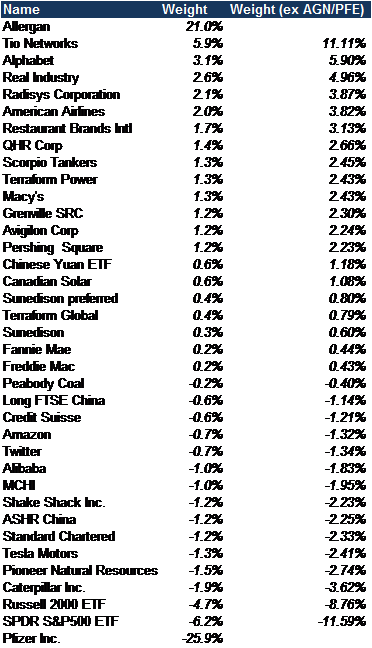 Long Portfolio Updates
Real Industry
Real Industry (NASDAQ:RELY) reported Q4 2015 and FY2015 results on Monday. Revenue came in slightly lower than Pelorus' estimates, but net loss for the year was better than our estimates. Management continues to execute on significant cost reductions, and 2015's results were obfuscated by numerous one-time costs. When stripped out, the business continues to perform well, especially considering the current aluminum environment.
It is worth noting that 55% of Real Alloy's revenue for the year was tolling, compared with the long run expectations for a 50/50 split between buy/sell and tolling. This helped control pricing risk for Real Alloy during the year, which was one of the most challenging on record. Volume growth continues to be slow, but there are numerous signs at Real Alloy's primary customers that they are investing in increased capacity to meet automotive demand; this is a positive for Real Alloy.
There are a number of data points that are worth noting when it comes to progress made in 2015. Because Real Alloy is a low gross margin business, any cost savings that management can realize make an outsized impact on the bottom line, therefore management's ability to operate efficiently is key to the valuation and our thesis regarding the company.
In 2015, RELY realized $15 million of COGS savings vs. a $13.4 million target, and targets $17 million in 2016. Liquidity at the company has been enhanced by more than $50 million since the acquisition through a rationalization of working capital and reducing the ABL. Leverage has also been reduced at the company from 4.5x and should converge on 4.0x shortly. All of these elements increase the flexibility of RELY to not only weather the market turmoil but also to raise capital for future opportunities in the form of not only high yield debt, but mezzanine debt, and also bank debt. RELY's management has reiterated their commitment to minimize dilution and have an impressive network of advisors who will enable the company to structure any future transaction in a very creative way. Because it is a buyer's market across the industries RELY is looking at, this flexibility is incredibly valuable. It is worth noting that the increase in rates across the high yield market in particular has been offset by lower multiples of potential targets, with the net effect being a slight benefit for acquirers.
Regarding future opportunities, cost savings will continue to be realized at Real Alloy going forward. In 2015, Real Industries failed on 3 bids: it was outbid on 2, and walked away from the third after a disappointing result during due diligence. We believe that this demonstrates the continued discipline of management when it comes to capital allocation, something that is extremely important to Pelorus' thesis around the company.
Also of note is the activity at Cosmedicine. The company settled a ~$850k IP dispute in its favor and is set to have its products launched on a number of the leading TV shopping networks, and is also set to launch in a leading department store. The company's IP is very strong and its products have received rave reviews in a number of publications. We continue to view the Cosmedicine as a hidden gem for RELY, one that the market overlooks because of its very small current impact on the financials and the relative complexity and size of Real Alloy.
Overall, our valuation for the company remains unchanged at $13, representing 9.7x 2016E EBITDA. This valuation is non-inclusive of the ~$1.20 per share in estimated Cosmedicine option value, and further value added by the company's exceptionally effective acquisition platform.
The SunEdison Complex (SUNE, TERP, GLBL)
This week SunEdison (SUNE) announced it was delaying its 10-K filing due to material weakness in accounting standards (no surprises for us there). Because TerraForm Power TERP relies on SUNE for a number of its accounting functions, it also delayed its 10-K. Initially shares sold off on the news, but later recovered.
We fully expect the results from SUNE to be atrocious. The company is restructuring its solar materials business, which will result in significant restructuring expenses, which will add to the already almost incomprehensible financial statements.
The cancellation of the Vivint Solar (NYSE:VSLR) merger is a positive for the company from a liquidity standpoint, though the company's plans to add a term loan of $258 million (which it no longer will) to finance the deal may mean shorter cash on hand in the short run.
We view the development side of SUNE's business as an option. It is exceedingly difficult to analyze, but we believe there is significant value in the development company as it possesses a number of competitive advantages, not the least of which is its focus on commercial rather than residential customers. To that end, we viewed the Vivint transaction as undermining the value of the development company and were relieved when the deal was cancelled.
We continue to believe the best approach for positioning around the uncertainty at SUNE is to play both the equity options via a $1.50/$8 January 2018 call spread. We believe the upper end of the devco's valuation given current circumstances is $7-8 per share, representing 9-10x our 2016E EPS estimate, a conservative 3.1GW of development. The value of the company's Yieldco stakes ($1.05/SUNE share for TERP, and $0.52 per share for TerraForm Global GLBL) and IDRs add to this valuation.
Regarding TERP and GLBL, we continue to believe both entities will be able to operate successfully as standalones. TERP is at the high end of leverage the balance sheet can take after the closure of the Invenergy deal, and we view this as a damper on growth in CAFD in the near term. However, we believe the company is well able to cover its current distribution of $1.40 per share, which at our average purchase price of $7.62 implies a yield of 18.3% which is exceedingly attractive considering the quality of assets at TERP. We are not optimistic that TERP will increase the dividend this year: the balance sheet is stretched (debt to EBITDA stands at 6.7x), Invenergy is not particularly accretive this year, and the uncertainty around SUNE's survival favors conservatism on behalf of management.
GLBL has been pulled down by 2 factors: SUNE and concern that turmoil in emerging markets places its PPAs at risk of cancellation or renegotiation. On the first factor, we believe that SUNE will continue as a going concern, and so the support agreements which cover $107 million in expenses at GLBL in 2016 are likely. However, should these support agreements not come through, GLBL has adequate liquidity to continue expanding to a scale where the company can stand on its own two feet, though this will result in a dividend cut. A $0.825/share dividend would represent a yield of 25%, a 10% spread to TERP, and would save the company ~$27.5 million per year.
On the second, approximately 73% of the company's 813.3MW of total plant capacity as of the last 10-Q are in jurisdictions that we feel less comfortable with (namely Brazil, China and South Africa). We view India as the highest quality of the BRICS, and as such, GLBL's increasing exposure to India is a positive, and its country risk is a transitory one. Given the company is, from our point of view, de-risking its portfolio geographically, we view the company's 36.4% yield on our average purchase price of $3.02 per share as more than compensating us for the risks inherent with GLBL.
We have structured our combined position as 53% TERP, 17% GLBL, 13% SUNE options, and 17% SDSNP (SUNE's perpetual preferred). The combined position yields 13.5%.
Scorpio Tankers
Scorpio Tankers (NYSE:STNG) released its annual report on Friday after the close. Scorpio continued to see impressive growth across the business. Not only did the company significantly increase the size of the fleet over the year, but it also saw significant growth in TCE revenue per day from $25,837 in 2014 to $23,698 in 2015. These price increases were consistent across its pool, TCE, and voyage (spot) revenue, although to differing magnitudes.
Consolidated vessel revenue was up 120% for the year, with net income up 318%, illustrating the significant operating leverage inherent in the business.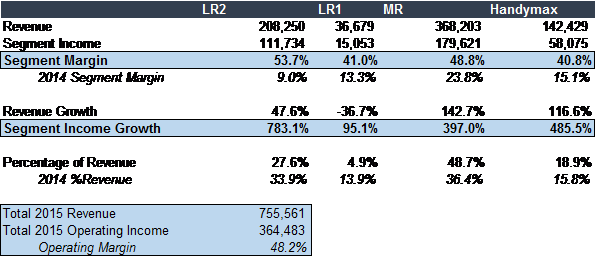 Figure 1: STNG 2015/2014 Operating Breakdown (source: Pelorus Capital, Scorpio Tankers 2015 Annual Report)
The company's LR2 segment continued to grow significantly, largely due to the delivery of 12 new vessels in 2015 which resulted in a 655% increase in revenue days and a 64% increase in TCE rates. Revenue increased 210% with segment income increasing 783%. The LR2 segment saw the largest increase in TCE rates amongst STNG's segments, largely due to increased demand for larger vessels on longer haul routes from the Middle East and India.
The company's LR1 segment saw significant revenue declines for the year, although margins were up significantly in the segment. This was largely due to a gain on sale of $2 million and a $7 million reduction in charter hire expenses due to a significant decrease in charter days for the year, offset by a significant increase in TCE rates for the year from $16,857 to $21,804. This increase in rates is due to new refinery openings in the Middle East and Africa.
The company's MR segment, its largest operating segment, grew revenues 142%, and saw a 397% increase in segment profit, illustrating the significant economies of scale in a well-run tanker fleet. The segment's growth was primarily driven by a 43% increase in MR rates and a 96% increase in revenue days.
The company's Handymax segment saw 117% growth in revenues and 485% growth in segment income driven by a 36% increase in TCE revenue and 231% increase in charter days due to a significant increase in owned vessels throughout the year.
Also worth noting is the company wide improvement in bunker costs as a result of lower oil prices. STNG is in an attractive position: worldwide trade in refined products increases when oil prices decline, which is a positive for STNG and was reflected in 2015 in increases in TCE rates in each of STNG's segments. Further, STNG also benefits from lower fuel costs at the same time, leading to extremely attractive economics for the business. Export oriented refineries around the globe have operated at higher utilization rates, which has increased demand for MRs and LRs around the globe.
STNG continues to be relatively highly levered at 4.83x debt/EBITDA and is currently free cash flow negative due to its significant order book. The company has an LTV against its vessels of roughly 50%, which is a manageable level. Because STNG's assets are all new, and the product tanker market outlook continues to be strong, the current book values of the company's assets reflect realistic values for its ships, and we see limited risk of significant asset price declines. Secondhand prices, though down significantly from their 2004-2008 peak, have remained stable since 2014, and have shown moderate growth since 2010, though remaining below long-term averages.
The company has $170 million of payments on its order book due in 2016, and a further $201.3 million due in 2017, against $166.45 million of liquidity on the company's credit facilities. STNG has, in total, $558.2 million of contractual obligations due in less than 1 year, the majority of which are newbuilding installments for 12 vessels, 3 of which are set to be delivered in 2016. The majority of the company's debt is due in 2018-2021, which gives the company more than adequate time to generate significant free cash flow with which to pay off the debt or refinance. We view this flexibility as a positive for STNG.
Looking forward, continued closure of refinery capacity in the developed world, coupled with increased refining capacity in the US and Middle East, have prompted an increase in long haul voyages. Further, Pelorus sees little reason for oil prices to increase materially in 2016, and this will continue to fuel activity in the refinery space, which will benefit STNG.
The strong demand side picture is moderated by a significant global product tanker order book, which stands at 18% of current capacity. This growth in supply will, in turn, be moderated by slippage (non-delivery of vessels), which has become a growing issue in recent years and should continue to remain.
Net, we view the outlook for TCE rates as neutral to slightly positive. For STNG in particular, we continue to see strong growth in the business going forward as the fleet continues to expand, and as newbuild expenses (which we treat as growth capex) begin to drop off, the company will generate significant free cash flow.
We value STNG at 1.15x book value, given the company's impressive 17% ROE, and 10.42% ROCE which we view as sustainable. This represents a share price of $8.15 on a fully diluted basis, which equates to 8.8x FY2015 EBITDA.
Short Portfolio Updates
Valeant Pharmaceuticals
We have been a holder of Bill Ackman's fund, Pershing Square (OTCPK:PSHZF), since shortly after its inception, largely because we viewed it as an opportunity to buy into a top holding company with ROEs above 20% annually and significant barriers to entry at a price below book value. We still view Mr. Ackman as a talented investor, and we continue to hold our position in Pershing for the reasons we outlined in our initial report on the company.
However, we have always viewed Valeant Pharmaceuticals (NYSE:VRX) as a mistake. We have questioned its business model from the outset, and saw it fundamentally as a rollup that relied on cheap financing, price increases, and cost-cutting expertise, and fudging GAAP financials, none of which are sustainable. We take the view that a core part of any drug company's strategy needs to be R&D and simply cutting it, as Valeant has done, puts the company on a treadmill of acquisitions that eventually causes problems.
If you, for example, amortize the company's purchased R&D assets over their actual useful life, and start accounting for acquisitions as reductions in free cash flow, then the company's financial performance is less than stellar. Similarly, if you look at the company's GAAP accounting, reported earnings are significantly lower than under the company's favored non-GAAP measures which do not take into account acquisition expenses, for example. Considering that acquisitions are the primary driver of growth for the company and are recurring; not including expenses relating to these activities doesn't accurately reflect the underlying economics of the business.
For these reasons, and because Mr. Ackman decided to make it such a large position, we have been short Valeant both as a short bet and also as a hedge to our Pershing position. This week, that strategy paid off as Valeant dropped 50% on Tuesday after announcing earnings and guidance below estimates, reporting worse than expected results, and announcing that its delay in filing financial statements may trigger a default on its debt.
As an example of the mess the company is in, after having its CEO on leave and then return, the company put out guidance of adjusted EBITDA of $6.2-$6.6 billion, then a slide on the earnings call (just a few hours after the original guidance) stated $6 billion as the number. The lack of attention to detail, given the scrutiny the company is under, is astounding.
On Wednesday, attention turned to the tougher restrictions creditors were likely to place on the company. We view this as both unsurprising and also relatively immaterial. Valeant has ample liquidity in cash and receivables to repay a significant portion of its near-term debt. Further, creditors have no incentive to force the company into bankruptcy as it means headaches for them, and the value of Valeant's parts are higher in an orderly liquidation than in a bankruptcy scenario where buyers have significantly more leverage. Our view is that the company will continue as a going concern, and the primary focus will be on adjusting its capital structure.
Valuing VRX is complex. On a GAAP EPS basis, we believe fair value for the company lies (conservatively) between 7-10x forward earnings, implying a value of $28-$40 per share based on FY2016E EPS of ~$4. We also note valuation implied by a sum of the parts valuation. VRX has spent a total of $38 billion on acquisitions over its lifetime, compared to a debt load of $30 billion. Assuming the values of the underlying pieces VRX has brought together are unchanged from their acquisition prices, this implies an $8 billion equity value for VRX, or $23/share. However, we believe that is an absolute floor for the valuation. Bausch and Lomb and Salix were bought for $25 billion, and if you assume that this valuation is held constant, the rest of VRX's business is valued at $16.5 billion and generates about $3.2 billion of unlevered free cash flow per year, implying a 19% FCF yield. We view some of the valuation as rightly deserved due to the contingent liability risks and accounting risks associated with VRX; however, it is undeniable that the valuation has now creeped into "plausibly attractive" territory.
Finally, there is still the (limited) potential for VRX to be acquired, in particular by Allergan (NYSE:AGN)/Pfizer (NYSE:PFE) after their mega-deal closes. The two companies share significant overlap and there is room for synergies to be realized between VRX and AGN.
Given that Valeant's price was converging on a number of measures of fair value, we felt that the time was right to close our short position, and did so on Tuesday at an average price of $34.33.
Peabody Energy
We have been short Peabody (NYSE:BTU) for the past 6 months as it became clearer and clearer that restructuring was needed to deal with the low coal price environment. Cash burn at the company is significant, leverage is excessive, asset sales have failed, and given the capital structure (where most of the debt is first lien), and equity holders are likely to get nothing.
We exited our original short around $3 per share, and were fortunate to miss most of the massive short squeeze that took shares from $2 to over $7 in a week. We looked at Seadrill (NYSE:SDRL), Chesapeake (NYSE:CHK) and a number of other highly shorted names and decided to just get out of the way. We fully intended to re-enter our short and did so at an average cost of around $6 per share.
Peabody's equity is, without a doubt, incorrectly priced. The senior debt of the company trades at ~35 cents on the dollar, the second liens trade at ~6-8 cents on the dollar. Combined, the bond market values the company at under $1 billion, while the equity implied an enterprise value of over $8 billion at its recent peak around $7. A simple rule of thumb for investors is that the debt guys are usually right.
This week, Peabody announced that it may have to seek bankruptcy protection (needless to say we were not shocked). While the company is exercising its 30-day grace period with regards to its $71 million of interest payments due on March 15th, we view this as simply kicking the ultimate end of the company down the road. As we have outlined above, the company's liquidity levers (asset sales, bank lines, etc.) have all been pulled. Given the equity is a terminal short and bankruptcy is imminent, we continue to hold the position.
Tesla
Tesla (NASDAQ:TSLA) this week continued its upward slide. We continue to view the ethics behind the business as wonderful: we love the idea of electric cars, and we think that Tesla's products are very good (despite problems with the quality of the Model X, and reliability issues in the Model S).
However, what we don't agree with is the valuation. Ford (NYSE:F), for example, generated $1,359 in free cash flow per car in 2015. Tesla trades at an EV of $31.61 billion. Let's back out some estimates: let's assume Tesla earns $1,400 in free cash flow per car on its 90,000 cars it's supposed to deliver in 2016 (which it won't; the company may be operating cash flow positive on a quarterly basis by the end of 2016, but that is not FREE cash flow). How much would it have to grow that number to justify its current value?
Starting at $126 million in free cash flow in 2016, Tesla would have to grow at 55% compounded a year, every year for 10 years. This means that by 2026, Tesla has to be producing 7.4 million cars vs. Ford's current deliveries of about 6.6 million in 2015. This is while Toyota (NYSE:TM), BMW (BAMXY), Mercedes, and a number of electric vehicle startups all compete for market share with superior resources.
Note that this valuation assumes Tesla's battery division isn't part of the equation. Obviously, its inclusion in the picture means growth in Tesla's automotive business doesn't have to be as high, but the point is the same: just to grow into its current valuation, Tesla has to execute flawlessly, and to a magnitude that is very rarely seen in any business, let alone automotives. We like Elon Musk, but no one is perfect: things will go wrong, competition is going to intensify, and Tesla is unlikely to earn margins in excess of its competitors. So where's the upside versus today? We believe it simply doesn't exist.
Because of the small margin for error, we continue to view Tesla as an attractive short, despite the danger of continued market mania surrounding the company.
While Tesla is exceedingly difficult to value (all we are willing to be on is that the value is very likely less than what the stock is trading at today), we place an upper end valuation on the company of 2.2x 2017E sales, which we forecast at $8-10 billion, implying an EV of $16.6-$22 billion, implying a value per share of $90-130 per share.
Caterpillar
Caterpillar (NYSE:CAT) announced on Friday that total machine retail sales declined 21% on a rolling 3-month basis in February. We expected that resource and oil and gas deliveries would be significantly down year over year; however, it is important to note that the construction side of the business slipped 12% versus 7% in the prior 3-month period.
We continue to view CAT as an attractive short, especially after its large run up from a low of $57 in February to a closing price on Friday of $75.47 (a 32% increase). The business continues to deteriorate, and while P/Es for cyclical stocks usually inflate at the bottom of the cycle, we wonder why the company deserves to trade at 19.7x 2016E EPS considering this is where the company traded in 2014 before the significant downturn in commodity markets.
More importantly, we fail to see what would drive a turnaround in the commodity space. This ties in to our negative view on China, whose insatiable demand for commodities spurred significant overinvestment in capacity worldwide (which benefited Caterpillar). Given the slowdown we believe is happening in China (which is much worse than what is evident from the slight slowdown in GDP figures), this excess capacity will take a while to work through, and so we forecast a number of years of stagnant sales at CAT. Additionally, the relative strength of the US economy and the Fed's relatively tight monetary policy place upward pressure on the USD, which is a negative for CAT.
We place a fair value on CAT at 16x 2016E EPS, which should come in ~$3.55 per share, implying a value of $57 per share. Of note is that we see few catalysts that would increase 2017 earnings meaningfully from their 2016 levels, which we believe adds further credence to the short side.
Special Situations Portfolio Updates
Pfizer/Allergan Deal
This week the spread on the deal widened slightly. As the deal is already ~50% of our capital, we did not, and will not, add more. The concerns around this deal in the market are evident: the deal spread implies a 15-16% annualized return, which is unusually large. This spread has been persistent because of the political risk (which we view as minimal) around the deal.
This week's news was regarding delays around Teva's (NYSE:TEVA) $40.5 billion deal to buy Allergan's generic unit. This week Teva announced that the closing of the acquisition may not be complete until June, a 3-month extension from earlier estimates, due to holdups at the FTC, who are in turn waiting on the FDA. A delay in Teva's purchase of Allergan's generics unit is likely to delay the closing date of the "Pfizergan" merger.
Ultimately, we see limited risk that the Teva deal doesn't go through: both sides have made significant moves in selling off assets, with Teva agreeing to sell off numerous Allergan units. If this development should also delay the closing of "Pfizergan", then the annualized return on the deal will fall; however, this doesn't warrant a widening of the spread, in our view. A delay in getting the deal done is not the same as the risk of the deal not getting done at all.
That being said, because the trade is negative carry due to Pfizer's dividend, a delay does narrow the net return on holding an arbitrage position between AGN and PFE. Before the Teva announcement, the spread was already very attractive, however, and so an additional quarter or two of Pfizer's 4% dividend only amounts to 1-2% reduction in return. This week, by comparison, the spread on the deal widened from 15% on Monday (11-12% net of the negative carry) to 24% (20-21% net of carry) on Friday. We view this as a severe overreaction.
The collapse of Valeant also spread across the specialty pharma sector this week, hitting names like Teva and Allergan. Indeed, valuation multiples across the sector have been depressed by the increased attention it has garnered due to Mr. Shkreli and Valeant. We view Allergan in particular as relatively well insulated from many of the risks that now seem to be important to investors: it has a well-diversified business, a competent management team, a good project pipeline, and moderate leverage especially considering the attractive metrics on Allergan's generic unit sale to Teva.
We continue to view the spread as attractive (we have locked in a 15% annualized return net of negative carry if the deal closes by the end of the year), and more importantly view the downside as limited: were the deal to collapse, there is such a wide spread that any price declines on Allergan's side would be limited. We view the company as undervalued at current levels and would continue holding a meaningful portion of our position should the deal fall apart. Furthermore, we view the risk of our offsetting short in Pfizer as minimal as the company had effectively no reaction on the deal announcement; and, if anything, the loss of the tax advantage of Allergan is, from Pfizer's perspective, a negative.
Disclosure: I am/we are long RELY, STNG.
I wrote this article myself, and it expresses my own opinions. I am not receiving compensation for it (other than from Seeking Alpha). I have no business relationship with any company whose stock is mentioned in this article.
Editor's Note: This article covers one or more stocks trading at less than $1 per share and/or with less than a $100 million market cap. Please be aware of the risks associated with these stocks.