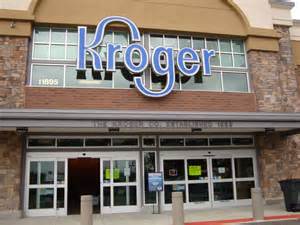 Supermarket giant Kroger (NYSE:KR) is a stock I've been bullish on for some time. The company's dominant position in its field has allowed it to produce a string of almost unbelievable comp sales increases exceeding a decade in length at this point. In addition, it continues to expand its margins as it produces operating leverage on its rising sales base through prudent buying and expense management. But shares have been stagnant of late, bouncing around but going nowhere, and as the company recently reported Q4 earnings and 2016 guidance, it seems the bulls may have been given another chance to buy.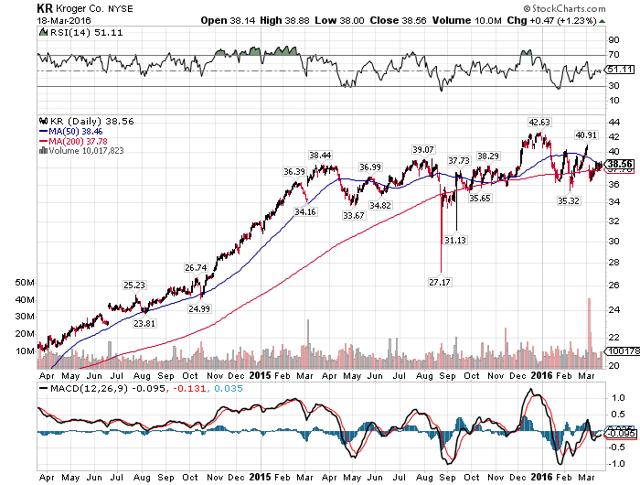 Kroger's dominance in the recent past has been due to its ability to grow its comp sales excluding fuel, the key measure for any grocery chain. The company's ability to grow its sales organically as well as some very well-timed acquisitions has kept growth humming along for years. Kroger's unique combination of organic and acquisition-fueled growth has kept its top line moving higher and along with its margin expansion, has made a very attractive long in a sector where attractive longs are hard to find. But after 2014's epic rally, 2015 saw KR shares trade largely sideways and indeed, we find KR shares at the same level today they traded for last March.
Kroger's Q4 was a very nice quarter not unlike the rest of 2015 with respect to its key operating milestones. Same store sales were up 3.9% ex-fuel as total revenue ex-fuel was up 6.5%. KR is constantly buying smaller competitors so its total revenue growth is usually well in excess of its comp sales growth despite the fact that its store base is largely flat. This blended growth strategy is one I find very attractive and KR executes it well.
In addition to rising sales, KR has been busy boosting its operating margins through a combination of higher product margins and lower operating expenses. The company's 2015 gross margin rate improved 100bps and although operating expenses moved up slightly due to acquisitions, the company's blended operating margin rate moved up 40bps to 3.3% in 2015 over 2014. On a margin base that is that small, a 40bps increase is enormous and Kroger should certainly be proud of the work it has done to see margins higher.
The problem with KR's success in its comp sales and margin gains is that once you give the market that level of performance, it wants more. Kroger's guidance for 2016 was weaker than some had hoped as KR guided for 2.5% to 3.5% comp growth this year, a marked deceleration from last year's number. When companies try to stack comp gains on top of comp gains - as Kroger has done for 12 years now - it becomes harder and harder to continue to raise the bar. There is only so much revenue a store can support and after 12 years of increases, it is understandable that KR may be hitting some type of ceiling on its growth. That's not necessarily a shock but it does mean that investors may revalue KR somewhat lower if this growth 'impairment' is permanent.
The good news is that at just 17.2 times this year's earnings, Kroger is cheaper than it has been in the past. The year of sideways trading in the stock has created a condition where we can buy Kroger for 2015 prices but at 2016's operating levels. The company has continued to grow revenue and profits in the past year but the price is the same, meaning shares are cheaper on a relative basis. That's important as KR's perceived slowing growth may turn off some growth investors that were keen to see KR's blistering comp growth continue indefinitely. While I would also have liked to have seen stronger comp sales guidance, the fact is that +3% is still a strong number and writing off KR is imprudent.
Turning to the chart, KR certainly experienced a failed breakout last December when it went to $42 and then reverted right back into the channel it has been trading in for about a year. This was anything but bullish and I'm afraid it will be challenging for the stock to achieve a price higher than the high it made during that failed breakout. It will take a concerted effort from bulls to push the stock over that level but if it can hold over $42, it could certainly be the base for a longer term rally. The consolidation that has been occurring for a year now is the base for a big rally in my view, although the time frame for such a rally may have been lengthened due to KR's 2016 guidance. Still, the stock is trading right near support on a few levels including the 200DMA so for right now, the risk/reward setup looks good for longs once again.
Ultimately, I think KR will continue to push higher as the consolidation has done some good work on the company's valuation. KR continues to chug along but with a stagnant share price, the stock is substantially cheaper than it was a year ago. And with it trading right at strong support, it would seem the bias from here is up. The only note of caution I'd offer is that $42 is going to offer some strong resistance so bulls will need to do a lot of work to get the stock over that level sustainably but it can be done. KR's fundamentals are still very strong and its new buyback should help fuel some additional EPS growth.
Given that shares are trading at support and may have a hard time pushing through overhead resistance, a prudent way to own KR is through selling puts. For example, the Jan 2017 $38.75 strike put - right at the money - is trading for $3.50. Should one sell that put, a gross yield of 9% is achieved for a ~10-month commitment to buy shares should they trade below $38.75 next January. In addition, breakeven on that trade is all the way down at $35.25, a level that represents the relative lows the stock has put in over the past year. This is my preferred way to own KR right now as I think shares will trade sideways or up; put selling provides a margin of safety and a huge yield simultaneously while we wait for clarity.
Disclosure: I am/we are long KR.
I wrote this article myself, and it expresses my own opinions. I am not receiving compensation for it (other than from Seeking Alpha). I have no business relationship with any company whose stock is mentioned in this article.