The S&P 500 notched its fifth straight week of gains as crude oil temporarily hit its highest level in 2016 on Friday before some profit taking occurred in the energy markets. Both the S&P and Dow have clawed their way back to basically even after a very difficult start to 2016 for investors.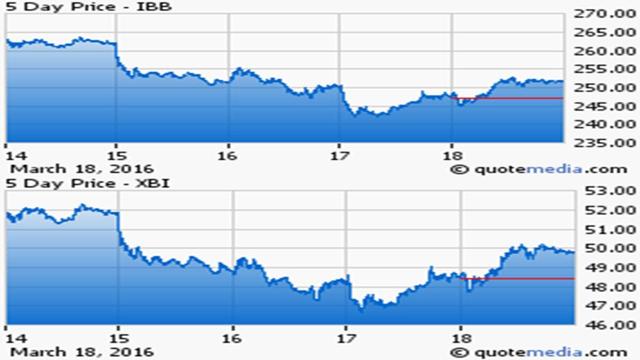 Unfortunately the biotech sector continues to be under immense strain for myriad reasons. The implosion in Valeant Pharmaceuticals (NYSE:VRX) continues to cast a pall on the entire pharma and biotech sectors. The complete lack of demand for secondary offerings has caused the stocks of numerous small cap developmental concerns that need to raise funds for continued development to crater as well. As can be seen from the chart above the biotech sector continues to be mired in its deepest and longest bear market since the end of the financial crisis. The sector is now down slightly more than 40% from its highs in July.

There were several interesting developments across the biotech industry this week. Gilead Sciences (NASDAQ:GILD) continues to be unable to develop a core growth area of focus outside of the HIV and HCV spaces which it dominates, and which provide over 90% of its overall revenues and profits.
The foray into oncology took a major hit last week as its compound Zydelig failed to live up to expectations. The company had to stop the six trials for additional indications around this blood cancer compound due to adverse side effects. The head of that development effort left the company after being in the job for only 15 months. The company will begin an immediate search for a replacement which shows it still has great interest in this area. In an article that should hit today, I opine on how Gilead should use the recent huge downturn in biotech land to sharply increase its acquisition focus and buy its way into promising areas outside of HIV and HCV. It just appears its internal development efforts are not being fruitful as this time.
Eagle Pharmaceuticals (NASDAQ:EGRX) lost nearly 20% of its value in trading on Friday after the U.S. Food and Drug Administration rejected the firm's application for approval of Kangio (an intravenous formulation of bivalirudin) for use as an anticoagulant in patients undergoing percutaneous coronary intervention.
But while this event was disappointing, the news doesn't mean Eagle can't work through the FDA's concerns and eventually secure the drug's approval. And more importantly, EGRX's earnings and revenues are going to be driven in the short and medium term by sales of Bendaka, a just-launched (and much-improved) version of Treanda.
Eagle rolled out Bendaka in conjunction with partner Teva Pharmaceuticals (NYSE:TEVA), and both companies seem aligned on moving Treanda patients onto the new product. Teva has some $800 million in annual Treanda annual revenues, and Eagle will receive 20% royalties on all Bendaka sales.
Eagle's drug Ryanodex is also undergoing Phase II trials and has a good chance of winning approval for exertional heat stroke. I took the opportunity provided by the pullback Friday to double my stake in this promising biopharma. The stock sold for north of $100 last summer and even with the FDA's hopefully temporary rejection of Kanglio, the company should still earn between $4 and $5 a share in FY2016 after doing just better than breakeven in FY2016. The stock is too cheap at under $45. Mizuho Securities' five-star rated analyst (TipRanks) reiterated her Buy rating and $71 price target after the FDA news broke and I believe that is a fairer price for Eagle given its growth prospects.
Three years ago, doctors in Europe largely displayed significant doubts about using biosimilars instead of branded biologics on their patients. But after a couple of years of experience with a biosimilar of Merck's (MRK) Remicade, a new report finds doctors are much more responsive to the biologic copies.
The latest survey of European Crohn's and Colitis Organization members was released Friday at ECCO's 11th Congress in Amsterdam. It found that just under 45% of physicians taking the survey considered the Remicade biosimilar interchangeable with the original product. That compares to only 6% who felt that way in 2013.
Biosimilars are projected to see over $30 billion in annual sales a decade out. This is one of the key reasons I own Amgen. It is going to be a major player in this emerging market. It has five biosimilar products that should hit the market between 2017 and 2019. Annual sales from those products by the start of 2020 should be $3 billion or more.

Applied Genetic Technologies (NASDAQ:AGTC) added to its recent positive mentions from analysts last week as Janney Montgomery initiated the shares as a buy with a $23 price target on Friday. Cantor Fitzgerald on February 8th reiterated its Buy rating on this gene therapy play as the first of three discovery programs as part of its partnership with much larger Biogen (NASDAQ:BIIB) has been agreed to. Cantor has a $34 price target currently on the stock.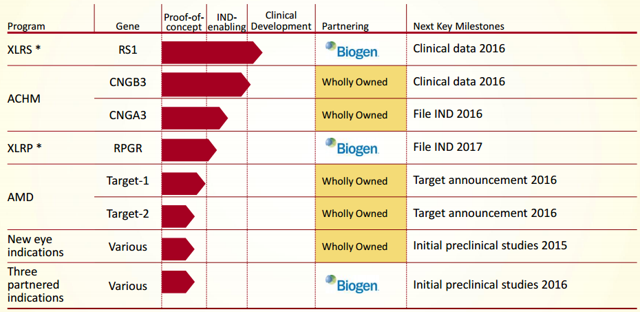 A few days later Roth Capital reiterated its Buy rating and $34 price target. Its analyst also cited the company's partnership with Biogen as a reason for its optimism along with the company's sizable cash position. I have a small stake in AGTC which has a $250 million market cap. ~60% of the company's market cap is in net cash. Insiders have a sizable stake in the firm and have not sold a share in over a year. The company's partnership with deeper pocketed Biogen is a plus as is its multiple "shots on goal" as well as several trial milestones in 2016.
Regeneron (NASDAQ:REGN), a one-time market darling that has lost some of its luster after the stock has declined by a third and it recently lost an important patent case against Amgen (NASDAQ:AMGN), certainly has become a battleground stock for analysts over the past couple of weeks.
Since March began, Citigroup, Leerink Swank and Brean Capital have all reiterated Buy ratings with price targets in a tight range from $480 to $505. Taking the other side of that bet are JP Morgan, Jefferies, Canaccord Genuity, Piper Jaffray and Suntrust who all have reiterated or initiated Hold ratings. They have a wider range of price targets between $443 and $525 a share. Ironically, Canaccord has a higher price target than the three firms that have buy ratings. Chardan Capital is the most negative with a Sell Rating and $325 price target.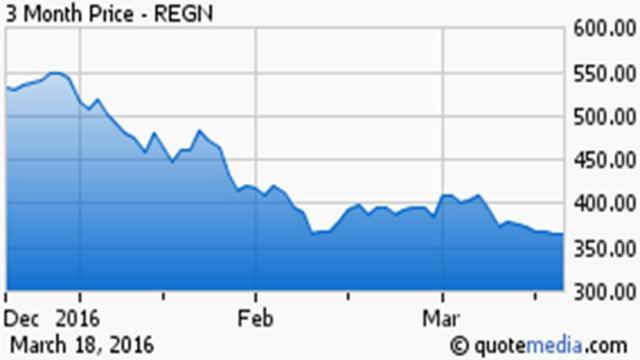 I have no position in Regeneron at this time, although I am finding the divergence of opinion on it amusing and part of what makes a market. The stock's valuation is too rich to be in my large cap "core" positions in the sector. With an almost $40 billion market capitalization, it is much too big to be included within my small cap portfolio in the sector.
Note: New analyst ratings are a great place to start due diligence, but nothing substitutes for deeper individual research in this very volatile sector of the market. Many of the small cap names highlighted in the "Analyst Insight" will eventually appear in the "Spotlight" section, where we do deeper dives on this type of promising but speculative small cap concern.

In today's spotlight feature we take a look at Cara Therapeutics (NASDAQ:CARA). This biopharma stock is down some 75% in this brutal biotech sell-off but the company and its shares still hold great promise should things fall into place in the quarters and years ahead.
Cara Therapeutics is an emerging biotechnology company that is focused on developing novel therapeutics to treat human diseases associated with pain, inflammation and pruritus. Cara possesses both near-term clinical development opportunities combined with proprietary approaches to developing first-in-class novel therapeutics. The stock has sold as high as $23 over the past year, but currently goes for just over $5 and has a market capitalization of just under $150 million at this time.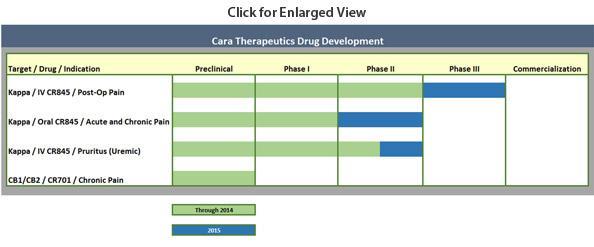 Cara's most advanced compound, CR845, is currently undergoing clinical testing for acute pain and pruritus. This patented compound possesses analgesic, anti-inflammatory and anti-pruritic activities appropriate for multiple therapeutic applications. In addition, Cara aims to develop a future pipeline of first-in-class molecules at novel analgesic and anti-inflammatory targets using its proprietary drug screening technology.
Cara's primary drug candidate is CR845 which is in mid to late stage trials for treatments in three distinct areas. CR845's primary benefit is that unlike currently marketed opioids, this new compound does not produce inhibition of intestinal transit (ileus), does not induce life-threatening respiratory depression, nor does it elicit signs of addiction or euphoria.
The compound was in a Phase 3 trial for a treatment for acute post-op pain before a recent clinical hold which should be lifted soon. This was one of the key drivers of CARA's poor performance so far this year. This hold was announced in February following a limited number of patients reaching a pre-specified stopping rule related to increases in serum sodium concentrations to the mild to moderate hyponatremia level that is greater than or equal to 150 Millimoles Per Litre. To put in perspective, the normal range expected in this population without treatment is 135 Millimoles Per Litre to 145 Millimoles Per Litre.
The company will be meeting with the FDA to figure out a way to get the trial back on course. An easy way to accomplish this would be to slightly cut the dose in the trial studies if they cannot be rectified at current dosage levels. Most analysts that cover the company believe this issue should be resolved shortly with the trial resuming sometime in the second quarter of this year.
Post-op pain treatments is roughly a $9 billion annual market in the United States. Obviously just a small percentage of that market would be a significant potential revenue and earnings stream for Cara.
The company is also testing an oral version of CR845 for acute and chronic pain. The company plans a multiple dose Phase 2b study in OA patients in the second half of this year which will be an upcoming milestone when it commences. An oral CR845 Phase 2a study in osteoarthritis patients ('OA') showed in December of last year that CR845 exhibited a dose-related reduction in main baseline pain score to the end of the two week treatment period with up to an approximate 34% reduction for the highest dose group.
As of the end of the 2015 fiscal year, cash and cash equivalents and marketable securities totaled $106.7 million compared to $52.7 million at the end of FY2014. The increase in the balance of cash, cash equivalents and marketable securities resulted primarily from a receipt of the net proceeds of $75.2 million from the follow-on offering of common stock which closed in August of 2015. This will fund all three areas of trials of CR845 for two years and beyond.
Given the current lack of demand for secondary offerings in this sector at the moment, having no funding needs for the foreseeable future is a huge positive for this "Tier 4" biotech stock. In addition, given that the company's market capitalization outside its cash position is just over $30 million which means it is a potentially cheap acquisition even with a substantial premium. After an over 75% plunge from its highs last summer and potential positive developments on the horizon, I like CARA's risk/reward profile at current levels.

Thank You & Happy Hunting
Bret Jensen
Biotech Forum
Disclosure: I am/we are long AGTC, AMGN, BIIB, CARA, EGRX, GILD.
I wrote this article myself, and it expresses my own opinions. I am not receiving compensation for it (other than from Seeking Alpha). I have no business relationship with any company whose stock is mentioned in this article.