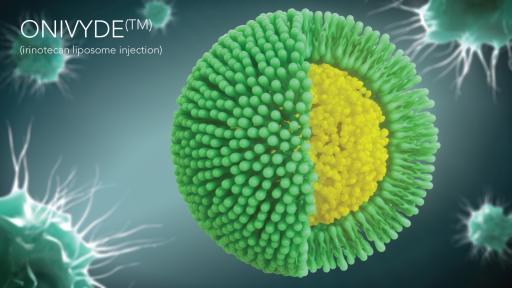 Image source: Multivu.com
I must say that I was quite impressed with the way Merrimack (NASDAQ:MACK) is handling the Onivyde launch. As I usually do, I went through the earnings report and then headed over to Merrimack's page on Seeking Alpha to look at the Q4 conference call transcript. The information management revealed about Onivyde's first two months on the market was overwhelmingly positive. Net sales just two months into the launch were $4.3 million and the company has done a very good job with Onivyde's coverage and has already reached 10% of all patients in a short time.
Onivyde's growth should accelerate significantly over the next few quarters, which might enable the company to reach a cash flow break-even point without tapping the equity market for more funds (but raising more capital might be necessary). Of course, this would not be possible without the substantial milestone payments from Baxalta. In this article, I will analyze Onivyde's launch progress and will assess the value of the pipeline, which holds more potential than Onivyde's current indication.
Onivyde launch - excellent execution
Onivyde's revenues in Q4 were $4.3 million. A launch of a product is always hard, and this is especially the case when a company has no prior experience with drug launches. But Merrimack has handled the launch quite successfully. Here are some important facts about the launch:
Gross revenue was $5 million ($4.3 million net), implying a gross-to-net discount of around 13%. The company guided for gross to nets in the 10% to 15% range for 2016.
The company estimated that it has reached approximately 10% of addressable post-gemcitabine pancreatic cancer patients in Q4 - this translates to 300 patient starts in two months on the market (considering the estimate for 18,500 patients with post-gem cancer patients in the US). Management said that "this initial penetration compares very favorably with other oncology product launches."
The market Merrimack is targeting is highly concentrated and the initial target is 250 priority accounts. The company has managed to reach 80% of these priority accounts before the end of 2015.
Most of these priority accounts have P&T committees that evaluate whether a drug should be added to the formulary of that organization. This process can take several months, which should inhibit Onivyde's early uptake. The company has also reported solid progress on this front and one-third of the targeted accounts have completed their P&T approval processes. The situation should rapidly improve in the following months and should positively affect Onivyde's growth trajectory.
Merrimack has reached approximately 75% of targeted national and regional payers, which account for 300 million lives. The majority of these payers indicated that they will cover Onivyde.
Overall, the company has covered all bases following the approval and has managed to get $4.3 million in net sales in a short period of time. While it is hard to forecast net sales trends in the following quarters (I need more than one quarter to assess the situation), I think that the growth should be back-end loaded due to the coverage issues in early stages of the launch. Although the progress has been outstanding, it will take some time to get all of these things in place and it will inhibit Onivyde's uptake in the next quarter or two.
Although Onivyde has reached 10% of patients in Q4, not many of them have been on therapy the whole two months. The time on therapy will probably be different compared to clinical trials and an average patient might be on therapy for 3 or 5 months compared to around four months in Phase 3 trials, which will affect the net sales patterns. But if we assume that the company will reach 10% to 15% patients with an average treatment duration of four months, annualized net sales should be in the $80 million to $120 million range by the end of the year based on Onivyde's pricing and the company's market size estimate.
It is tough to estimate the actual level of revenues for 2016 since all we have is two months of sales, but if we assume a steady uptake over the following quarters, net sales could be around $8 million to $12 million in Q1, between $12 million and $20 million in Q2 and Q3 and $20 million to $30 million in Q4 2016.
Pipeline value
My previous article focused on Merrimack's value based on Onivyde without assigning any value to the pipeline. The purpose of the article was to show how undervalued Merrimack was just based on Onivyde's current indication. I think the value of the pipeline significantly exceeds the value of Onivyde's currently approved indication.
Onivyde's pipeline progress could unlock significant shareholder value:
If approved for frontline metastatic cancer (ongoing Phase 2 trial), the addressable market would increase between 3x and 5x given the prevalence (49,500 frontline patients versus 18,500 post-gem patients) and longer time on therapy. Worldwide peak sales for this indication might conservatively be in the $1 billion to $1.5 billion range and applying a 30% probability of approval, a 15% discount rate and 9 years to reach peak sales from today gets us to $3.5 to $5.5 per share for this indication.
Onivyde in glioma, pediatric sarcoma, and breast (imaging) is in Phase 1 and I would not assign any value at the moment and would regard it as a free call option for long-term investors.
MM-302 in combination with Herceptin in patients with ErbB2 ((HER2)) positive, locally advanced or metastatic breast cancer - is in Phase 2 trials and there are approximately 8,000 patients in the United States. Assuming similar pricing to Onivyde (it could be higher based on the lower TAM) MM-302's worldwide peak sales could be in the $300 million to $400 million range. If it gets accelerated approval, it could hit the market before Onivyde for frontline metastatic cancer, but assuming it takes 9 years to reach peak sales and the same conditions as for Onivyde in frontline metastatic cancer, the value per share for MM-302 is $1 to $1.5 per share.
MM-121 could be the most valuable asset Merrimack has. As mentioned in my previous article, U.S. peak sales are seen above $1 billion and worldwide peak sales estimates could reach the $1.5 billion to $2 billion range. Phase 2 trial results that were announced back in 2014 were very promising with very good hazard ratios and discounting the mentioned peak sales by 9 years at 15% and applying a 30% probability of approval results in the candidate's value per share in the $3.5 to $7 range (based on $1 billion and $2 billion in peak sales respectively).
The combined value of the pipeline amounts to a range of $8 to $14 per share. If we add Onivyde's value I calculated in my previous article for the currently approved indication ($7 to $10 per share), we get a price target range of $15 to $24. The low end of this PT range is slightly above the analyst median target of $14. De-risking the pipeline could substantially increase Merrimack's value in the following years and the most important milestones are due in 2017 and 2018.
Can Onivyde sales and milestone payments bring Merrimack to cash flow break-even without additional dilution?
At the end of 2015, Merrimack had $186 million in cash. The company expects adjusted operating expenses in a range of $225 million and $245 million this year. The company is entitled to $46 million in milestone payments this year and Onivyde revenues should be at least $40 million and most likely in the $50 million to $60 million range, which means that it should have $25 million to $45 million in cash at the end of 2016. The operating expense guidance was above my expectations for this year and the company could be short on cash in late 2016 unless Onivyde's uptake exceeds my expectations. Additional dilution or another debt raise may become a reality later this year, but the dilutive risks are likely in the 10% to 15% range at most.
Partnering one of the pipeline candidates could also eliminate the risk of dilution, but would reduce the upside potential. This might happen anyway, at least for territories outside of the U.S. (like the company did with Onivyde).
The pipeline is also a significant risk at this point, especially going into 2017 and 2018 when a wealth of data should become available. This poses a risk if Merrimack's share price advances above $10, which is the high end of the valuation range for Onivyde's current indication, but negative developments will likely have an effect on Merrimack's share price regardless of its levels.
Conclusion
Merrimack has executed the Onivyde launch very well. Its share price is up more than 40% since early February and has started to outperform the biotech sector (NYSEARCA:XBI). The stock's behavior over the last couple of weeks is indicative of strong demand, especially considering the continued weakness in the biotech sector and insiders were buyers in the last few weeks as well.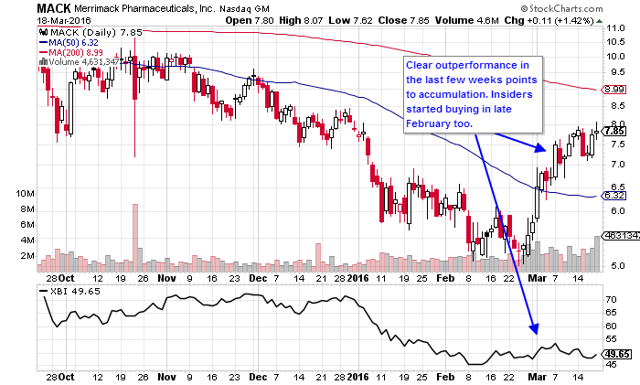 Source: Stockcharts.com
Disclosure: I/we have no positions in any stocks mentioned, but may initiate a long position in MACK over the next 72 hours.
I wrote this article myself, and it expresses my own opinions. I am not receiving compensation for it (other than from Seeking Alpha). I have no business relationship with any company whose stock is mentioned in this article.
Additional disclosure: This article reflects the author's personal opinion and should not be regarded as a buy or sell recommendation or investment advice in any way.