As the S&P 500 earnings momentum wanes, it's the buybacks that are key earnings growth catalysts. As of September 2015 quarter, buybacks as a percentage of operating earnings were 67.2% with $150.6 billion in buybacks as compared to operating earnings of $224.2 million for the quarter. Further, for the quarter ended September 2015, the buyback and dividend yield was 5.53%.
The first chart below gives the S&P 500 operating earnings, buyback and buyback yield trend for the last six years.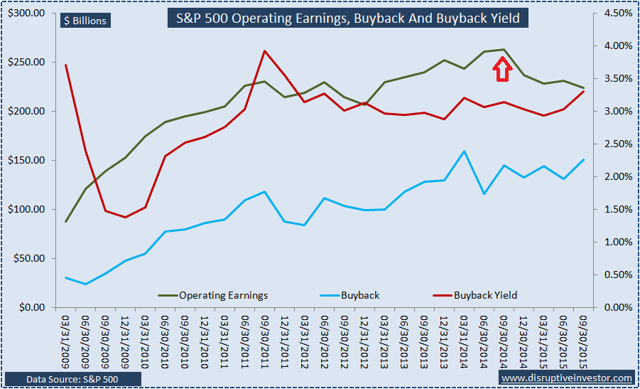 While operating earnings have moderated in the recent quarters, buybacks continue to surge and it's the buybacks that are keeping the earnings growth momentum alive.
The second chart gives the buybacks as a percentage of operating earnings and the dividend and buyback yield.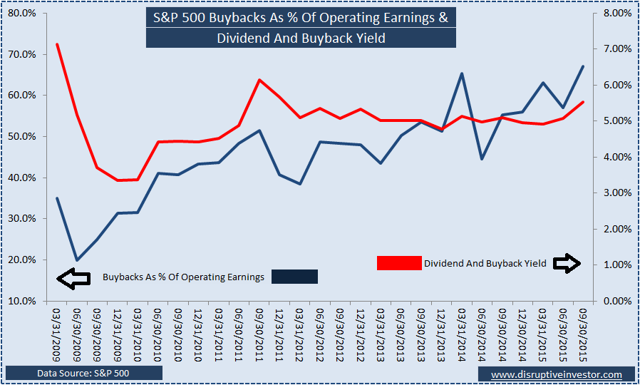 The buybacks as a percentage of operating earnings are at the highest level since 2009 and with operating margins compression in the recent past, it would be interesting to see if record levels of buybacks sustain in 2016.
My view is as follows -
First, in times of weak economic activity and earnings growth, companies tend to increase buybacks to reward shareholders and to buy back certain stocks at relatively depressed prices. With economic activity sluggish, I expect strong buybacks to continue.
Second, as of 3Q15, 29% of the buybacks was from the IT sector, 18% from consumer discretionary sector and 17% from the financial sector. These sectors have meaningful cash glut and this is likely to support record levels of buybacks even if operating margin continues to shrink in the foreseeable future.