Today news broke that Sherwin-Williams (NYSE: SHW) would acquire Valspar (NYSE: VAL), a top rival at $113 per share in an all-cash deal. Valspar is currently trading around $84. With this deal, revenue is expected to hit $1.6B and the deal will close during Q1 2017.

All-Cash
During a market environment where debt is unfavorable and can actually be viewed as more of a burden than an asset, Sherwin-Williams financing this deal with all-cash is extremely strategic. While only 7.4% of their capital structure is LT debt, Sherwin-Williams is smart to not lever itself higher.

(Source: Bloomberg)
Sherwin Williams has also maintained a stable WACC at 8.44%.
The Ideal Target
Valspar is the ideal target for acquisition. The company has consistently grown its cash flows, maintained a steady debt level all while their WACC has dramatically decreased over the past year: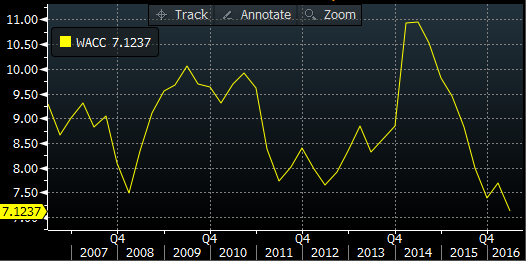 (Source: Bloomberg)
On the downside, Valspar's announced their revenue dropped to $885.8M from $1,149.5M during their January 29 earnings report. This drop isn't solely unique to Valspar, however. It is a trend that is being seen widely across the sector. Valspar's margins have also increased year over year because raw materials are relatively cheap and their margins are expected to increase further this year.
Valspar is also seemingly adverse to slow growth in Asia as their primary business is in North America and they have very little market share in China.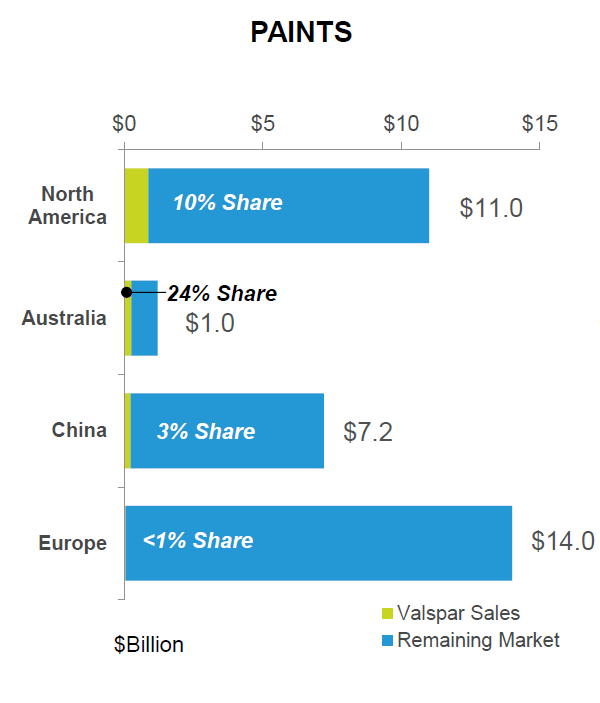 (Source: Bloomberg)
Valspar has shielded itself from the mess currently happening in Asia and has strategically placed its business in the right market.
Outlook
This deal, which falls in the basic materials sector, could be an indication that the market could see more M&A activity in 2016 after a dull first quarter. Back in December, in the same sector, Dow and DuPont announced their merger, the so-called "merger of equals", valued at $120B. While the Sherwin-Williams-Valspar deal is much smaller, these two large deals are good news for the sector as a whole.
The specialty chemicals industry, which Sherwin-Williams and Valspar fall under, face tough growth for earnings due to the global environment surrounding prices and demand. Equities have been thus hit hard in the industry and M&A could be the key to finally boosting them up: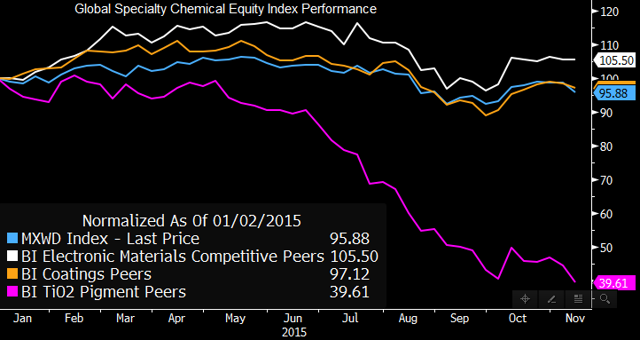 (Source: Bloomberg)
While the equities have suffered, most of these companies are not heavily levered and are great targets for acquisition. The Dow-DuPont merger and this Valspar acquisition could bring more M&A sentiment to the industry and could also be the beginning of a chain of deals that will ultimately boost up the equities of the industry even during a time when sentiment and earnings growth is sluggish. Valspar isn't new to deals either. The recently completed multiple transactions with Ace, Quest, Inver and Wattyl.
Overall, I see Sherwin-Williams' acquisition of Valspar as extremely strategic and could bring a more positive sentiment to the sector, which is greatly needed. Valspar is a solid company that has just been affected by cyclical sector-specific earnings decline.
Author's Note: all data is pulled from Bloomberg.
Disclosure: I/we have no positions in any stocks mentioned, and no plans to initiate any positions within the next 72 hours.
I wrote this article myself, and it expresses my own opinions. I am not receiving compensation for it (other than from Seeking Alpha). I have no business relationship with any company whose stock is mentioned in this article.