Introduction
Detour Gold (OTCPK:DRGDF) has been the Canadian market's darling for quite a while, and the company is now surfing the waves of a perfect (positive) storm with an increasing production rate, decreasing capital commitments and weaker Canadian Dollar. Time to have another look at this mid-tier producer!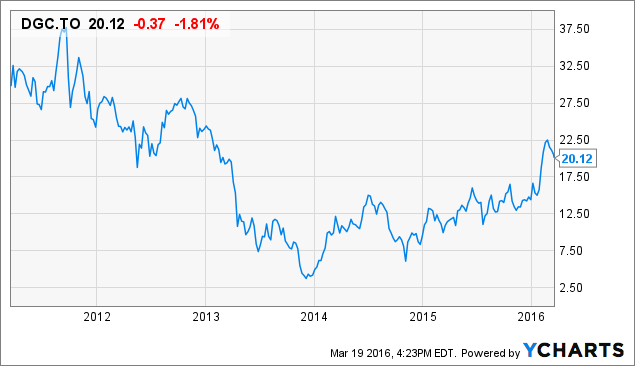 Detour Gold is a Canadian company and despite its sizeable market capitalization of almost $2.5B, it still doesn't have a tier-1 listing on a US market. This means you might want to trade in the company's shares through the facilities of the Toronto Stock Exchange, where Detour is listed with DGC as its ticker symbol. The average daily volume is approximately 1.75 million shares for a dollar volume of in excess of $25M per day.
Reviewing 2015 does not raise any red flags
As I explained in my previous articles on Detour Gold, the company's main priority was to make sure it's generating a sufficient amount of cash to repay a large part of its $500M convertible bond, due in the final quarter of next year. Ramping up a large scale operation like the Detour Lake mine rarely goes without any hiccups, and it's good to see the company has now reached a steady-state production rate of in excess of 500,000 ounces of gold per year.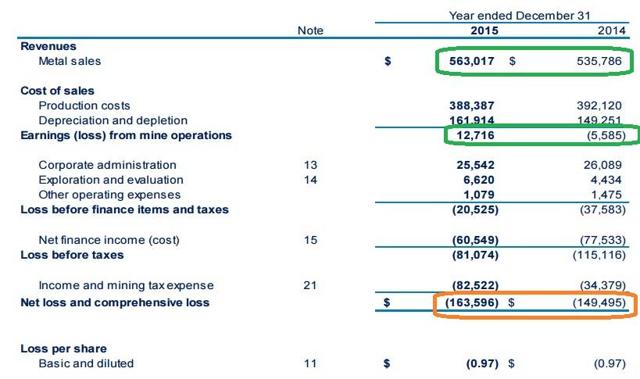 Source: financial statements
Indeed, Detour produced 505,558 ounces of gold in FY2015, which resulted in a total revenue of approximately $563M, a 5% increase compared to the previous financial year. The final quarter of 2015 was important for Detour Gold as it saw a total gold production of almost 150,000 ounces of gold. This allowed the company to reach some sort of 'tipping point', as its income statement is now showing a positive operating income of $12.7M compared to an operating loss of almost $5.6M in the previous financial year. This didn't mean Detour was able to report a net profit as well, as the administrative costs, total financial expenses as well as an $82M tax bill were pushing the company in the red.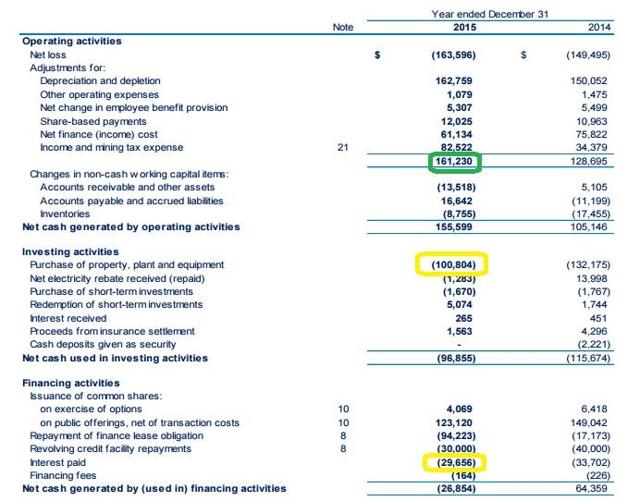 Source: financial statements
However, this didn't lead to a net cash outflow. The company's cash flow statements indicate the company reported an operating cash flow of $161M as the $82.5M tax bill didn't have to be paid in cash, but was added to the balance sheet as a long-term liability. As Detour Gold's capital expenditures were just $101M, the company generated a positive free cash flow of $60M, but this still excluded the $30M in interest payments on its debt. So on an all-in basis, Detour reported a positive free cash flow of US$30M which is 'okayish' but definitely much better than the negative free cash flow of $38M last year!
But the $500M debt repayment is looming around the corner
Generating a positive free cash flow in a $1100 gold environment is quite good, but it's pretty obvious a $30M cash inflow won't really help Detour Gold as it had to repay quite a bit of debt in the second half of 2015 when a $500M convertible bond is due.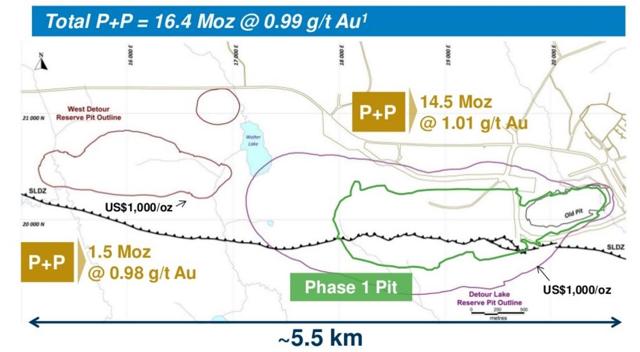 Source: company presentation
It's pretty obvious Detour Gold will be unable to generate a sufficient amount of free cash flow to be able to repay the $500M, and the company's current objective is to repay approximately $200M of the bond, and to refinance the remaining $300M.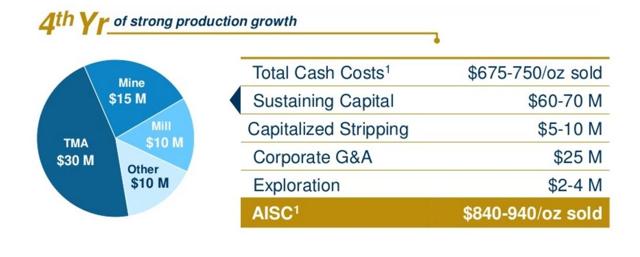 Source: company presentation
This sounds like a very fair and achievable target, considering Detour Gold's working capital position has increased to $215M of which $160M was booked as cash. I would also suspect the company will be able to increase its free cash flow this year as Detour's guidance is calling for a total gold production of 540,000-590,000 ounces of gold at an all-in cost of $840-940 per ounce. If I would use the mid-points of both guidances as well as a gold price of $1225/oz, Detour Gold should be able to generate a net margin of $330/oz on a total production of 565,000 ounces. This should allow the company to increase its free cash flow to in excess of $100M during the current financial year. This means I would expect the company's cash position to increase to in excess of $250M by the end of this year, so repaying $200M and refinancing the remaining $300M of the convertible debt definitely sounds like an achievable idea!
However, as the company's valuation is now quite high (trading at 25 times the free cash flow), it might also be a good idea for Detour to tap the equity markets for one more time to further reduce the total amount of debt that will have to be refinanced.
Investment thesis
I might be too cautious with my preference to issue a few more shares to raise more cash. If the gold price remains stable at $1225 or higher, Detour Gold should have no problem at all to find a financial party that is willing to refinance $300M of debt, considering the company will be generating in excess of $100M per year in free cash flow. Detour's financial situation is pretty safe at the current gold price, and it will be interesting to see what the company's management is planning to do to create even more shareholder value. I'm really looking forward to see the exploration results of the recently-discovered higher grade zone close to the Detour Lake mine.
That being said, Detour Gold seems to be pretty fairly valued right now, so it might be better to wait for a pullback (unless, of course, the gold price continues to increase).
Disclosure: I/we have no positions in any stocks mentioned, and no plans to initiate any positions within the next 72 hours.
I wrote this article myself, and it expresses my own opinions. I am not receiving compensation for it (other than from Seeking Alpha). I have no business relationship with any company whose stock is mentioned in this article.
Editor's Note: This article discusses one or more securities that do not trade on a major U.S. exchange. Please be aware of the risks associated with these stocks.