In my latest article we have seen that (1) Greek banks are very well capitalized, (2) that they are conservatively reserved and (3) that the framework of new legislation is working in its favor to address their NPL issues.
But what are the other major risks for the Greek banks? That's what will be addressed in this article. Greek banks do not have significant trading and FX exposures, so the focus will be on liquidity risk, new credit risks, operational risks and politics/legislation.
Let's dive in all of these briefly.
Liquidity risk
As banks only hold a tiny percentage of deposits as cash on their balance sheets (the rest they lend out) they are very vulnerable for bank runs, meaning customers start to withdraw cash by the masses. In such scenarios a bank never has all the cash at hand to service them all. This is exactly what happened in Greece: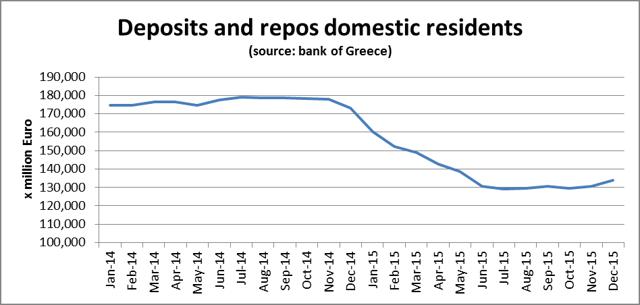 To mitigate this risk you need a strong central bank willing to give immediate 'life-support'(=providing cash) to the bank in question. Despite being criticized a lot, you have to give it to the FED they always have been very decisively to provide life-support. They have a demonstrated track record. Unfortunately, this is not the case in Europe making liquidity risks more likely. Although Europe created the Emergency Liquidity Assistance (ELA) fund, they do not have a strong track record due to slow decision making. Therefore, I would be skeptical to invest in European banks where ELA funding is not approved yet. However, Greece is already running for a while on ELA life-support and chances are extremely low that will be stopped abruptly. In sum: feel comfortable with cases that are already using ELA life support, but be skeptical if not: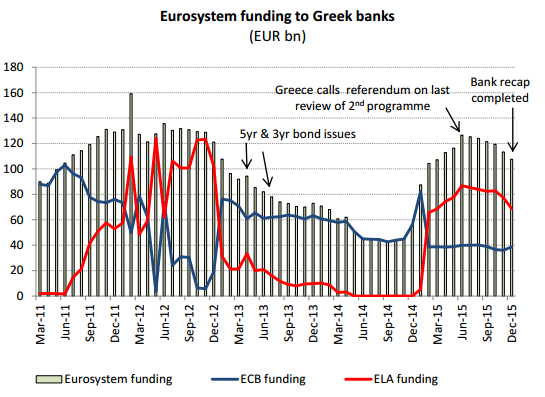 Source: FY2015 presentation Eurobank Ergasias
New credit risks
In my last article, we have seen current Non-Performing Loans (NPLs) are well reserved for. But what happens if a new mountain of NPLs presents itself?
Banks are highly leveraged (1:20) and so even a small 5% reduction of assets can wipe out all equity. It's a management-intense business, because you are very dependent on management judgment on asset value/risks etc. These qualitative factors don't show up in annual reports, making it very hard to assess.
The least we can do is have a look at the new NPL formations, and assess whether the trend is telling us something. Looking at the new NPL formations for the Greek banks, you will notice a gradual decline(with the exception of Mortgages). Below you will find the NPL formation of Eurobank Ergasias (EGFED). The other banks show similar patterns although reported on a consolidated basis.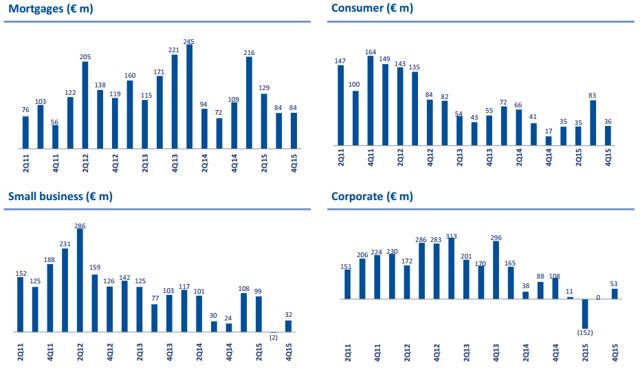 Source: Q4-2015 presentation Eurobank Ergasias
So, with the quantitative data at hand it doesn't seem a new mountain of NPL formation will present itself. But as we are very dependent on managements' judgment, we will never know for sure.
Operational risks
For operational risks we will have to get into management again (I told you banks are management-intensive!). Management decides how prudent the bank will be in its operations: how careful it will issue new loans, industry diversification policy, assessing exposures and how conservative assets are priced and provisioned for. Unfortunately, this will (again!) not show up in annual reports. So you have to find another way to feel comfortable with the management in place. The best we can do is find hints: reading their letters, watch interviews and compare the accounting assumptions they use.
As Charlie Munger mentioned in the DJCO 2016 meeting:
I don't think anyone should buy a bank if they don't have a feel for the bankers.
Politics/Legislation risks
The political risks in Greece are high. Despite the fact that major reforms have been passed (Social security-pension reform, income tax reform, NPL resolution framework), there is still a long list of remaining milestones that need to be fulfilled by end-2016. The new president Tsipras seems to have taken ownership of the reform-agenda and no new elections are on the horizon. That's a good start, but we have seen how turbulent Greek politics can be. For the Greek banks, reform progress is a key factor on the way of recovery and thus a major risk.
Conclusion:
Greece is already on ELA life support. This mitigates liquidity risks.
New NPL formation is in a downward trend, which is promising. But we are dependent on managements' judgment.
Before investing in a bank you have to get a feel for the bankers to minimize operational risks.
Greek politics are the main risk for a successful bank recovery.
So which Greek bank is best suited to invest in considering the risks at hand? That will be the topic of my next article…
Disclosure: I am/we are long EGFEF.
I wrote this article myself, and it expresses my own opinions. I am not receiving compensation for it (other than from Seeking Alpha). I have no business relationship with any company whose stock is mentioned in this article.
Editor's Note: This article covers one or more stocks trading at less than $1 per share and/or with less than a $100 million market cap. Please be aware of the risks associated with these stocks.