What's Your Number?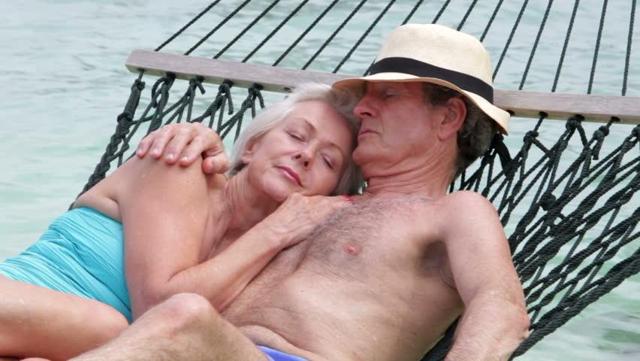 Some time ago, a financial institution ran commercials on T.V. incessantly. The theme was, "What's your number?" It was as if all we had to do was somehow, magically, conjure up the amount we needed to retire then all would be well.
Last week, there were any number of articles on Seeking Alpha purporting to show us that all we needed was $1 million and we'd be good, all set to face our retirement years.
One author informed us he grew sick of the rat race at a very early stage in his career. He made a good salary and saved a goodly portion of it each year. By the time he reached 45, he had had enough of "working for the man" and decided that with his $1 million he had put away, he'd be fine. We learned that his expenses were very low by most standards. He was able to live comfortably on about $20K. For some reason, the high cost of health insurance was not addressed very well, even though he acknowledged having to buy a bronze plan under the ACA (Affordable Care Act). Nevertheless, he was comfortable with his situation. He had answered the question, "What's your number?" with $1 million.
Doug Carey wrote How To Retire at 55 with $1 Million and ran the numbers for us. He concluded that with the proper allocations, we could retire at the age of 55. He, too, answered the "What's your number?" question with the same answer, $1 million. Only the age necessary to pull this off would be 55 under his scenario.
Somehow, this magical round number of $1 million has fascinated readers, investors, and authors alike. On the other side of that fascinating coin, terror has reigned in many investors' hearts. Embedded in their minds, this million dollar fantasy, for most, has caused no end of consternation.
Have I started too late to save and invest? Will I ever catch up? Should I invest more aggressively to grab the brass ring? What mix of assets should I choose? How do I balance risk for the return I need to make it? What is my risk tolerance, anyway? Can I do this on my own, or do I need a professional advisor to show me the way?
These and other questions cause so much confusion that some would-be investors never become actual investors. The uncertainty and lack of confidence holds them back from ever beginning.
You're Closer Than You Think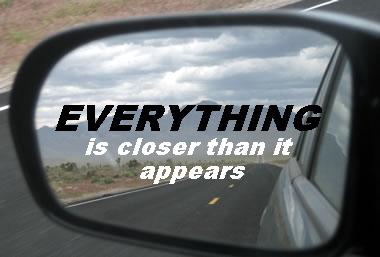 Since December 24, 2014, I've been writing a series illustrating portfolio management techniques an investor might use to fill the gap between an average couple's Social Security benefit of $28,800 and a $50,000 spending budget that would be fairly comfortable in many areas of the country.
For the average couple, it is a lot more doable and feasible, and requires no fantasy to achieve. You see, this retirement plan doesn't require achieving $1 million. In fact, it requires much less than half of that amount. But, I'll give you this; it does require a bit more patience than the 45 age plan or the 55 age plan.
In fact, it requires the average couple to have the patience to save and invest in dividend paying companies that grow those dividends over a normal work life of about 40 years. Yes, that means, for most of us working stiffs, working till our full social security benefit age of 66 before we begin collecting our full benefit.
Since we become eligible for Medicare coverage at 65 years of age (sooner if disabled), for most, this means a vastly reduced outlay for health insurance from the day our coverage begins. This represents an immediate bonus and requires us to have less in savings in order to retire.
Some writers have characterized the Social Security benefit as similar to an annuity, or think of it as akin to guaranteed bond interest. Thought of this way, it frees an investor to allocate more of his assets in equities and not bother so much with very low yielding bonds. A $28,800 average couple's Social Security might be thought of as having the equivalent of government guaranteed 30-year Treasury bonds worth $1,070,000 yielding 2.68% today.
$1,076,000 X .0268 = $ 28,836.80
So guess what? All those deductions for FICA that came out of your paychecks all those years turned out to be the equivalent, as if you had saved up over that magic $1 million. And now you and your spouse will be the beneficiaries of $28,800 every year for the rest of your lives. Add in the benefit of COLA inflation adjustments most years, and that annual boost in income will help with the rise in the cost of living.
O.K., So I Have The Equivalent Of $1 Million - But I Can't Retire On $28,800!
Alright, I'm with you there. Just because you have the "equivalent" of $1 million doesn't mean you can retire on that alone. That's because interest rates are so appallingly low today that it's not possible to get to that "magic" $50,000 annual income requirement on that Social Security benefit alone.
Just for comparison sake, if this average couple of ours did not qualify for a Social Security benefit, and they were ultra conservative and did not wish to take on any risk, their investment in risk-free U.S. 30-year Treasuries would require nearly twice that magic million:
.0268 X $1,866,000 = $ 50,009
So, How Do We Get To That "Magic" $50,000 Annual Income?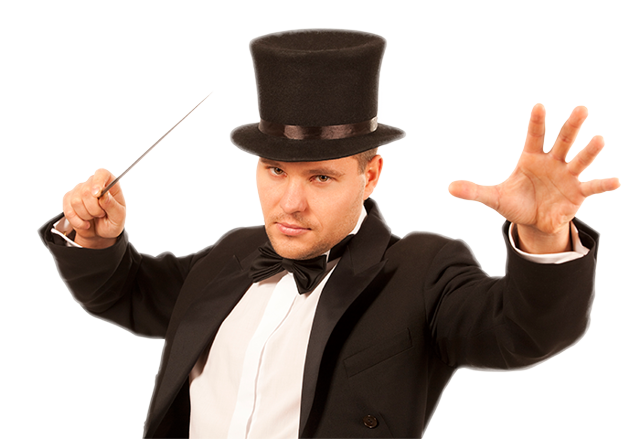 Here's where the real magic lies. And it's not really magic at all; it's math. Today, so many people say "I can't do math" and leave it at that. The negative feelings they developed when challenged as school kids carried over to their adult lives and they don't want anything to do with it.
Let's try to look at compounding in a simple way. When we allow our savings and investments to compound, we are simply making a wise decision. Instead of taking our earnings and spending them immediately, if we let those earning stay on account and earn more for us, we are compounding our wealth and income.
If we determine not to touch our dividends from high quality companies, but instead give our brokers instructions to automatically DRIP (dividend reinvestment program) those dividends back into the same company that paid them, then we have chosen investment over immediate consumption.
These new investments grow, along with the original investments, since the new shares we bought with those dividends will receive dividends of their own. Each quarter a company pays dividends (some companies pay monthly), we are growing our pile of wealth and income. More shares, more value. More shares, more income produced.
Quite simply, what this boils down to is this: That first $1,000 investment they made forty years ago will have been compounding at about an 8% rate and be worth about $290,000 at the end.
More Comfort For The Laggers Among Us
You say you're nervous because you've only saved half of what you'll need to reach your goal and retirement is just 10 years away?
Here's some good news for you. Using the rule of 72, we can discover about what rate of return you'll need to obtain in order to double your current assets in 10 years time.
If we take the "magic" number of 72 and divide it by a presumed interest rate, or dividend yield, it will tell us what rate we require to double our stake in ten years.
72 / 7.2 = 10 years.
So, a 7.2% dividend yield will do the trick to double your current stake in ten years time. Some would say that would require reaching for yield and taking on too much risk. Well, if the couple determines to work hard and contribute large amounts to their IRAs and 401Ks and non-tax advantaged accounts for those last ten years, they won't have to get anywhere near a 7.2% yield to reach their goal.
You Don't Need $1 Million To Retire
Earlier in the piece while we discussed the "magic" of a million, I advanced the idea that we don't in fact need to achieve $1 million in savings and investments to arrive at retirement nirvana. In fact, as I've been demonstrating right here on Seeking Alpha for 15 months with a live portfolio, achieving a comfortable retirement for many folks can be accomplished with much, much less. The un-magical number this requires is just $411,600.
The Fill-The-Gap Portfolio
I began writing a series of articles on December 24, 2014, to demonstrate a real live construction and management of a portfolio dedicated to growing income to close a yawning gap that so many millions of seniors and near retirees face today.
The beginning article was entitled, "This Is Not Your Father's Retirement Plan." This project began with $411,600 in capital that was deployed in such a way that each of the portfolio constituents yielded approximately equal amounts of yearly income.
The FTG Portfolio Constituents
Constructed beginning on 12/24/14, this portfolio now consists of 18 companies, including AT&T, Inc.,(NYSE:T) Altria Group, Inc., (NYSE:MO), Consolidated Edison, Inc. (NYSE:ED), Verizon Communications, Inc. (NYSE:VZ), CenturyLink, Inc. (NYSE:CTL), Main Street Capital Corporation (NYSE:MAIN), Ares Capital Corporation (NASDAQ:ARCC), Reynolds American, Inc. (NYSE:RAI), Vector Group Ltd. (NYSE:VGR), EPR Properties (NYSE:EPR), Realty Income Corporation (NYSE:O), Sun Communities, Inc. (NYSE:SUI), Omega Healthcare Investors (NYSE:OHI), StoneMor Partners LP (NYSE:STON), W.P. Carey, Inc. (NYSE:WPC), Government Properties Income Trust (NYSE:GOV), The GEO Group (NYSE:GEO) and The RMR Group (NASDAQ:RMR).
FTG Portfolio Dividends Received February 2016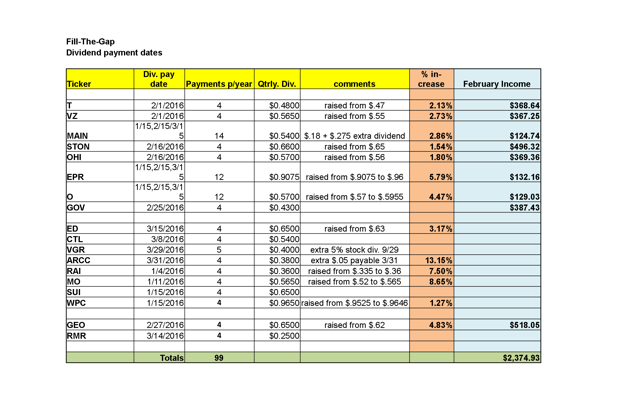 Fully half of our portfolio constituents, or nine of them, provided us with more dry powder to fund our latest purchase of STON. In addition, three of them gave us increases in our dividend payments in February. They included T, which raised the quarterly dividend from $.47 to $.48 for a 2.13% raise, OHI, which gave us an increase from $.56 to $.57 per quarter, or a 1.8% raise from last quarter, and EPR, which favored us with a raise from $.3025 per quarter to the new rate of $.32 for a healthy increase of 5.8% from last quarter's payment.
The recent purchase of STON and the dividend increases we just achieved have together grown the FTG portfolio income to a new record $26,466.78, giving us a current overall portfolio dividend yield of 5.49%. This is the dividend yield that a new buyer at today's prices would achieve.
Since we bought all of these equities at cheaper prices since inception of the portfolio, the yield on cost that we have achieved is 6.43%. In other words, based on the prices WE paid, we are receiving a dividend yield return of 6.43%.
These portfolio constituents represent an example of where retired investors with excess cash above what they need to pay the bills, near-retired investors and younger investors can constantly source cash to use as dry powder to make new investments. When stocks fall to better timed entry points they can buy shares in order to grow portfolio income.
In order to gain some of those better timed entry prices that enable me to receive higher yield and income, I've built some digital utility tools that work in real time to identify them.
Real Time Portfolio Income Tracker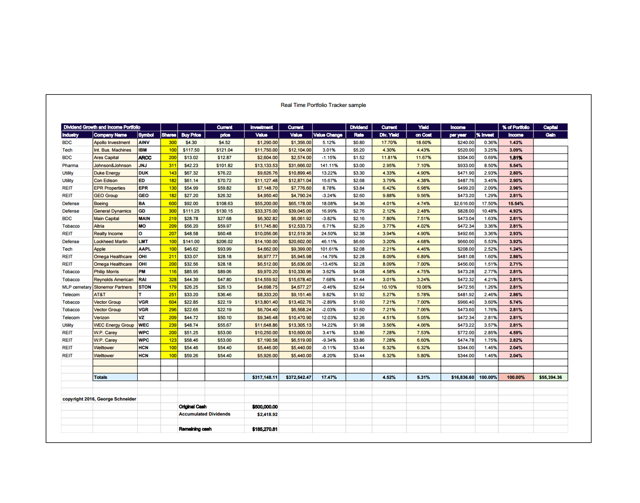 Watch List Real Time Tracker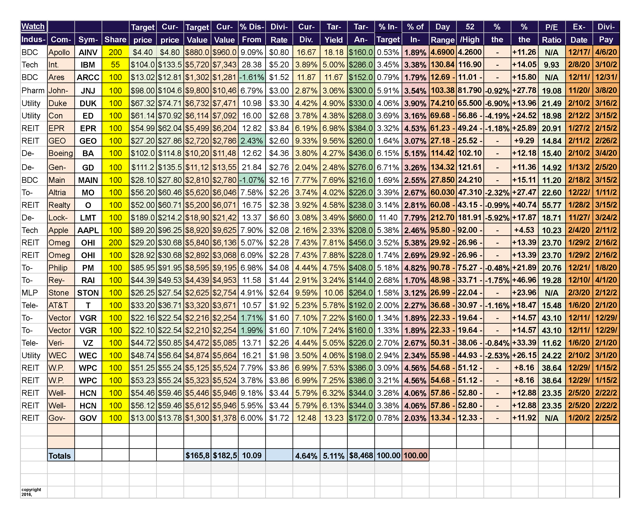 We began with $411,600 on December 24, 2014, added a $6,500 IRA contribution in 2015 and another $6,500 contribution in 2016, totaling $424,600 in invested capital.
The FTG Portfolio has grown to another record high of $490,775, for capital appreciation of $66,175, or 15.6%. This compares very favorably to the Dow Jones Industrial Average which is down 3.04% and the S&P 500 Index which is down 1.98% in that same period, from 12/24/14 to date.
FTG Thursday 3/17/16 close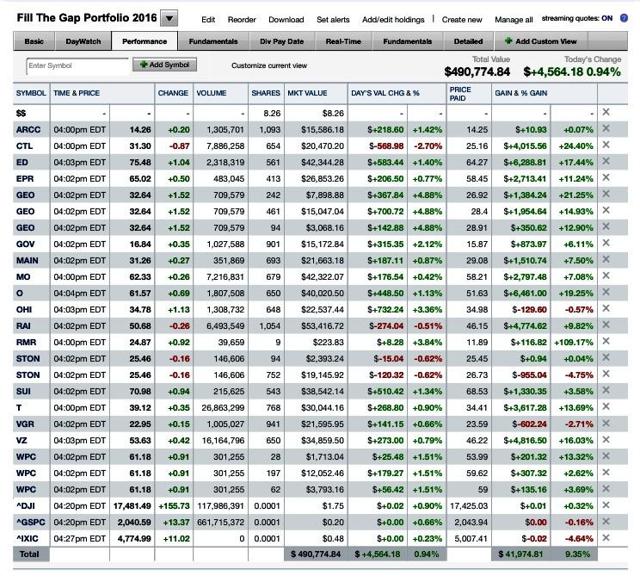 Retirement: One Dividend At A Time, Subscriber Portfolio Recap
We are ahead $27,842, or 10.46% year to date, while the Dow is up .32% and the S&P 500 is down .16% in that same time period, January 1 through March 17, 2016. This confers outperformance, year to date, of exactly 10.62%. From inception of this subscriber portfolio on November 1, 2015, our Real Time Portfolio Tracker for the subscriber portfolio tell us that annual income has now grown to $17.871.
From the inception of this portfolio on November 1, 2015, we have achieved capital appreciation of 13.15%, or $34,165. The current portfolio yield, if mirrored by a new investor at today's prices, comes to 6.08%. Since we've bought all of these equities at lower prices, our yield on cost for the subscriber portfolio is 6.88%. This means, for those subscribers who are our charter members and chose to mirror their investments after this portfolio, the yield they are receiving on their investments to date, is almost 7% now.
Plan of Action-Portfolio Management
Our aim is to get the most bang for our bucks. We will look toward any further weakening in the markets or specific companies we are targeting on our tracker as developing opportunities occur to buy more income for the portfolio at cheaper prices, gaining higher yield along the way.
Author's note: Please consider following me in real time. This will enable you to receive an email the moment any of my articles are published on Seeking Alpha. Just click the down-arrow next to the "Follow" link above this article title, and check the boxes for "Follow this author" and "Real-time alerts on this author."
Please don't keep me a secret. I'd appreciate it if you forwarded this article to your friends, colleagues and family who you think might find this work interesting and something they might benefit from.
If you found this article, the concept and investment results interesting and intriguing, I invite you to read the other articles in this series. Stay tuned for further articles that will introduce additional sectors and names to further diversify a portfolio for continued ballast and mitigation of risks to any one sector.
Should you be interested in reading any of my other articles detailing various strategies to enhance your returns on a dividend growth portfolio, you will find them here.
As always, I look forward to your comments, discussion and questions.
To learn more about my premium subscription service, please click this link:
Retirement: One Dividend At A Time
If you feel that you could benefit in your investing by using the Real Time Portfolio Tracker and Watch List Real Time Tracker to help guide you to better timed entry prices, higher yield and higher income for life, feel free to send me a direct message by clicking the "send message" link next to my picture and underneath my name at the top of this article.
Disclaimer: This article is intended to provide information to interested parties. As I have no knowledge of individual investor circumstances, goals, and/or portfolio concentration or diversification, readers are expected to complete their own due diligence before purchasing any stocks mentioned or recommended.
Disclosure: I am/we are long ARCC, CTL, ED, EPR, GEO, GOV, MAIN, MO, O, OHI, RAI, RMR, STON, SUI, T, VGR, VZ, WPC.
I wrote this article myself, and it expresses my own opinions. I am not receiving compensation for it (other than from Seeking Alpha). I have no business relationship with any company whose stock is mentioned in this article.