Recently Aramark (NYSE:ARMK) announced successful financial results for the first quarter of 2016. The company managed to improve its major businesses and achieved a net income of $93.496M, which is higher in comparison with the same period last year. Its adjusted earnings per share also increased to 9% and adjusted operating margin rose to 7.1% in comparison with Q1 2015.
In recent press release, Chairman and CEO of Aramark Eric J. Foss was very optimistic about the future of the company:
Our strong start to 2016 included accelerated organic revenue growth and solid margin expansion which are the direct result of maintaining disciplined execution behind our clear and focused strategy. We will keep investing in our people and business to position Aramark for additional growth and shareholder value creation going forward.
Aramark sees great potential in organic food, which recently became very popular among consumers. Below you can see the trend of organic food sales from 2000 to 2017: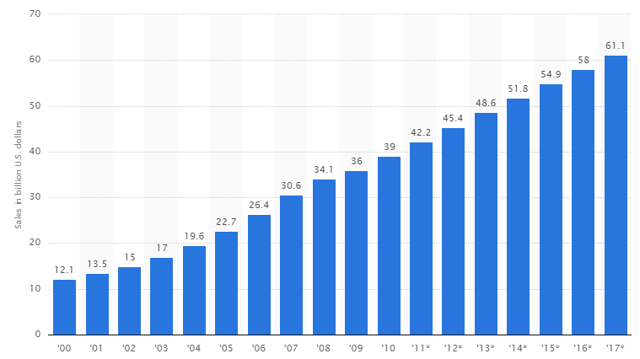 (Source: statista.com)


Investors saw good potential in the last press conference.
Especially the fact that the company is able to find profitable deals in the future lead to higher profits and increase brand awareness. Aramark looking in the direction of healthy living and believes that the future will be for healthy food.


The report was very favorable numbers. For the first quarter of 2016 organic sales improved the condition of the company and total sales of organic food grew by 3%.


What should we expect?
The report showed how the company sought to increase operating margins in Q1 2016. I believe that the company will be able to continue to expand the operating margins of the company. And this well affects the company's profit.
For 2016 Aramark expects adjusted EPS between $1.65 and $1.75. Such an outlook might give a new impetus to the positive thinking of investors.
Its recent deal with the Irish company Chopped that specializes in healthy foods will help Aramark to perform better in the coming years. The deal was signed for 5 years, during which there will be formed outlets with healthy food. These points in the future will bring good revenue to the company.


Also, Aramark decided to equip Yosemite National Park. In my opinion, this is a good move that shows that the company cares about the environment and is eco-friendly. It's also a good marketing move that will encourage consumers to buy their food and be a part of the company that supports Mother Nature.
My prediction is that the stock price of Aramark will jump to $34 per share and a catalyst for such jump will be:
• Agreement with Chopped, which will increase sales of organic food.
• Forward EPS between $1.65 and $1.75.


After the results, investors were satisfied about the path that the company is taking and look forward to new peaks. I believe that this is a good bullish sign.
Conclusion
It's obvious that Aramark is moving into the right direction. CEO and Chairman Eric J. Foss together with its team showed excellent performance in last few quarters and made it possible for the company to see a bright future and not worry about the past losses. But much remains to be done. Top competitors of Aramark are Darden Restaurants (NYSE:DRI) and Restaurant Brands (NYSE:QSR), who will do everything possible to increase their market share and perhaps will try to make steps towards healthy eating. Despite the money-making fast-food market, healthy food is the future trend of the world. Today more and more people prefer to eat healthy and care about the environment. Aramark understands this and strives to give customers not only eco-friendly products, but also make them delicious. I believe that they will be able to turn the game in their favor and emerge one of the winners in this race.
Supporting Documents
Disclosure: I/we have no positions in any stocks mentioned, and no plans to initiate any positions within the next 72 hours.
I wrote this article myself, and it expresses my own opinions. I am not receiving compensation for it (other than from Seeking Alpha). I have no business relationship with any company whose stock is mentioned in this article.