I have outlined in past articles that over the past five years, if not longer, that mid and small cap regional banks have typically outperformed their larger counterparts, with the tradeoff being a larger standard deviation in returns. That means, unless you are a Quant with significant funds who can just pour egregious amounts of funds into the regional market (no ETF on the market reflects the returns of regional banks well), one must become finely tuned into the regional market and separate the winners from the losers.
Adhering to the idea that stocks with a PE ratio equal to or less than ten outperform super growth stocks with PE's of over 25, Texas Bancshares (NASDAQ: TCBI) presents a fantastic short term gain opportunity for momentum traders, and long term gains for investors with more patience.
Why the Stock Has Turned a Corner in March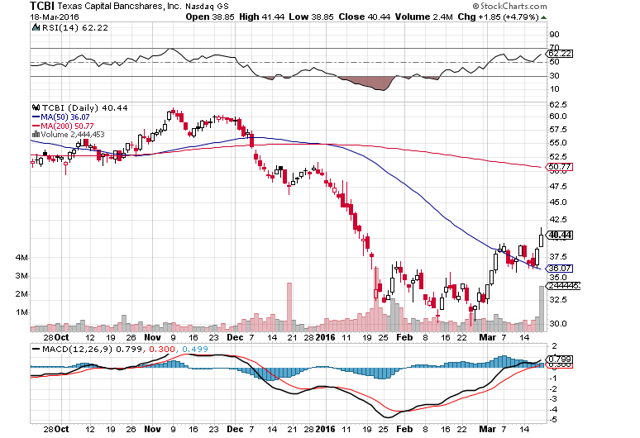 I first started covering this stock in mid January in the midst of its massive sell off. Concerns about the decline of the Texas economy due to very low oil prices naturally transferred to TCBI. As one would guess, Texas banks, especially one of the larger of the estate in TCBI, would rely on interest income on bonds and business loans to a host of oil-related corporations. During January, when oil hit new lows and approached $25/barrel, many of the Texas lenders took a perilous dive. See: Prosperity Bancshares (NASDAQ: PB) and Comerica (NASDAQ: CMA).
The crude decline, coupled with the worst manufacturing data in over 11 years, and a strengthening dollar, also contributed to the decline. Two months later, the dollar has weakened, national employment remains steady, and crude is now over $40/barrel. Some of the selloff was warranted, but TCBI did not overly expose itself to risky energy-related loans. Yes, their non-performing assets rose to 1.08% from .69% a quarter earlier, but that is far superior to CMA's NPV %, which rests at 3.89% for Q4/2015, according to the Wallstreet Journal.
Also in comparison, H.B of Prosperity Bancshares Tim Timanus pointed out in their Q4 conference call that NPA's for their firm were around 5%, which he called the industry standard.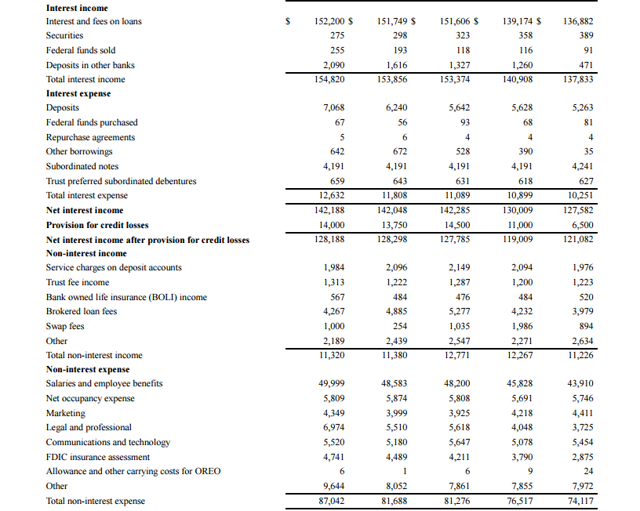 If 5% is the industry standard, TCBI is doing exceptionally well to keep their assets in line and where to properly invest their capital during these hard times. Indeed, if looking at part of their sales mix in a screenshot of their 10Q above, we see interest income continues to grow for the firm in Q4, and their Net Income, and consequently their EPS, marginally fell and missed expectations because of that extra loan loss provision. Their non-interest expenses rose and their non-interest income fell as well.
I do not believe that oil will continue to rise, and within a couple of weeks or less, the price of oil will reverse and head back down to $30. Having a superior balance sheet and sales mix to their peers puts TCBI at a competitive advantage as we head into low demand seasonality for oil in the spring time.
In addition to what was just discussed, TCBI will have 96% of its assets reset by July 2016, which will allow for ease of restructuring. The stock also warrants high growth multiple even in these trying times, as its three year average growth of 15.7% is far above industry standards.
In terms of current valuation, I view TCBI as extremely attractive. As major stock indexes have now almost completely erased new year losses in the markets, it has become difficult to find a bargain. TCBI is one of those bargains. The cheap valuation is outlined by the following:
1.04 Price/Cash Ratio, 4/24 in industry
3.08 Price/Sales ratio, 7/24 in industry
13.9 Price/Earnings, 13/24 in industry
29.04 Price/Free cash flow, 13/24 in industry
Cash per share of $39.04, closing price of $40.44 as of 3/18/16
Valuation and Projection
Even in the depressed banking industry, TCBI remains very cheap compared to industry standards despite an abundance of cash and high growth. This presents a fantastic opportunity for short term momentum traders, and also long term income orientated investors.
For short term, the stock breached its 50 day moving average and technicals are signaling a run up very quickly into the $47-$48 dollar range. Over the long term however in the 6-18 month time range, especially one oil prices have fully stabilized, I believe the stock has a $49.42/share price target. This is based on their 2016 projected EPS of $3.68/share and a PE valuation of 13.43 due to their high growth and average growth rate in the top and bottom lines. This implies 22.21% upside that should be acquired in a relatively short amount of time. Just a month ago, the stock was trading at $34/share.
These estimates are conservative and the stock could go much higher, as the stock was trading just under $64/share in July. The firm does also pay out a preferred stock yield of over 6%, non cumulative, so I encourage income investors to look into that avenue due to TCBI's large amount of cash on their balance sheet.
Disclosure: I/we have no positions in any stocks mentioned, but may initiate a long position in TCBI over the next 72 hours.
I wrote this article myself, and it expresses my own opinions. I am not receiving compensation for it (other than from Seeking Alpha). I have no business relationship with any company whose stock is mentioned in this article.