Do you live in the US or Canada and have an active Facebook (NASDAQ:FB) account? If you answered yes, then congratulations, because you contribute over $40 a year to Facebook's revenue.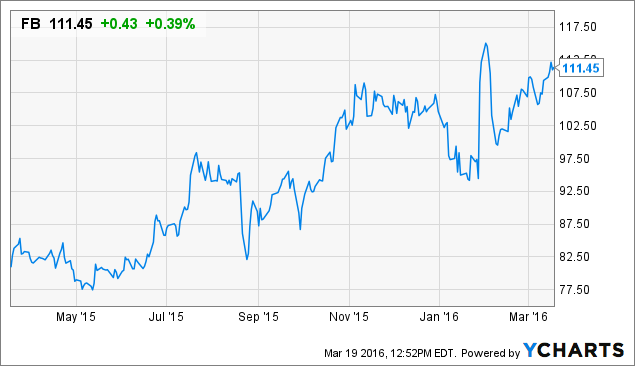 As of writing this, Facebook is trading for $111.45 a share. Let's go through the fundamentals and see what this company is really worth.
The Global Online Advertising Industry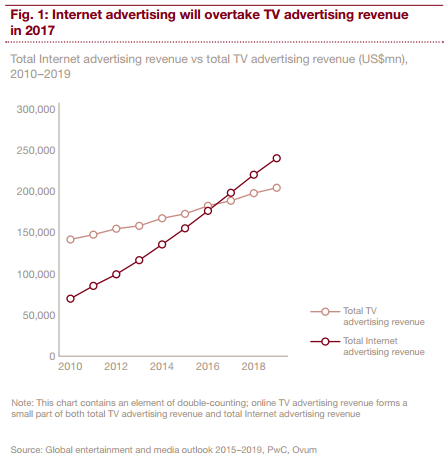 Facebook competes in the hyper-competitive online advertising industry. Global online advertising revenue is expected to increase at an annual rate of 12% through 2019, and will exceed TV, becoming the largest ad revenue category in 2019.
Mobile ad growth will soon overtake desktop ads as the leading online advertising segment.
Video advertising is the fastest growing sub segment and will soon overtake all other sub segments.
The Initial Checklist
Below I've listed the six essential fundamentals we need to check before we can get into the model.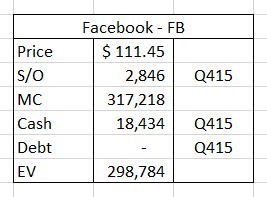 Price: Facebook currently trades for $111.45 a share.
Shares Outstanding: There are currently 2.846 billion shares outstanding.
Market Capitalization: By multiplying the price and number of shares outstanding together, we can calculate the market cap to be $317.218 billion.
Cash: From Facebook's 10-K, we find that they have $4.907 and $13.527 billion in cash and marketable securities, respectively. We add marketable securities to cash because they are liquid enough to be considered cash.
Debt: Facebook currently has no debt, but keep in mind the fact that they have three years left on a $6.5 billion line of credit that they may begin using at any time.
Enterprise Value: By subtracting net cash (cash-debt) from Facebook's market cap, we get its enterprise value of $298.784 billion. Enterprise value is often a very underused metric, which is a shame, because it can tell us a lot about a company and how its management operates. A company that has an enterprise value higher than its market cap is highly leveraged. Facebook's enterprise value is lower than its market cap, which means it is a cash rich business. Its EV/share is $104.97, which means that for every share you buy, you are spending $104.97 on the Facebook "Business" and $6.48 on cash Facebook has.
The Model
Now that we've quickly run through a few quick fundamentals to get a feel for the business, let's go through the financial statements and the model I've built for Facebook.
The two most important revenue drivers for Facebook are users and the monetization of those users.

As you can see from the photo above Facebook's monthly average users have been steadily increasing on a quarterly basis, with the Asia-Pacific and Rest of World categories leading. Our model forecasts MAU growth to continue into 2016 at a conservative and slightly decreasing pace.
Ad revenue per user has been rapidly growing on a quarterly basis, with the US and Canada being the most efficiently monetized group. If Facebook is able to increase monetization in all other geographies to the US and Canada level, revenue would almost quadruple. Our model forecasts average revenue per user growth in the US, Canada and Europe to gradually begin slowing, while Asia-Pacific and Rest of World growth rates remain stronger for slightly longer, before they begin slowing.

Payment and other fees have been steadily declining on a per user basis as Facebook games are being rapidly replaced by independent mobile games. Our model forecasts payment and fee revenue to continue to decline.

Average revenue per user has been growing and is expected to continue doing so into the future. As the Facebook family of apps continues to grow, advertising revenue growth will easily offset the shrinking payment and fee revenue. Our model forecasts ARPU to grow into the future, with US and Canadian growth slowing slightly, while all other geographies experience greater monetization growth.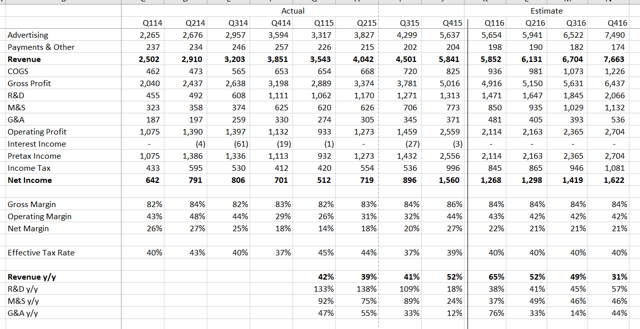 Facebook has a large gross margin of 85%, which is typical of most software companies. Operating margins are only around 40% due to the large amount of spending that Facebook commits to R&D. Net margins are only around 21% because of Facebook's 40% tax rate. It's interesting to note that Facebook pays its full tax rate instead of using loopholes to lower it like most other major corporations. Our model forecasts gross margins to decline slightly as virtual reality products will likely have lower margins than software. Gross and net margins are forecasted to remain relatively steady as R&D will continue to be a large expense for Facebook going forward and assuming that Facebook will continue to pay a 40% tax rate.

Above is the complete model forecast for Facebook's income. Our model forecasts the total number of users in 2030 to be 4.8 billion, which is just shy of Zuckerberg's prediction of 5 billion. The terminal growth after 2030 has been forecasted to be -2%, to be conservative and because I believe it's flawed to assume a company will continue to grow forever. The discount rate is 10% to reflect the risks associated with Facebook's business model.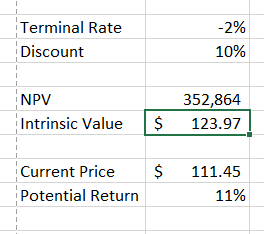 The net present value of Facebook, according to the model, is $352.846 billion or $123.97 a share.
Risks:
While I'm confident in the model, there are still several risks to consider when it comes to Facebook.
Loss of users or failure to retain users could put a substantial strain on Facebook's revenue.
Loss of advertisers or a decrease in spending on online advertising could harm business.
The extremely competitive nature of the online and mobile advertising industry is an ongoing challenge for Facebook.
Conclusion:
In conclusion, I believe Facebook is trading at a 11% discount to its current price. At this price point I would still rate Facebook as a buy because I believe it has the ability to continue growing users and advertising revenue in the near future.
I have uploaded the model here, so you may edit it if you wish.
Supporting Documents
Disclosure: I/we have no positions in any stocks mentioned, and no plans to initiate any positions within the next 72 hours.
I wrote this article myself, and it expresses my own opinions. I am not receiving compensation for it (other than from Seeking Alpha). I have no business relationship with any company whose stock is mentioned in this article.