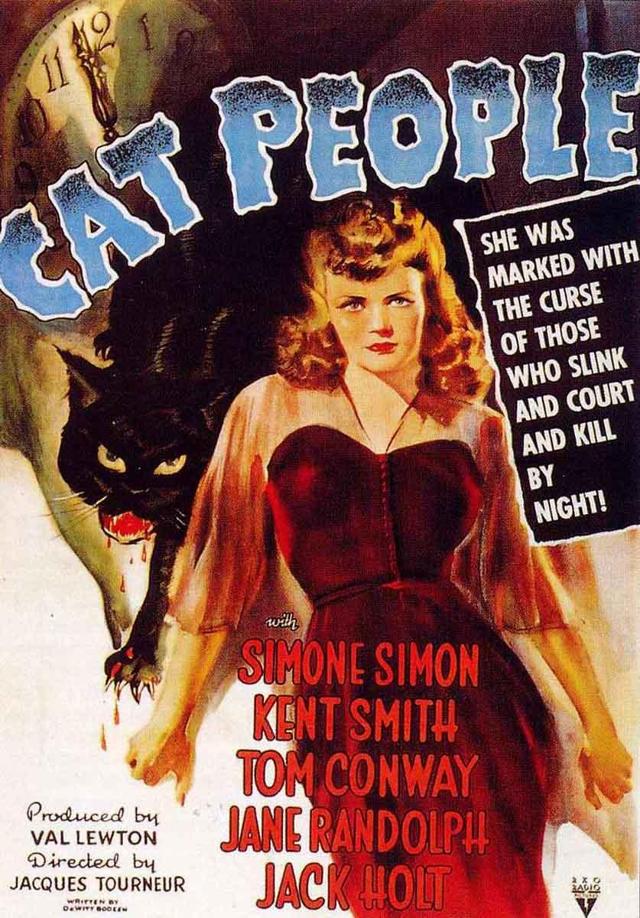 Caterpillar - The Big (CAT)
This CAT has seen economic recession before, losing up to $1M a day during the 1980's. Bouncing back from 2001 until 2013, while the SP500 increased 12.3%, the CAT was putting out a fire with gasoline, as the company's stock price rose 433%.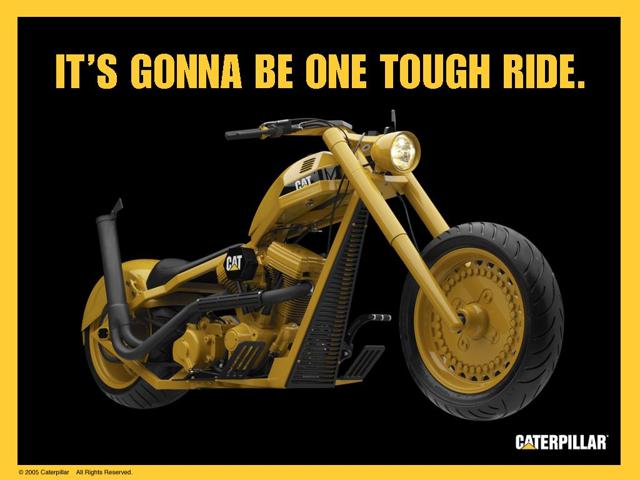 And the promo above wasn't lyin. The stock just went from a five year low of $56 to $75.50. What's not to like? In 2010, CAT bought Bucyrus, a manufacturer of large mining equipment, for $8 billion, and seemed to be on top of the world.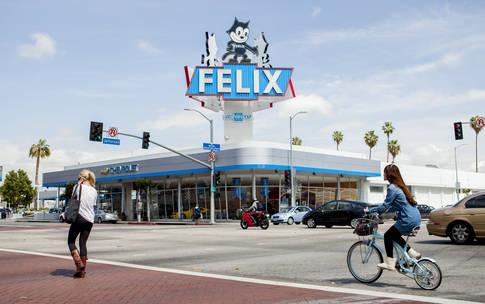 Since 2013 CAT's been getting hammered on global sales, where they earn 70% of sales revenue. Obviously FX issues with KING DOLLAR running rampant the last two years have effected CAT's sales revenues. Aside from the recent market rally, since mid 2014 a 50% decline in share price to $56 had made some stockholders slightly unhappy with that CAT.
The ride got so rocky that last September CAT announced restructuring plans, 10K layoffs and 20 plant closures over the next 24 months which will save $1.5B. Just 6 months later, CAT is half way home with 2100 early retirements, 5700 layoffs, 5 plant closures, making the people in Peoria, Illinois, giddy as a kitty-cat on catnip or a hookah smoking Caterpillar.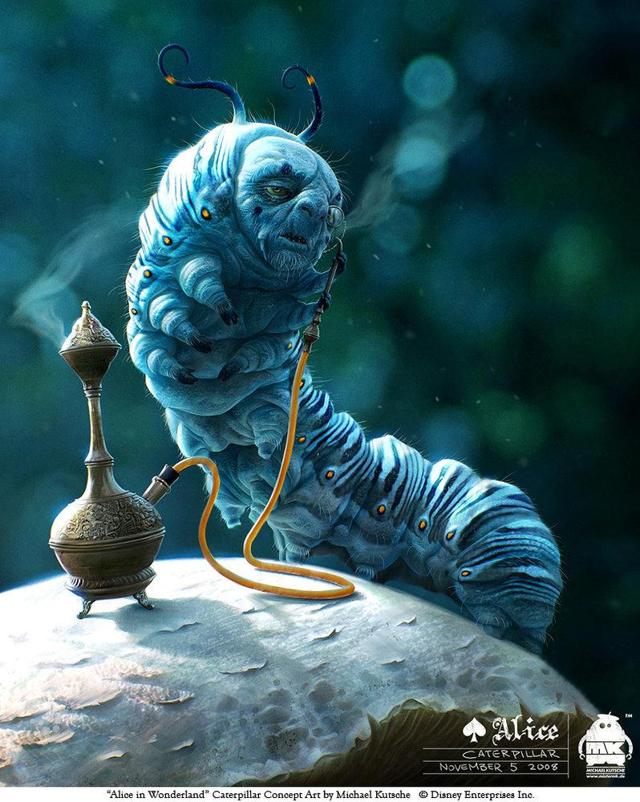 Hookah Smokin Caterpillar artwork courtesy of Michael Kutsche.
Bad enough with Oil, Gas and Mining, a large chunk of the CAT house, being half in the bag. Throw falling global demand, overcapacity in manufacturing and commodity outputs, and building inventories, all into that violently expanding sack.
Doesn't sound much like a winning combination, and that is as black and white as CAT's numbers. During the great crisis nineteen (19) months of declining global sales. During the great "recovery", since December 2012 - thirty nine (39) consecutive months of declining global sales; double digit declines in the last sixteen (16) consecutive months; and twenty seven (27) of the last thirty eight (38). A catatonic global contraction?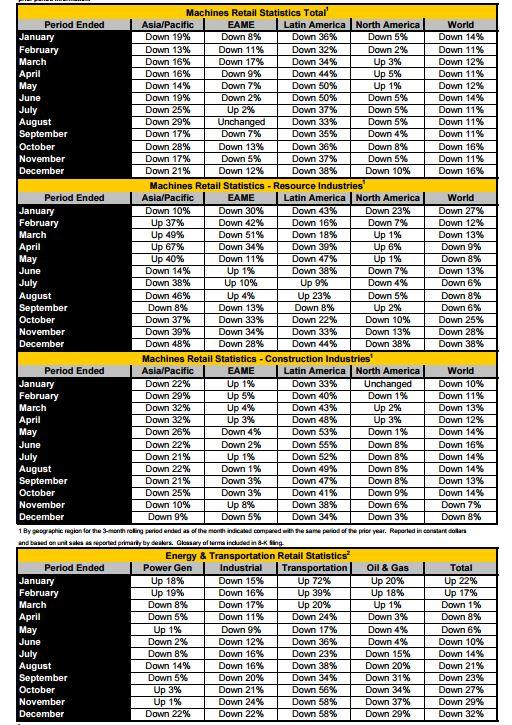 Above note, hacking up a real furball, CAT's 2015 Global Sector Retail Statistics. To make matters even worse, Machines Retail Global - Jan -15%; Feb -21% making for an eye opening Yoy growth decline of 100%.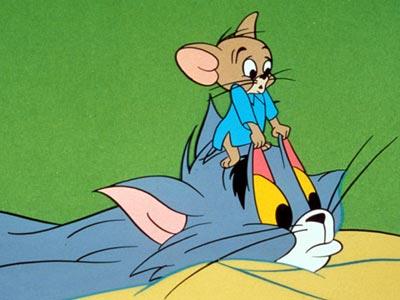 FX Reserves and CAT Sales
What does that CAT's tale tell one? Aside from a hint of global industrial recession, it screams that all that "wan-ton" expansion in final sales demand for manufactured goods, fueled by cheap "dollar" funding vis. EM's and Chinese fixed investment, created major "salad daze" for CAT. The EM's no longer have access to "cheap" dollar funding, while both EM and China's FX reserves are getting shot to hell in a handbasket in an attempt to save their currencies. Quite the problematic combination for the CAT.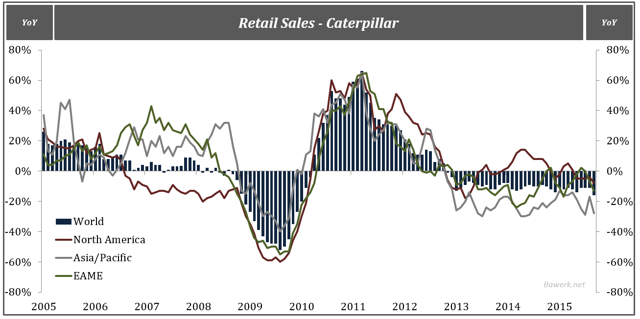 Above note, as opposed to the veracity of the 19 month crisis, CAT people can take solace in the lesser magnitude of the current 38 month decline. Also note, since 2005, as Asian and EM FX reserves or "dollar" flows go, so goes the CAT's tale or sales. With that ball of string being 70% of CAT's sales revenues, and unraveling in reverse, this ride could turn into, a real CAT in a bag?
We do know this, this CAT has been down and out before, but there is always demand in CAT's wheelhouse, oil, gas, mining and construction. Over the years CAT management has utilized JIT inventory control; flexible factory automation and manufacturing systems; integrated assembly line networking of machine tools with SCADA (supervisory control and data acquisition); and Bill Smith's six sigma lean process improvement methodology. Despite the current downturn due to global economic contraction, if that CAT stays cool and plays it cards right during the lean times ahead, it will probably wind up being, a Top CAT again. TBD.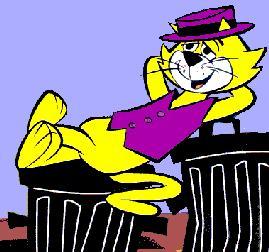 Market Observations
SP500 Futures /ES hit 2042 Friday - the 240 point retrace from near term bottom 1802 on Feb 11th took 25 trading days or five full weeks with 8 of the 25 days downside, 17 upside.
Observing a chart, 2040 is critical double bottom resistance which last formed late June 2015, but was also visited in March - April 2015 on the way to the May 2134 high. Downside support levels are 1965, 1875, 1800, 1700 and 1650. With 1800 being the most recent and long term bottom support.
The DJIA hit the same double bottom resistance at 17500 and pierced it to the upside, moving to 17670. Downside support levels are 17500, 16900, 16400. Failure to fall back and re test 17500 could mean this rally has more legs in it.
It's About Phi Time?
For those Fibonacci aficionados, little phi 0.618 and big phi 1.618, we pay them some attention here. The /ES SP500 futures retrace from 1802 to 2042.75 is now 72.2% of the high 2134; 77.9% of the 2110 high and 87.9% of the recent high of 2075. Three more (+3) points on the ES or 2045 would hit a fibonacci triple "vexing" worth noting 73.1%; 78.8% and 89.0%:
#1 ABS (√(1.618) - 1 - 1) = 0.728
#2 √(0.618) = 0.786
#3 √(0.618) *1.618 = 1.272 ;
ABS (0.618 - 1) = 0.382 ;
(1.272 - 0.382) = 0.890
Now match the percentages of the retrace above in bold. Again, three more points on ES puts all three numbers on the mark +/- .003. Above ABS = absolute value; √ = square root
Eyes forward on the laggard RUT, leading NAS, midlin DJIA and especially the /ES behavior at 2040. Given the recent surge on lower volume, with some indicators pointing to overbought, perhaps a good time to protect longs or initiate downside protective trades, EVEN! Snagglepuss artwork courtesy of BennyTheBeast.
This is the 21st in a series of thematically related missives which will attempt to identify the macroeconomic forces with potential to adversely effect capital, commodity, equity, bond and asset markets.
I wish to dedicate this missive, to one of my mentor's Salmo Trutta, who is a prolific commenter on SA. Without Salmo's tutelage, and insistence in not masticating and spoon feeding the baby ducks, as in learning the hard way, by doing the leg work and earning it, this missive would not have been possible. To you "Proximo"... "win the crowd and win your freedom" - Spaniard
Since the market potential is broad in both scope and scale, our conclusion: more grief in the dollar "short" or squeeze and its associated liquidity issues, with the potential to adversely effect capital, commodity, equity, bond and asset markets. Will it happen? TBD, and forewarned is forearmed.
As for how all of the above ties into the potential and partial list of market plays below... the market as a whole could be influenced, and this would tie into any list of investments or assets. Those listed below happen to influence the indices more than most.
Would like to thank you folks fer kindly droppin in. You're all invited back again to this locality. To have a heapin helpin of Nattering hospitality. Naybob that is. Set a spell, take your shoes off. Y'all come back now, y'hear!
Investing is an inherently risky activity, and investors must always be prepared to potentially lose some or all of an investment's value. Past performance is, of course, no guarantee of future results.
Before investing, investors should consider carefully the investment objectives, risks, charges and expenses of an investment vehicle. This and other important information is contained in the prospectus and summary prospectus, which can be obtained from the principal or a financial advisor. Prospective investors should read the prospectus carefully before investing.
Below, recommended reading for those invested in mutual and bond funds, ETFs, REITs, HY, leveraged, EM, oil, energy, bonds and the broader markets. Why? There are many macroeconomic cross sector and market asset correlations involved that affect your investments. Economic conditions, the eurodollar, global dollar debt and monetary policy all influence the valuation of the above and market plays below, via King Dollar's value, credit spreads, swap spread pricing, market making, liquidity, monetary supply and velocity, just to name a few.
Market Warning: Reading not only the 17 missives listed below, but also every installment of these multi-part missives could lead to a better understanding of the market forces in play and how to profit from them.
For a complete missive series listing, click here.
These global economic developments could affect numerous capital and asset markets, sectors, indexes, commodities, forex, bonds, mutual funds, ETFs and stocks.
A List of 17 Potential Market Plays (Long or Short?):
Disclosure: I/we have no positions in any stocks mentioned, and no plans to initiate any positions within the next 72 hours.
I wrote this article myself, and it expresses my own opinions. I am not receiving compensation for it (other than from Seeking Alpha). I have no business relationship with any company whose stock is mentioned in this article.