Introduction
A lot of virtual ink has been spent on trying to explain the situation Glencore (OTCPK:GLCNF) is in, and how bad the situation really is. Back in August, I said I wasn't particularly worried about Glencore as I had the impression the company would be able to reduce its net debt by using its free cash flow to retire existing debt. Unfortunately the situation on the commodity markets got worse, and Glencore suspended its dividend. Even then I continued to say Glencore was taking the right steps, and now, six months later, the share price is indeed higher than where it was when I wrote in September the situation wasn't as horrible as the market was expecting.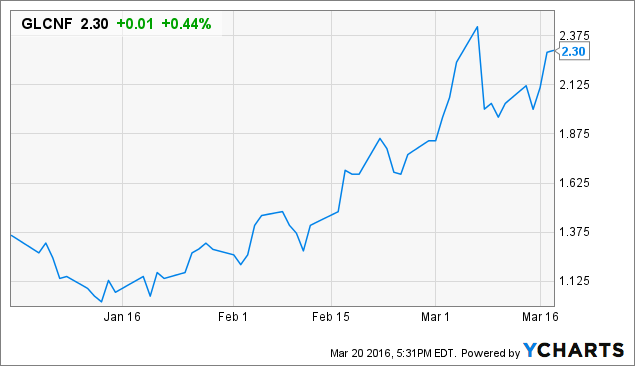 Glencore has some volume on its US listing, but it might be a better idea to trade in the company's shares through the facilities of the London Stock Exchange, where it has its main listing. The average daily volume is approximately 90 million shares (!!), so the liquidity is clearly superior. The ticker symbol in London is GLEN.
2015 wasn't great but the damage is definitely limited
I think almost every commodity-focused investor and trader was waiting for Glencore to publish its financial results of 2015. The expectations weren't very high, but I do think the company was able to clear the hurdle and has definitely met the market's expectations. The revenue did fall by 25% to $170B, but this was widely expected. Throw in the multi-billion impairment charge and there was very little hope for the company to actually be profitable.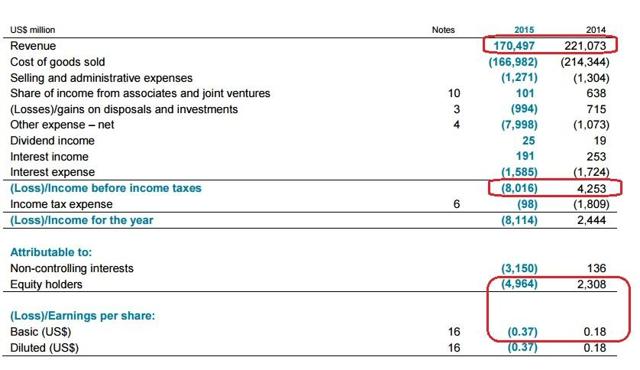 Source: financial statements
Indeed, the pre-tax net loss was $8B, and the after-tax net loss attributable to the shareholders of Glencore was almost $5B, or 37 cents per share. That's definitely not great and any company reporting a multi-billion dollar loss could be crucified by its shareholders. Fortunately Glencore had been preparing the market since August and I don't think there's anyone who didn't know 2015 was a very difficult year for Glencore. After all, a company doesn't suspend its dividend payments without any good reason, right?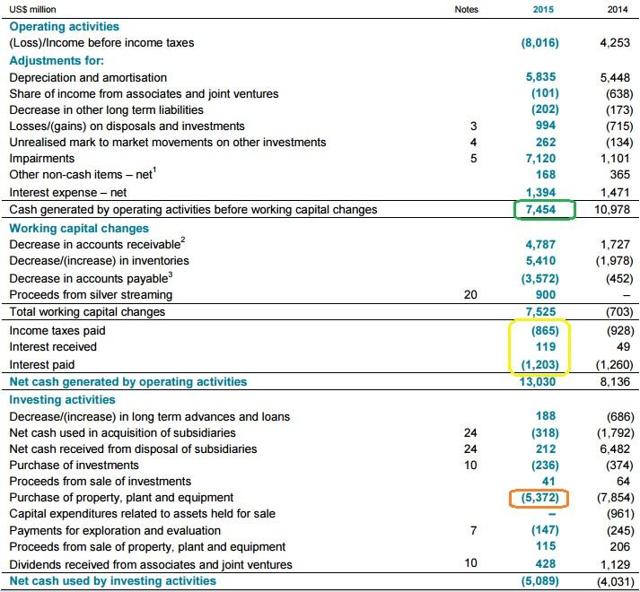 Source: financial statements
But the cash flow results are showing a different picture. The operating cash flow before changes in the company's working capital position was $7.5B and even after deducting the taxes and net interest payments, the net operating cash flow was $5.5B. As the total capex spending was $5.4B ($5.7B if you include the acquisition of subsidiaries), Glencore was breaking even in 2015, and this bodes well for 2016. Also keep in mind the company did not include the $900M income from selling a stream to Silver Wheaton (NYSE:SLW) in its financials, as the company chose to report the revenue on a rolling basis and will account for it as silver is being delivered to Silver Wheaton.
What will 2016 bring? Will we be in for another rollercoaster-year?
Good, Glencore was free cash flow neutral in 2015 and was able to reduce its net debt from $30.5B as of at the end of 2014 to $25.9B (keep in mind this doesn't include just cash but also the 'readily marketable inventories').
That's pretty good, and I have no doubt Glencore will be able to reduce the net debt even further to less than $22.5B by the end of this year. Not only did it raise an additional $500M by selling another precious metals stream to Franco Nevada (NYSE:FNV) (which will have a direct impact on the net debt), it will also be able to reduce the capital expenditures which will increase the free cash flow.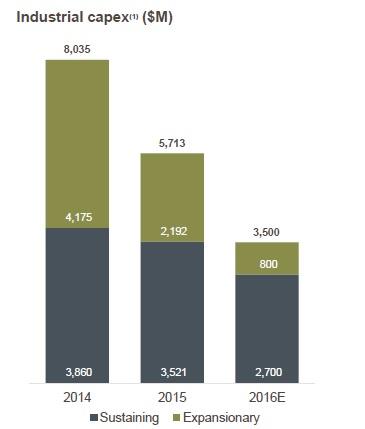 Source: company presentation
After having spent $8B on capex in 2014 and $5.7B in 2015, Glencore now expects it will be able to slash its capital expenditures in 2016 to $3.5B of which 'just' $2.7B will be sustaining capex. Going forward, Glencore thinks it can maintain this level of $2.7B as sustaining capex in the longer term future, and this should allow the company to generate a positive free cash flow which will be used to reduce the net debt.

Source: company presentation
Based on the December 2016 commodity prices, Glencore expects to generate an EBITDA of $7.7B, and if its estimates will prove to be correct, the net debt/EBITDA ratio will decrease towards 3. That's still relatively high but fortunately the acute danger will be reduced. But just to be on the safe side, it might be wise to pay a lower dividend once it gets reissued (perhaps in 2017?). Combined with some additional divestitures, Glencore's official target is to release the net debt to $17-18B by the end of this year and just $15B by the end of FY 2017 (this still excludes the marketable inventory, which Glencore considers to be as good as cash) and this would allow Glencore to reduce the net debt/EBITDA ratio to less than 2.
Investment thesis
Glencore's 2015 wasn't disastrous, and I think the company has been able to nip quite a lot of criticism in the bud by immediately completing a capital raise in September as well as cutting (at least?) two dividend payments. Sure, the company still has some more work to do but the additional $500M inflow from the precious metals stream as well as the lower capex expectations will be a great help!
I currently own a position at Glencore at an average price of 100 pence and am sitting on a virtual gain of 60%. I'm considering Glencore to be a hold, but I might sell some shares in the next few days to increase the cash component of my portfolio a bit.
Disclosure: I am/we are long GLCNF.
I wrote this article myself, and it expresses my own opinions. I am not receiving compensation for it (other than from Seeking Alpha). I have no business relationship with any company whose stock is mentioned in this article.
Editor's Note: This article discusses one or more securities that do not trade on a major U.S. exchange. Please be aware of the risks associated with these stocks.