The world is mobilizing for a cleaner and more sustainable future. This effort was made no clearer than in the recent 2015 Paris climate change conference known as COP 21. In an unprecedented feat, nearly 200 nations committed to the goal of combating climate change. It also resulted in significant financing commitments towards climate change investments. As UN Secretary-General Ban Ki-moon noted the following about this conference:
"With these elements in place, markets now have the clear signal they need to unleash the full force of human ingenuity and scale up investments that will generate low-emissions, resilient growth... what was once unthinkable has now become unstoppable."

- Ban Ki-moon, Secretary-General of the United Nations
With such context in mind, it is becoming clearer that investments in sustainability now have market-based momentum. Yet, while many new clean energy technologies have not yet scaled or remain unprofitable independent of subsidies, there remain several profitable sectors which are likely to immediately benefit from this worldwide momentum. One such region of investment that should continue to prosper is the area of capitalizing upon waste and wasted energy.
The appeal of this market is the ability to utilize low-cost and even negative-cost inputs in order to produce a profitable return. Managing waste, for example, allows for a primary business to be made in the transportation and disposal of unwanted materials. Yet, it is through such aggregation that these centralized collection points allow additional synergies through energy production. Such is the case of turning municipal solid waste into electricity and steam. Turning waste into recycled energy is a business that requires significant upfront capital. However, the industry has decades of experience and the benefit of established scale.
The same could be said about recovering wasted energy. Excess energy is continually generated all around us, but capturing it can significantly improve upon the efficiencies of existing businesses. It also prevents the need for additional fuel consumption and reduces overall emissions. Tapping into natural sources of wasted energy, such as geothermal energy, also provide an equivalent benefit of reducing inputs while providing a stable and consistent supply of renewable electricity.
I believe the following two companies represent some of the more balanced and pure-play investment opportunities in this area of waste exploitation.
Covanta Holding Corporation (NYSE:CVA)
Covanta operates within North America to provide waste and energy services to municipal entities. The company stands as one of the world's largest owners and operators of energy-from-waste infrastructure. With 45 facilities dedicated to energy-from-waste operations, Covanta maintains a disposal capacity of approximately 20 million tons. Most importantly, the company earns revenue from both input (e.g. waste disposal) and through output (e.g. energy and recycled metal). Historically, the company has maintained attractive margins with an approximate adjusted EBITDA margin of 25% and a free cash flow conversion of approximately 40%. For increased stability, approximately 85% of the company's revenue is contracted or hedged.
In the present, Covanta continues to face a strong decline in the commodities space. This has reduced the value of the recycled metal sold on the market. This poor market environment decreased adjusted EBITDA by $46 million in 2015 to $428 million. However, the company anticipates growth moving forward. The company outlook for 2016 expects free cash flow in the range of $140 to $180 million as compared to the $147 million in free cash flow experienced in 2015.
In a sign of ongoing confidence in the company's long-term prospects, Covanta maintained its quarterly dividend of $0.25 per share. This rate was raised in 2014 from $0.18 per share. Additionally, the company repurchased $50 million of company stock in 2015. As of the last closing price of $17.18 on March 18, Covanta Holding Corporation currently supports an annual dividend yield of 5.8%.
Ormat Technologies Inc. (NYSE:ORA)
Ormat serves as the only pure-play, vertically integrated geothermal company with the capability to design, build, manufacture, and operate geothermal power plants worldwide. The company has also advanced the use of recovered energy power plants throughout industry, capturing unused waste heat from industrial processes in order to be converted into electricity. These recovered energy generation power plants provide businesses with uninterruptible power supply protected from blackouts. They also provide the ability to reduce peak pricing for electricity during periods of high demand. Utilizing the same technology for both business segments, Ormat is likely to prosper from the growing demand for greater energy efficiency within businesses along with the attractive appeal of consistent renewable energy production from geothermal sources.
For 2015, Ormat generated $594.6 million in total revenues, which represented growth of 6.3% from 2014. Yet, the company was also able to increase its operating income by 14.3% in 2015 to $164.1 million, primarily through reduced interest expense compared to 2014. Ormat has demonstrated its ability to consistently grow its business. For the years 2013, 2014, and 2015, the company has seen revenue of $533.24 million, $559.52 million, and $594.64 million, respectively. Over the same time period, the company has seen operating income of $96.96 million, $143.49 million, and $164.06 million, respectively. Continuing on this path of steady growth, Ormat expects 2016 total revenue to be between $620 million to $640 million.
Some Additional Thoughts To Consider:
Both Covanta and Ormat maintain rich operating histories extending over multiple decades. Covanta was founded in 1960 while Ormat was founded in 1965. The ability for both companies to grow over multiple decades remains a testament to their ability to execute with long-term objectives in mind. Both companies have stable outlooks based on long-term agreements and well-established counterparties. For example, Covanta regularly contracts with municipalities whereas the weighted average life of Ormat's purchase power agreements is currently at 15 years.
A look at both companies' dividend histories also demonstrate their commitment to returning shareholder value. Both companies have experienced dividend growth in recent years as demonstrated in the charts below. For Ormat, the one-time dividend of $0.31 per share will be followed by a $0.07 per share quarterly dividend for the next three quarters, according to the company.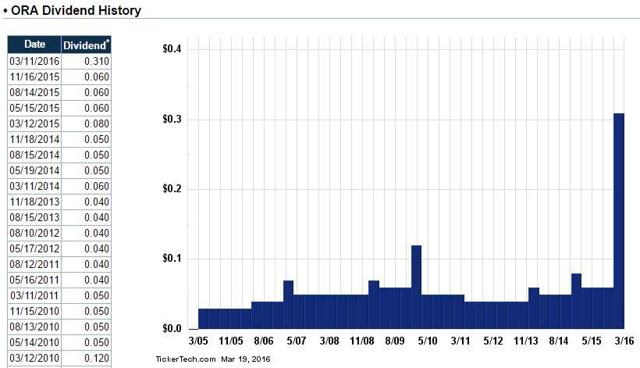 What makes these companies attractive now are their overall stability and budding long-term growth prospects going forward. Stable alternative energy sources remain in high demand. This is especially the case for technologies that are not dependent upon natural forces outside of an entity's control. Whereas the growth of solar power and wind power will be strong, there is a weakness in the inability to control the sun and the wind. This is a limitation both in terms of the geographic location where the energy is produced and with how often it is able to be produced at those locations. Energy recovery from wasted materials or from wasted heat remains a much more flexible and reliable production source in comparison.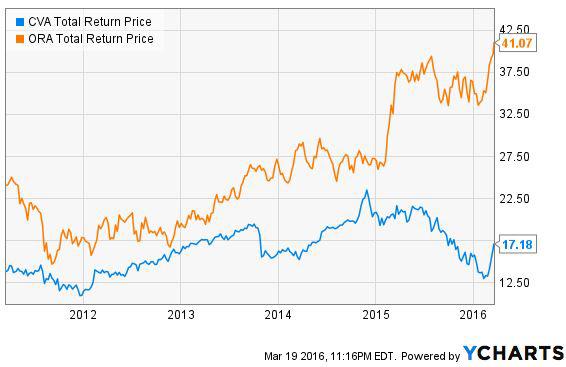 Covanta and Ormat represent two mid-cap companies capable of extended growth over the long term. They have business models that have been proven to succeed on their own. More so, they are entering into an era of outspoken support, increasing global demand, and growing access to capital around the globe. This is bound to provide a favorable operating environment for companies that are already executing at scale with proven technologies. Investors looking for a base position in establishing a clean energy portfolio may wish to consider both of these companies for a long-term hold.
Disclosure: I am/we are long CVA, ORA.
I wrote this article myself, and it expresses my own opinions. I am not receiving compensation for it (other than from Seeking Alpha). I have no business relationship with any company whose stock is mentioned in this article.