If this five-week surge in stocks is the real deal, then as the granny in the Wendy's commercial used to say in the early 1980s, "where's the beef?" The beef I'm talking about is earnings. I want to be a believer and invest in stocks, but if the macroeconomic landscape isn't improving and corporate revenues and earnings continue to decline, then this five-week rally that has erased this year's losses is nothing more than a sucker's rally.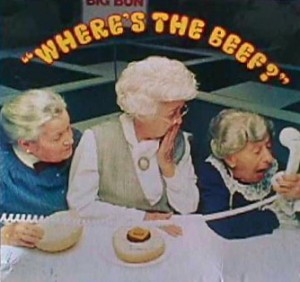 I understand the concept of buying stocks in advance of improving fundamentals on the basis that stock prices have long been discounting mechanisms of future development, but I don't see the precursors for this development. The engine that powers the stock market is earnings - period. This engine has been running on low-grade fuel for a long time now. That fuel includes share buybacks, questionable one-time "items" that have glorified pro forma results, and a near zero-interest-rate policy accompanied by extraordinarily easy credit conditions. Despite these ongoing benefits, revenue and earnings growth for S&P 500 companies have still declined on a year-over-year basis for four quarters in a row, and estimates continue to come down as stock prices have rebounded. In other words, the bun is getting bigger and bigger, as the beef patty inside shrinks by the day.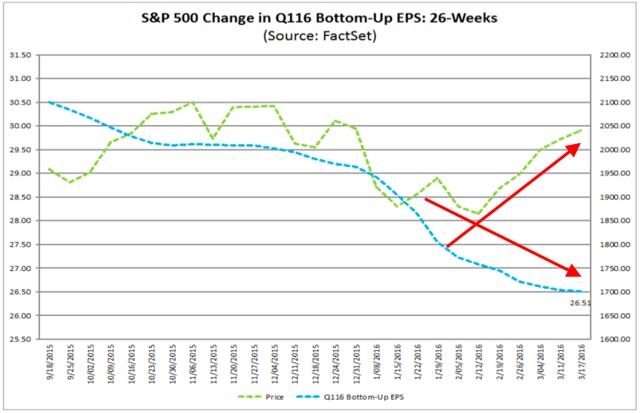 Furthermore, valuations do not expand in an environment in which rates of economic, earnings and revenue growth are slowing. Instead, they contract. At least that has been the historical precedent. Yet price-to-earnings multiples continue to rise to historically high levels on both a trailing and expected basis. The S&P 500 index is now valued at 17.9 times its trailing 12-month earnings, using a very generous pro forma consensus number, compared to what has been 15.5 times over the past five years. The S&P 500 index is now valued at 16.5 times the consensus 12-month forward earnings estimate, compared to what has been an average of 14.4 over the past five years. Likely inflating this valuation even further is that the forward earnings estimate is based on a magical recovery to earnings and revenue growth in Q3 and Q4 of this year, which is derived from a rise in profit margins to record highs. This rise in profit margins is expected to follow what has been a decline in margins to levels not seen since 2012.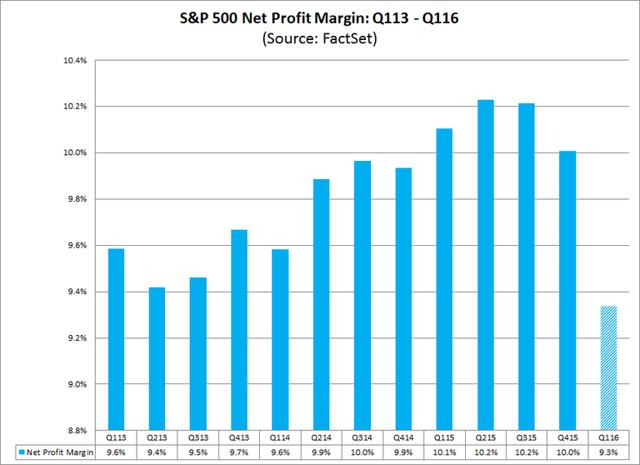 An argument has been spun that historically low interest rates augur for higher than normal stock-price multiples, but there is a caveat. It is true that lower interest rates warrant higher stock price multiples, but only up to a point. When long-term interest rates fall so low that they imply very slow rates of economic growth and inflation, which thereby translate into slower or declining rates of revenue and earnings growth, then valuations have historically contracted.
The obvious explanation for the unprecedented combination of historically low interest rates and historically high multiples is monetary policy. Central banks' answer to sustaining the current debt-fueled expansion, in the US and abroad, has been ever more debt combined with a tsunami of liquidity, or credit. The sales pitch has been that this liquidity would work its way into the real economy through the lending channel, but if that didn't happen, then it would be invested in financial assets. Rising asset values would lead to a wealth effect that would then trickle down to everyone, ultimately leading to faster rates of economic growth.
We now know that the majority of this liquidity worked its way into financial assets, but the resulting wealth effect never trickled down. At the consumer level it has instigated unprecedented wealth disparity, which slows rates of economic growth. At the corporate level it has instigated unprecedented financial engineering in an attempt to sustain profitability.
So investors face a conundrum. Should they continue to invest in the broad market at historically high valuations during a period of declining economic, revenue and earnings growth just because of unprecedented liquidity in the financial system? I say no, because the valuation adjustment that began with the highest-risk assets is still underway. This doesn't mean that I am liquidating all of my stock holdings. It does mean that I am scaling back exposure as prices rise, looking for opportunities to hedge and being extremely selective on new purchases. I believe that the S&P 500 will return to its February lows before it achieves new all-time highs, but this bearish outlook still necessitates being prepared for the alternative scenario.
The stock market finished last week with a three-day rally that nudged it into positive territory for the year, following the Federal Reserve's announcement that it would be scaling back its plans to raise interest rates four more times this year. The plan now is to raise rates only twice. This is not good news for stock market fundamentals. The reason the Fed is pulling back on what were obviously ridiculous intentions from the start is that the economy is not doing as well as expected. Regardless, some investors continue to view looser monetary policy conditions as more beneficial to stocks than strengthening fundamentals, despite these conditions having been ineffective for some time.
One aspect of this recent rally is flashing a warning sign. There are far fewer participants on the way back up than there were on the way down, as can be seen below by comparing the average daily volume in the S&P 500 ETF (NYSEARCA:SPY) from the beginning of the year through the February 11 low with the volume since that low.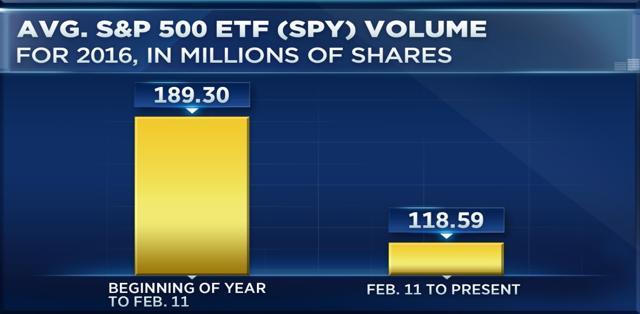 This is not the sign of a strengthening market, but one that is gradually weakening. The process of realigning valuations with market fundamentals is just that-a process. The process has clearly been elongated by the central banks that are fighting it. The old adage that investors should not fight the Fed may still be a valid one, but only in times when it has something left with which to fight. It is out of ammunition, as are central banks around the world.
Disclosure: I/we have no positions in any stocks mentioned, and no plans to initiate any positions within the next 72 hours.
I wrote this article myself, and it expresses my own opinions. I am not receiving compensation for it (other than from Seeking Alpha). I have no business relationship with any company whose stock is mentioned in this article.
Additional disclosure: Lawrence Fuller is the Managing Director of Fuller Asset Management, a Registered Investment Adviser. This post is for informational purposes only. There are risks involved with investing including loss of principal. Lawrence Fuller makes no explicit or implicit guarantee with respect to performance or the outcome of any investment or projections made by him or Fuller Asset Management. There is no guarantee that the goals of the strategies discussed by will be met. Information or opinions expressed may change without notice, and should not be considered recommendations to buy or sell any particular security.