Last Wednesday, a widely circulated report attributed to Bloomberg claimed that AMD (NASDAQ:AMD) and Intel (NASDAQ:INTC) were negotiating for licensing of AMD's graphics technology. Like most people, I accepted the report as likely, until I noticed a funny thing. While Bloomberg may have issued a report via its terminals, there is no follow-up on Bloomberg's site.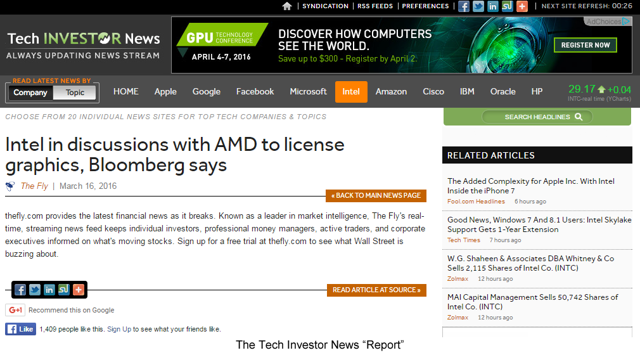 Source: Tech Investor News
Not Such A Great Idea
The report appears to have originated with thefly.com, which provides no link or reference other than the statement that Bloomberg is the source. Barrons noticed that there was no actual report on Bloomberg's site to back it up:
The article appears nowhere on Bloomberg's site, but analysts are responding to it this morning.
The lack of any follow-up article on Bloomberg's site conveys to me that at the very least Bloomberg didn't have a lot of confidence in the report. But like all good rumors, this one has plausibility going for it. It's known that Nvidia's (NASDAQ:NVDA) current licensing deal with Intel runs out in 2017. It's known that AMD is seeking to license its IP as a way to generate much needed cash.
The news was warmly received by AMD supporters, but is licensing graphics technology to a direct competitor such a good idea? It can be argued that since Nvidia doesn't directly compete with Intel in PC processors, it had nothing to lose and everything to gain from the licensing deal. Intel wasn't going to build into its processors anything close to the graphics capability of Nvidia's discrete GPUs. Thus, Nvidia's GPU market remains secure while it receives $66 million in cash from Intel every quarter.
The situation is different for AMD. AMD does directly compete with Intel, although not well, with steadily eroding market share. AMD's CPU designs have been years behind Intel, with little to recommend them except their low price. About the only positive discriminator that AMD has had has been in the area of combining their Radeon graphics technology with their CPU cores in what AMD chooses to call an Accelerated Processing Unit (APU).
It was semi-custom APUs that won AMD its game console business from Microsoft (NASDAQ:MSFT) (Xbox One) and Sony (NYSE:SNE) (Playstation 4). These are very valuable franchises for AMD. Furthermore, AMD has been garnering positive reviews for its latest Radeon R9 Fury X graphics card, which scores better than Nvidia's best in some early DirectX 12 benchmarks.
The ability to incorporate superior (to Intel) graphics capability in its APUs could be the only thing that saves AMD's x86 processor line of business. AMD is still struggling to get its next generation "Zen" x86 architecture into production (expected by the end of the year), but Zen will probably only achieve parity with Intel's current Skylake in CPU performance.
Were AMD to license its graphics technology to Intel, it would be giving up for the sake of some quick cash the one last discriminator that AMD has against Intel. This only makes sense if you are either so desperate that all you can think about is getting the cash (death spiral syndrome) or you don't care about the x86 business anymore.
AMD is certainly desperate for the cash, although I would not have thought that desperate. As of AMD's Q4 2015 financial report, AMD still had about $785 million in cash, down $20 million from a year ago. And AMD gives every indication that it still cares about the x86 processor business. It continues to talk up Zen, and obviously, it wouldn't invest in Zen if it were bailing out of the business.
No Independent Confirmation
Another rumor that has been making the rounds surfaced on Friday. At least this rumor is traceable to a specific source. Kataku reported that Sony is working on a Playstation upgrade that will be capable of 4K video resolution, a so-called Playstation 4.5. This would be good news for AMD since it would mean a new more capable and presumably more expensive APU. Since Sony is due to release Playstation VR in the Fall, an upgrade to a more capable APU could help Sony in the VR space as well.
The Kataku article claimed that it learned of the plans from developers at the Game Developers Conference that was held last week:
Based on conversations with developers who have spoken with Sony, this "PS4.5" will include an upgraded GPU both to support high-end 4K resolution for games and add more processing power that can enhance the games supported by PlayStation VR, the headset Sony will launch this fall.
Every other site that I've found that carried the story just points back to the Kotaku story. That includes The Verge, Engadget, Venture Beat, Fortune and Forbes. One would think that with so many developers present at GDC who were in on the secret, it would have been possible for one of the other sites to independently confirm the report. Instead, they just reference Kotaku.
Once again, the rumor has plausibility going for it, but it kind of runs contrary to what is generally understood about the game console business. Generally, consoles have very long life cycles. Playstation 3 was introduced in 2006 in North America and continued to be sold even after the introduction of the PS4 in late 2013. A little over two years into the product cycle seems early for an upgrade.
The console business has not been able to compensate AMD for the loss of market share in PCs. Console APU margins have been declining as prices have decreased. At most, a processor upgrade resets the margin. This still doesn't address AMD's fundamental problem in trying to compete with Intel.
Investor Takeaway
SA contributor Dividends are Coming wrote in AMD: Just A Big Letdown:
As of late, there's been a shift in AMD's marketing, as the company is increasingly building up hype on social media to get fans excited about live events that promise to showcase new products and technologies.
That's a bold assertion, but Dividends does a good job of substantiating it in his analysis of AMD's presentation at GDC, as well as product announcements such as Xconnect. With the latest reports of an Intel licensing deal and an upgraded PS4, we also may see signs of the social media push.
Even if the rumors are true, I'm convinced that they don't change AMD's financial trajectory. AMD simply lacks the resources to compete with Intel in PC processors. Whatever short-term advantage AMD might have gained in graphics relative to Nvidia is likely to be erased when Nvidia releases its next-generation graphics architecture, which we'll probably hear a great deal about at Nvidia's GPU Technology Conference, which starts April 4. I remain long Nvidia rate AMD as a sell.
Disclosure: I am/we are long NVDA.
I wrote this article myself, and it expresses my own opinions. I am not receiving compensation for it (other than from Seeking Alpha). I have no business relationship with any company whose stock is mentioned in this article.