Oil stock prices have gained appreciation over the last month due to a sharp rally in the crude oil price from $26 per barrel to $40 per barrel. Although I believe that the bottom in oil is here, as described in my previous article, many companies will not survive the current crude oil crisis. At the end of last year, many MLPs with dividends of 30% or more were forced to cut distributions, sending the stock price to the ground. For instance, Atlas Resource Partners (NYSE: ARP) and Legacy Reserves LP (NASDAQ: LGCY) were forced slash distribution payments by as much as 90%, causing a 60%-70% decline in their stock prices.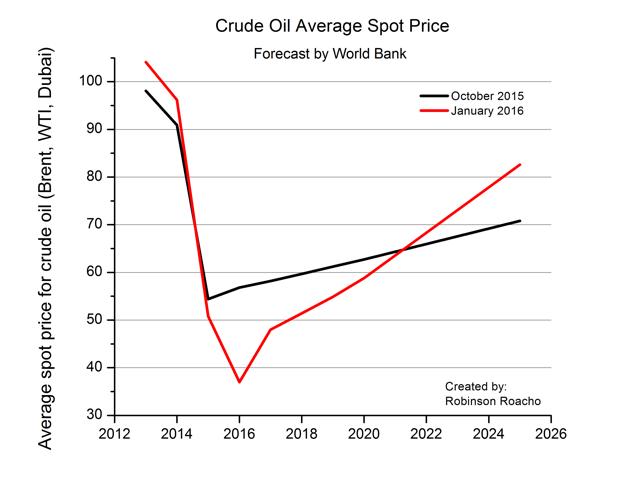 In the present manuscript, I wish to discuss the possible faith of Stone Energy Corp. (NYSE: SGY). This company has significant headwinds and it is very likely that this will be its final year due to a major recent event. First, however, allow me to introduce some information to put the event in perspective.
The burden of debt
SGY is loaded with debt. At the end of the year 2015, SGY reported an outstanding debt of $1.06 billion from senior convertible notes and senior notes. SGY must repay $279 million by March 1, 2017. This represents a significant possibility of default because the company generated $21 million in operating income during Q4 2015. As long as crude oil prices remain low for the rest of 2016, I do not feel confident that SGY will be able to fulfill its obligations when the repayment of the convertible notes is due early next year.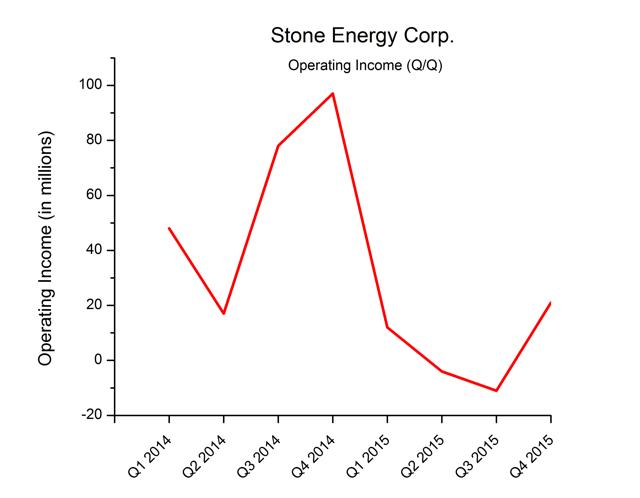 Although investors could argue that SGY could issue more debt to fulfill its immediate obligation, the bonds will sell at a significant discount because SGY's asset/debt ratio is very high, 0.71. Furthermore, the company still pays a 7.5% coupon on $769 million of senior notes due in 2022. In brief, the amount of debt is huge and SGY is likely to default at the end of 2016 if not sooner.
Debt carries interest expense
During Q4 2015, operating income was reported at $21 million, and interest expense amounted to $12 million. Presently, the interest expense represents 57% of the operating income which leaves little cash to finance ongoing operations. This is another major flag for investors.
The recent event
Until a month ago, SGY still had a shot at surviving the crude oil crisis. However, on March 10, 2016, SGY announced that it had borrowed $385 million, or the total of its credit facility and that these funds were going to be used for general corporate purposes. Although there is room for ambiguity, it is clear to me that the company does not plan to use the proceedings to repay the senior convertible notes due on 2017, otherwise SGY would had clearly stated where the funds will be allocated. This was without a doubt, a major mistake from the management because the borrowing bares a variable rate based on the USD LIBOR. Since interest rates are expected to increase in future FOMC meetings, the interest expense will increase significantly.
But wait… there's more
Another concerning issue is the proposal by SGY to increase the authorized number of shares from 150 million to 300 million in its latest Proxy. The vote will take place during the next annual shareholder meeting in May. If the motion is passed, SGY will have unlimited power to issue more shares which will result in significant dilution. Moreover, the board of directors proposed and recommended that shareholders vote "for" on the motion of a reverse stock split. Although the ratio will be determined by the board later, the split ratios may be 1:5, 1:10 or 1:20. It is extremely likely that the board goes for 1:20. If this does not worry investors, I am unsure what will.
The bottom line
The brightness of SGY's future resembles a moonless night. The company is loaded with debt, it acquired more debt that will be used for "general administrative expenses" and the company is proposing the authorization of more shares and a reverse split. These traits accurately describe a penny stock. Therefore, investors should exit any long position and consider a short position with long call option contracts to protect the position.
Disclosure: I/we have no positions in any stocks mentioned, and no plans to initiate any positions within the next 72 hours.
I wrote this article myself, and it expresses my own opinions. I am not receiving compensation for it (other than from Seeking Alpha). I have no business relationship with any company whose stock is mentioned in this article.
Editor's Note: This article covers one or more stocks trading at less than $1 per share and/or with less than a $100 million market cap. Please be aware of the risks associated with these stocks.