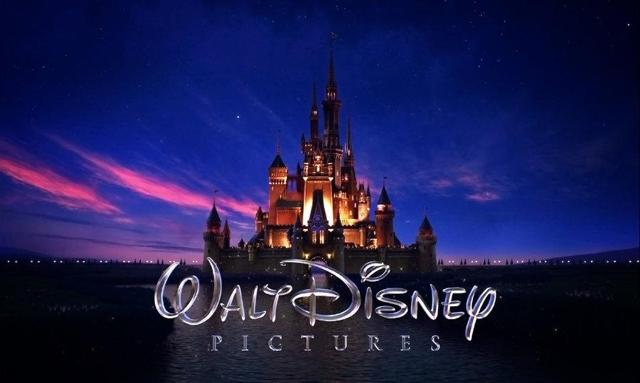 By VIP Equity Research
Would it not be nice to invest in a recession-proof business? Many businesses are cyclical, that is, their earnings fluctuate with the natural business cycle. If we analyze the recent S&P 500 earnings releases, we could see earnings for Q4 2015 are expected to decline 3.2% from Q4 2014.
However, there are businesses that thrive in a recessionary environment. One of them is the entertainment business, especially movie/video entertainment, along with online shopping and low-cost retailing. We will focus on the first one today.
Why is the entertainment business recession proof? The answer is quite simple: people need distractions; people desire happiness more than ever. It is because of this reason that liquor sales reached an all-time high during the 1930s' depression. The link between recession and movie box office is quite strong.
Box office rose in six of the last seven recessions. We analyzed domestic box office from 1980 to 2015 and highlighted the recession periods: early 1980s' and 1990s' recession driven by high inflation and energy price shocks, early 2000s' dot-com bubble, and lastly the 2007-2009 financial crisis. As we could see, with the exception of the second one, where box office dipped slightly (-0.4% for 1991, and -4.4% for 1992), on all other occasions, box office rose during recessions.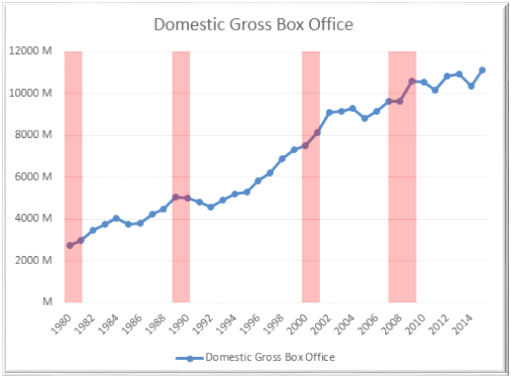 Here is another article on the New York Times talking about the connections between economic downturns and movie sales.
During recessions, people tend to cut on things like traveling, dining out and home renovation, and this makes sense, considering they are relatively large expenditures. In comparison, people would love to go to a theatre, pay $10-15 and enjoy a movie which they could talk about for the rest of the week.
We reiterated that 2016 is going to be a year marked by market volatility, uncertainty and recommended a defensive position. Let's take a look at The Walt Disney Company (NYSE:DIS), and see how it helps you to build a defensive portfolio in 2016.
Walt Disney - A Diversified Entertainment Company
GICS: Consumer Discretionary
Diversification
The Walt Disney Company is diversified both by geography and business segments. Disney mainly operates in the U.S. and Canada, but it is also present in Europe, Asia Pacific as well as Latin America. Its business segments include cable networks, broadcasting, parks and resorts, studio entertainment, interactive, and consumer products. This diversification offers natural risk management and revenue/earnings smoothing.

The business segments also complement each other to reap full potential rewards. For example, the consumer products segment, which often piggybacks on movies and TV shows, has been growing at an annualized rate of 11.43%, offsetting the slower growth in the media networks. Strong growth in the Asia Pacific region offsets the slower growth in Europe. Diversification is especially important for companies in the consumer discretionary sector, as consumer preferences change from time to time.

Disney's diversification has ensured a smooth growth of both its top line and bottom line (see graph below). For the last three years, revenue grew at 8%; EBITDA grew around 13%; NI grew at over 18%, all of which are significantly higher than its peers. Disney's ROE of more than 20% is significantly higher than the industry average.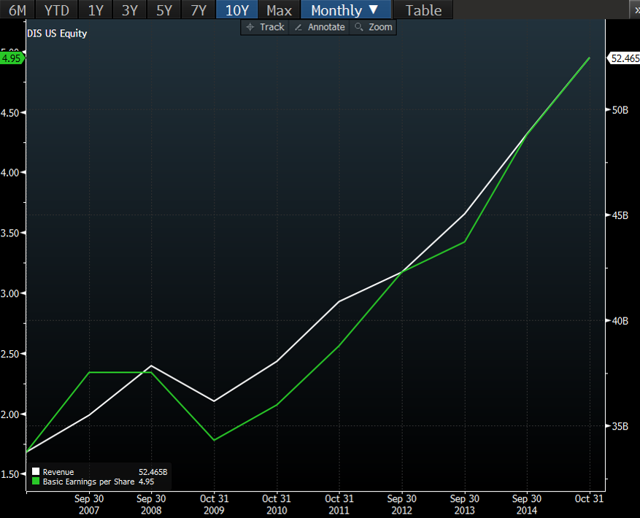 See below a 10-year comparison with the S&P 500. Notice how Disney did not drop more than the S&P 500 during the financial crisis, due to the recession-proof nature of its business and diversification benefits.

In the recent conference call, Disney's management also indicated expectation of consistent growth in the future. We believe the company will continue to reap rewards from its diversified business lines and deliver strong growth in revenue and earnings in the next few years. In the short term, Disney is particularly attractive because many other firms in this sector are significantly affected by recent economic downturns.
Strong Balance Sheet
Disney has one of the strongest balance sheets in the sector. It has a current ratio of 1.0 and a quick ratio of 0.7. The debt/asset ratio of 19.7% indicates moderate leverage. An interest coverage of 35x shows no problem in making debt payments. See more here.
Dividends
Top four things to consider for dividends (in the order of importance): history, growth, payout ratio, and yield.
With this consistent growth in revenue and earnings, Disney consistently pays out dividends. It has a great dividend history of almost 30 years. Below is a graph on the dividend history for the last 10 years. Notice the company did not cut or stop dividend payments during the financial crisis. Dividends grew at a whopping 27.9% for the last five years. The company has recently adjusted its semi-annual payments, which should be better for investors from a cash flow management perspective. The payout ratio (dividends as a % of earnings) is only 36.6%, which signals sustainability. It is currently yielding 1.5%.

Valuation
Disney is not cheap, and frankly, we doubt it ever will be, unless something drastic takes place. It traded below P/E of 10 only at the peak of the 2008 financial crisis. It is priced higher than our previous recommended stocks/ETFs:
1. Cogeco (OTCPK:CGEAF) (Up 15% since our article 2 weeks ago)
2. Lundin Mining (OTCPK:LUNMF) ( Up 15% )
3. iShares China Large-Cap ETF (NYSEARCA:FXI) (Up 3%)
However, given its growth potential and consistent performance, we believe the valuation is reasonable.
It is currently trading at a LTM P/E of 17.7, which is below the S&P 500. Other valuations are acceptable with EV/EBITDA of 11, P/CF of 14 and P/Sales of 3.
The stock is currently trading around $98, and we believe it could go well into the $105-120 range, with limited downside risk. The consensus target price is $107.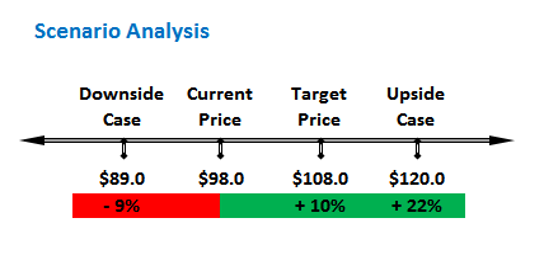 Major Business Risk: TV Subscriber Declines (Cord-Cutting)
We recognize that subscriber declines will remain a headwind for the cable network business segment. This is a technological and social trend, and it is likely to continue. However, we believe Disney has some protection with its highly demanded content and new initiatives on video streaming and over-the-top services.
Since mid 2013, we start to see declines in Pay TV subscribers, both in U.S. (WSJ Article) and Canada (CBC Article). At the moment, around 17% of the U.S. and Canadian households do not subscribe to TV channels, and we expect this to increase between 0.5% and 1% every year for the next few years. The main reason behind this trend is cost and user experiences. Average basic cable package costs around $70 per month, which is significantly higher than many video streaming services. In addition to cost, users often prefer watching videos on demand with less advertisements.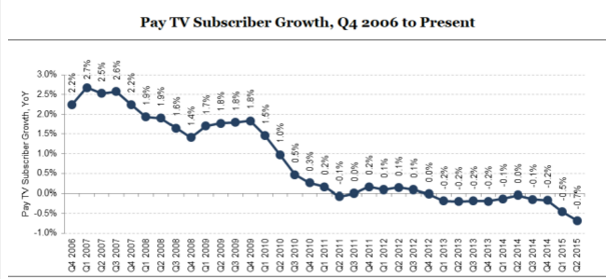 We believe Disney's cable network segment has some protection on revenue and earnings growth due to the following items:
1. The cord-cutting process is an ongoing, but slow process. Consumers choosing to cut cord are overwhelmed with video streaming services (Netflix (NASDAQ:NFLX), Hulu, Sony Vue (NYSE:SNE), Sling TV (NASDAQ:DISH), HBO NOW (NYSE:TWX), Amazon Fire (NASDAQ:AMZN), Apple TV (NASDAQ:AAPL), etc.), none of which offer a consolidated channel selection. This creates complexity as consumers attempt to sign up and cancel accounts associated with each service. Some customers also need to consider additional costs on Internet usages. This slow process gives Disney time to adjust and adapt its offerings/content strategy.
2. Disney owns some of the most watched channels like ESPN, Disney and ABC. Those channels target specific audience groups, generate massive advertising revenues and are in high demand. In addition to this, the company has also put effort in reducing non-production costs and improving the margin. This means that even if revenue growth slows, profit can continually grow.
3. DIS's new initiatives can offset subscriber losses in the traditional TV bundles. Disney owns approximately 1/3 of Hulu, a popular video streaming service provider which has seen a large jump in subscribers last year. So as customers switch from cable packages to video streaming services, Disney will reap some of that rewards. Its channels are also present on Sling TV and Sony Vue, two of the other video streaming services. We also like Verizon's (NYSE:VZ) new custom TV packages, which include ESPN in two basic packages.
For these reasons, we believe Disney's cable network business will continue to deliver modest top-line and bottom-line growth in the coming years.
Other Potential Risks:
Macroeconomic environment and consumer spending
We pointed out how being a diversified entertainment company can offset this effect to an extent.
Changing consumer tastes and preference
We pointed out how this is mitigated by geographic and product diversification. Disney is also quite sensitive to consumer taste change, and it adapts its products accordingly.
We believe a rate hike is still possible for this year, but the extent and frequency will be reduced. Disney is only moderately leveraged, with a robust interest coverage of 35x.
Stock Catalysts:
Innovation and new products: This include building new brands/themes as well as revisit existing ones (e.g. Star Wars)
Demand for domestic theme parks has been strong for the recent quarters. There have been concerns on lower domestic spending powers, but we believe in Disney's ability to continue delivering solid ticket sales with the adoption of dynamic pricing strategy. With this strategy, price increases would likely not hugely affect demand, but would help to ease some of the park overcrowding issues.
Shanghai Disneyland will have its grand opening in June. This is the first one in mainland China, and we believe it has tremendous potential. Even though China is experiencing challenges like economic slowdowns and structural changes, we mentioned there are many positive catalysts for China. China's middle-class spending power has grown over the years as well. We could see that from the near $112M box office of Zootopia, only behind U.S. and Canada.
Recession-proof: Disney is a symbol of dream, innocence and joy (You probably have a smile on your face right now).
Successful movies like Zootopia. In our survey group, 98% of people think this movie is better than Frozen. Here are two SA articles I really like on Zootopia box office/impact analysis:
- The Potential Disney Stock Catalyst Nobody Saw Coming
- Disney: Killing It At The Box Office
We will go over more sector rotation strategies in the future articles. Stay tuned.
Share your thoughts in the comments below:
What do you like and not like about The Walt Disney Company?
Are you holding DIS in your portfolio?
What do you think of Zootopia?
Thank you for reading. We hope you liked it and found something helpful to your investing strategy out of it.
We dive deep into the most popular global topics and events to offer you an alternative insight. We provide independent equity research covering the Telecom, Technology & Media, Mining, and Financial Sectors, Dividend Investing Strategy & Value Stocks in both Canada & United States (TSX, NYSE, NASDAQ).
Follow us for more investment ideas, feel free to leave comments, and if you know someone else who may like this, feel free to share it with them. Spread the investment wisdom and grow portfolios together.
Disclosure: I/we have no positions in any stocks mentioned, and no plans to initiate any positions within the next 72 hours.
I wrote this article myself, and it expresses my own opinions. I am not receiving compensation for it (other than from Seeking Alpha). I have no business relationship with any company whose stock is mentioned in this article.