Introduction: In early February I wrote part 1 of my "How to Take a Home Run Swing on Crude Oil" series. I suggest you read that article first if you haven't already. With crude oil hovering around $40/bbl it is an appropriate time to revisit and evaluate this strategy. Since part one of this series was published, Bloomberg reported that the fifth most traded security amongst millennials was UWTI, a triple leveraged long crude oil ETN. I feel it necessary to caution again that UWTI is a day trading security and will not track 3x exposure over any time period greater than 24 hours. UWTI is not for those seeking to implement a long-term bullish crude oil strategy. Read this article if you desire more information on price decay of leveraged ETFs/ETNs.
Summary of Strategy: The premise of my last article was to present the idea of buying USO Jan 2018 $5 Calls in lieu of buying shares of the underlying security outright. The reasoning behind this strategy is three-fold:
1. The $5 strike on USO is an example of a "Deep-In-The-Money" option. DITM options boast a high delta meaning that they move in near lock-step with the underlying security and are less effected by the time value of money. The higher the delta, the more closely an option will move in sync with the underlying security. A delta of 1 (or -1 for puts) means that the option's price will move 100% with the underlying security's price.
2. The expiration date of January 2018 is what we call a LEAPS (Long-term Equity AnticiPation Securities) option. LEAPS are long-dated options. The long-dated expiration is a major benefit as it gives a time cushion for the investment thesis to play out which alleviates the pressure of trying to time the market.
3. There is a major tax advantage to buying options contracts on USO versus shares of the security. If you take gains within a year you will pay short-term capital gains taxed at the ordinary income tax rate when owning shares of USO. Options contracts on USO are considered "non-equity options" and thus qualify for IRS Section 1256 tax treatment (60% taxable at LTCG rates and 40% taxable at STCG rates). Also, USO is established as a partnership which means that you will receive a K-1 at tax time; something that can be avoided by buying the option.
Correlation of USO to Crude Oil Spot Price: Several readers of my last article remarked that the effects of contango should not be downplayed. Therefore we will take this time to analyze the performance of USO to the spot price of crude oil. In the time since my last article was published, crude oil has experienced a significant rally. The spot price of crude oil has gained approximately 30% from 2/4/2016 to 3/18/2016. So how did USO and UWTI fare in comparison with the spot price of crude oil?
| | | | |
| --- | --- | --- | --- |
| Prices at Close | /CL | USO | UWTI |
| 2/4/2016 | 31.69 | 9.12 | 19.90 |
| 3/18/2016 | 41.13 | 10.48 | 27.10 |
| % Gain | 29.8% | 14.9% | 36.2% |
With a look at the above table we can see that USO significantly underperformed the underlying commodity that it tracks. This is due to contango and other expenses that USO incurs to buy in and out of /CL futures contracts. It is nearly impossible to forecast, model, or predict the effects that contango will have on the price of USO so one must understand the associated risk. The below chart compares the price of both USO and UWTI along the same timeframe. Theoretically USO should have gained 29.8%. This chart also drives the point home that UWTI does not maintain its' 3x exposure in a buy-and-hold strategy. Also to be noted is a 35% drawdown in UWTI.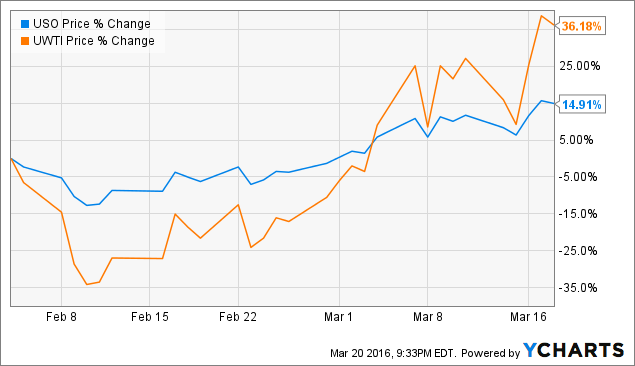 Performance of Strategy:
So how has the strategy that I proposed in my prior article fared? The table below shows that the value of the January 2018 $5 strike price calls on USO have increased in value by 23.4%; getting us much closer to the actual 29.8% that the underlying commodity gained.
| | | | |
| --- | --- | --- | --- |
| Prices at Close | /CL | USO | USO Jan 18 $5 Calls |
| 2/4/2016 | 31.69 | 9.12 | 4.78 |
| 3/18/2016 | 41.13 | 10.48 | 5.90 |
| % Gain | 29.8% | 14.9% | 23.4% |
For the sake of full disclosure it should be noted that my last article indicated that with crude trading around $40/bbl the calls should be priced at a 28% gain. The 5% deviation is the difference between a theoretical price and an actual price which has been negatively effected for reasons stated in the above section. Regardless, one can see that the strategy to buy the DITM LEAP options versus shares of USO has outperformed. The owner of the calls would be enjoying 10% more in gains than the owner of USO shares. The chart below shows the price action of the Jan 18 $5 contracts starting from the date my article was published to the most recent trading day as of publication. One can also note that open interest has increased significantly which provides for better liquidity and spread pricing.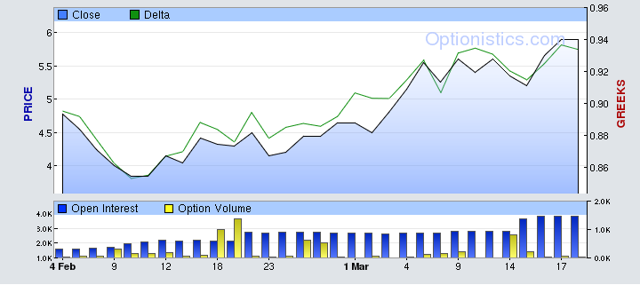 Looking Forward: I will spare readers from any type of forecasting where crude oil prices are headed next. Media outlets are saturated with professional opinions that are much more warranted than my own. Unfortunately, it may not be exactly clear because opinions vary wildly and it seems that each one regards their own as fact. The crude oil inventory glut is the most pertinent fundamental, however, we must keep in mind that there are many more variables effecting crude oil prices, including but not limited to geopolitical factors, climate, global demand, and legislation.
Conclusion: I would like to conclude part 2 by stating one of the most important phrases to remember - it is never a bad idea to sell and take profits. The only instance where this phrase does not apply is in very long-term investing; a strategy that I am very much a fan (and practicer) of, but a convention of which the strategy we are implementing here does not belong to. In keeping with the baseball theme I will say that this strategy has hit a double play thus far. There are four options one can take going forward.
1. You can allow the pinch runner to come on base for you. This means to cut your risk and sell. The road ahead is very rocky and uncertain. One who takes this route should avoid what I like to call "SCW Syndrome"; SCW being an acronym for "shoulda, coulda, woulda." It is all too easy to look back at a former investment that has continued to outperform and say "if I had only stayed put."
2. You can stay on base and hope that the next two batters can get you to third base or even home plate. By this I mean paring back your position and selling a portion, but not all, of your calls. This reduces your risk going forward and one could even reduce by the amount initially invested, leaving only gains or "house money" at risk.
3. You can step off base and take a lead towards third base. By this I mean leaving everything untouched and letting it ride. As we have enjoyed a nice rally in the price of crude this carries with it the risk that it can all be given back. The expiration of Jan 18 does mitigate some of this risk as you still have significant time left on your contracts.
4. You can try and steal third. By this I mean adding to your position in the hopes for further recovery in the spot price of crude oil. This carries with it substantial risk. As the price of crude oil recovers, the chance of it being "oversold", or unfairly valued, decreases along with the probability of outsized gains. This means that you have more headwinds than those who entered near the multi-year lows of high $20's/bbl-low $30's/bbl price range.
My goal is for this to shed light on alternate investment strategies for average investors. With the S&P 500 and DJIA indices sputtering so far in 2016 it is no doubt that investors are seeking alternative investments. A long-term investor should not let the fear of the market being overvalued rattle their cages. After all, staying on course with the broad market and buying through the fear has proven to be the most rewarding strategy of all for the average investor. For an investor that is bullish on oil, the strategy of buying USO Jan 2018 $5 calls has proven to have its merits.
Note On Options Trading: Options carry significant risk in comparison to securities. Before trading options you should understand strike prices, expirations, time value of money, and all other risks involved. Your losses are limited to the amount you pay for the contracts. In other words, your contracts can expire worthless and your entire amount invested can be lost. Several readers of my previous article presented more technical options strategies such as bull call spreads and synthetic longs. I have shied away from these strategies for the purpose of these articles. The reason being is that I am trying to present a simple enough idea for the average investor to understand and implement. Along with more technical options strategies often comes timidness and other emotional barriers for the average investor. A DITM LEAP strategy is a long-alternative strategy that could be explained to someone with limited investment experience.
Disclosure: I/we have no positions in any stocks mentioned, and no plans to initiate any positions within the next 72 hours.
I wrote this article myself, and it expresses my own opinions. I am not receiving compensation for it (other than from Seeking Alpha). I have no business relationship with any company whose stock is mentioned in this article.