Do you remember the last time Fitbit (NYSE:FIT) bulls were in a profitable position with regard to their stock ownership? It has been a long time since most could make that claim. That's probably because most Fitbit IPO beneficiaries have long since sold most, if not all, of their respective holdings in the company. In addition to this massive selling pressure on FIT shares, short interest continues to march ever higher. With short interest growing beyond 40 million shares presently and seemingly rising with every single update to the metric, the bulls are left wondering when this stock will break free of its self-imposed short stranglehold.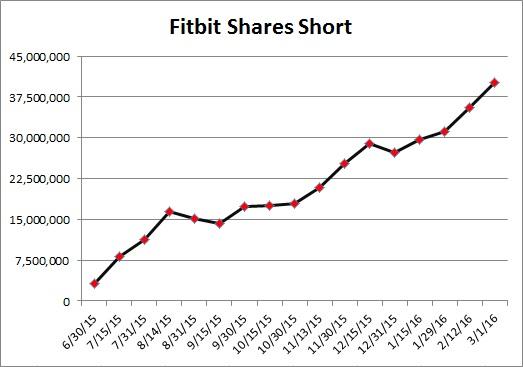 To be bullish on Fitbit is reasonable. Let me clarify that comment if I can by making a more complete sentence structure. To be bullish on Fitbit is reasonable if one has little experience in the consumer goods space, retail space and chooses to ignore the user engagement and/or attrition rate for Fitbit products. In fact, read most any bullish article on Seeking Alpha or elsewhere regarding Fitbit and wearables and you will likely never hear one mention of the attrition rate. There is no other key identifying metric for a consumer good than user engagement and/or attrition rate. Any analyst worth their "salt" uses this metric/identifier to forecast the lifecycle of a product and business model. It's not a variable that varies, meaning it is a constant and necessary part of analyzing consumer goods. Fitbit and all wearables are consumer goods - the attrition rate must be acknowledged in order to fully understand, respect and appreciate the business model for better or for worse. Fitbit recognizes their user engagement or attrition rate to be roughly 50% after 12 months of ownership.
Readers might recall from my article titled "Fitbit Q4 2015 Results Beg For Solving The Attrition Growth Rate" I stated the following:
So it is one thing to understand the total active users added in 2015, but when added to the active user base established through 2014, we have a serious issue to recognize with regard to the usefulness of health and fitness trackers. Let's take a deeper look that really isn't that deep at all, but will definitively not be discussed without my presentation. Guaranteed!
Looks like I was very much accurate - nobody will discuss the Fitbit attrition rate unless I present it in publication for investors to consider.
I don't discount that Fitbit has had strong results in the past and will have strong growth for fiscal year 2016. Having recognized this positive aspect of the Fitbit business, if I'm analyzing the company as a whole and for all its merits and shortcomings, don't I also have to recognize those very shortcomings? If I recognize that health and wellness is a growing area of concern for millions, including many corporations, don't I have to recognize all aspects of that area of concern? The truth of the matter is that health and wellness has always been an area of concern, that's why we have science, medicine, sponsorships, legislation and products that serve this area of concern. And more importantly, we have had them forever or as long as mankind has existed. Health and wellness is not a new trend nor is the growing obesity epidemic. The very nature of the adjective "epidemic" juxtaposed with the word obesity identifies the fault within the health and wellness area of concern or category, if you will. It certainly sets a standard as to the "value" or "weight" of fitness trackers within this area of concern and their potential ability to curb this epidemic being less than hoped for by many. A wrist band that tracks my steps, that's going to change this epidemic that has been taking shape for the last 50 years… give or take a couple decades? No, I'm genuinely asking. With Fitbit boasting a 50% attrition rate, the chances of Fitbit curbing the obesity epidemic is… well, fifty-fifty at best. Can you imagine investing in something that has a fifty-fifty chance of success? That's not really investing at all?
Health and wellness is a great buzz phrase? Hasn't amounted for much and for those who invested in the category over the years. Doesn't get much healthier than putting the right things into one's body does it? And Weight Watchers (NYSE:WTW) is probably one of the most concentrated business models centered on health and wellness. Max out the chart on that bad boy and what do you get long term?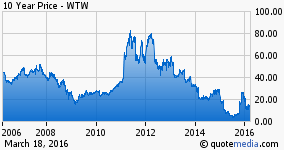 I tried to warn you. Health and wellness is one of the smallest product segments in all of consumer goods and fitness trackers only hit on the activity sub-class of products in the category. How many gyms have gone bankrupt in your neighborhood over the years and how many gym memberships go unused after the first year? Health and wellness, fitness… keep hyping that dream for yourself bulls, but I'd get much closer to the analytics if you propose to invest in the category. Hasn't been working well over the long-term for Whole Foods Market (NASDAQ:WFM) or Fresh Market (NASDAQ:TFM) investors. SodaStream's (NASDAQ:SODA) healthier alternative to store bought sodas with high fructose corn syrup, high caloric, sodium and sugar content hasn't helped that health and wellness oriented company. Besides offering products for the health conscious consumer, what else do these companies have in common? That's right, their respective stock charts all follow the same long-term pattern.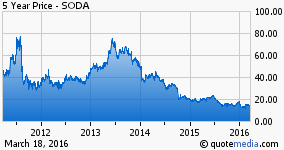 But now there's a wristband that can count our steps and that will solve the problems for Fitbit's bullish investors, right?
The worst part of the bullish analysis offered by Fitbit bulls is the lack of perspective. That might sound like an opinion, but look at the undeniable support and evidence of the statement I've made. Also, if these bulls don't completely ignore the attrition rate for wearables and Fitbit products, they seek out blame for the decline in the company's share price. Take for example the author Bull & Bear Trading.
Bull & Bear Trading has offered several articles denoting the potential, prospects and backward looking results of Fitbit. Along with his bullish sentiment and "raging bull" commentary on message boards, the author has never once mentioned the attrition rate of Fitbit products. Not once.
It's always darkest before the dawn and that colloquialism is what I look for in trading patterns. Investors might recall my last article indicated that despite my numerous warnings about Fitbit, I often find a trading opportunity. My last article indicated my long position in shares of FIT post the Q4 2015 earnings declarations. While Bull & Bear Trading invited investors or would-be investors to partake in shares of FIT on the long side prior to the earnings release, I remained on the sidelines as orders for the Blaze detected shortcomings from this new product line. In short, the Blaze orders indicated the product line could not support more than 18% of total revenues for the Q1 and Q2 quarters and as such my model remained pessimistic for the short-term prospects of FIT shares. I entered my first position in FIT post the Q4 2015 earnings release at $13.30 and bought more shares at $12.12 as indicated on my Twitter (NYSE:TWTR) page. Given the recognizable trading opportunity, I had little doubt that I would achieve a nice return on this trade. I exited my shares of FIT at $14.54 a share as indicated on Twitter for all to see. This marked the third successful trade I've made on the long side with shares of FIT since the downturn that commenced on January 5th with my initial coverage of the company. I'm not looking to make all the money FIT trading has to offer of course, just some.
Speaking about my last article on Fitbit, I invited readers and investors for an opportunity to better decipher the prospects for Fitbit through the company's attrition rate. I've denounced Fitbit products as being non-essential goods because of their usefulness factor. The usage rate of the product is key to understanding the total addressable market and when market saturation may be reached. Without this aspect of analysis, everything else regarding the Fitbit business seems rather positive. But the devil is in the details as they say. Was it enough for BlackBerry (NASDAQ:BBRY), formerly Research In Motion (RIMM), to be the leader in the smartphone category prior to 2011 and with sales showing increases quarter after quarter after quarter? It was probably more appropriate for investors in RIMM, back in those days, to better understand what the competition was doing and that the rate of sales growth was dramatically slowing for RIMM. Dramatically slowing growth, sounds familiar Fitbit bulls? Fitbit grew sales by triple digits last year and is expecting to grow sales 30-40% in 2016. What will sales growth look like next year? That was a rhetorical question as I expect the rate of sales growth to slow dramatically again in 2017. It will be impossible for 2017 sales to grow equally or increasingly beyond 2016's rate of sales growth and that isn't an opinion, folks.
The vast majority of Fitbit's sales growth is not from same-door-sales but rather distribution gains. Most sophisticated investors understand this aspect of consumer goods companies and as such they tend to play out the sales growth from the short side of shareholder participation. It's also generally why it is so difficult to get a "true short squeeze" for a consumer good stock. Most shorts will await the inevitable with regard to consumer goods stocks that IPO and that is aligned with market saturation. The stock always craters as evidenced by history. But oddly enough, with Fitbit, that inevitable fate has occurred extremely early in the stock's lifecycle, forcing traders to trade shares more frequently. But I digress.
Looking at the attrition rate for Fitbit products one easily recognizes that there is no so-called "grand opportunity" for this category or business model. Almost 50% of users attrited from the products after 12 months with another 40+% attriting after 24 months. So when Fitbit bulls say that the company has a loyal following, they would be remised if they didn't include the equal amount of detractors from the company's products. Fitbit bulls say that those who love the product will invite others into the product, but again they forget that the detractors might equally dissuade potential users. Losing 50% of your users annually is a huge problem for Fitbit long term and as early adopters are always the largest portions of early business cycle sales growth. Once this population of users has been exhausted, there are little left but gifted purchases. Fitbit sales already indicate the gifted purchase activity is greatly catching up with early adopter activity and as early adopters are becoming increasingly difficult to find. More than 40% of total fitness tracker sales for Fitbit occurred in the fourth quarter, the holiday gift-giving season. Slowing sales growth and eventual sales declines happen to every non-essential consumer good, so if you think it can't or won't happen to Fitbit then your argument is with history.
The one thing I would have to agree with Fitbit bulls about is that the competitive landscape narrative has been way overblown. Fitbit is and will likely dominate the wearables category and in the future most will leave it to Fitbit as the market becomes saturated and the total addressable market is realized to be significantly less than anticipated. Let's face it, 50% of Fitbit users can't find themselves using the product after purchase and that lines up with most fads if not all fads. That's just not where you want to be long term. The latest stats and surveys are showing glaring cracks in the wearables business model foundation. Take a look at the notes from Piper Jaffray's analyst Erinn Murphy:
While ownership has improved, we did detect the first downtick in future spending intentions on the (fitness band) category," Piper Jaffray analyst Erinn Murphy said in a report. "We could be approaching a saturation point with select brands."
In no way shape or form am I suggesting Fitbit doesn't offer a good product for consumers. The problem is the usefulness of the product. Unfortunately, the problems with Fitbit products are no different than its predecessor products from Polar which spirited fitness trackers during the turn of the century. Fitness trackers don't do anything for the user but hope to increase the user's daily activity. I could go through an entire list of pros and cons for fitness trackers, but the point in doing so is irrelevant as the attrition rate speaks volumes. What happens to Fitbit post the early adopter sales cycle is easy to predict and speaks to the comfort level of investors/traders positioned short the stock.
Moreover, shares of FIT are undervalued in my opinion. That sounds contradictory to my analytics, doesn't it? Not exactly! You see, the majority of shares are still held on the long side of investor participation regardless of how high the short participation has grown. With that being recognized there is still more hope for shares than skepticism, at least for the near mid-term. Having a firm understanding that the business still has a good 12-18 months worth of distribution gains to come alongside some meaningful corporate accounts, Fitbit should handily beat its FY16 guidance, propelling the stock higher. But don't count on shorts running for cover during this stock appreciation. More than likely, the majority of short shareholders will dollar-cost-average in perpetuity and until a more significant break in the stock can be achieved. At this point, that can only more appreciatively take place with the share price going higher.
Disclosure: I/we have no positions in any stocks mentioned, but may initiate a long position in FIT over the next 72 hours.
I wrote this article myself, and it expresses my own opinions. I am not receiving compensation for it (other than from Seeking Alpha). I have no business relationship with any company whose stock is mentioned in this article.