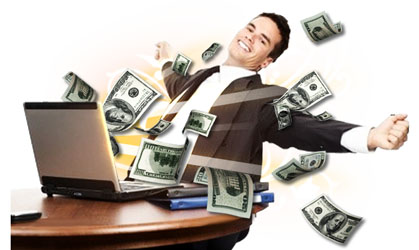 WTI crude oil price has rallied about 46% since Feb. 9, 2016. With this significant price recovery, the vast majority of oil companies' stocks, both upstream and midstream, posted enormous gains. These oil industries are the first beneficiaries from higher oil prices.
For the purpose of illustration, since Feb. 9, 2016, oil producers and drillers tracked by the ETF SPDR S&P Oil & Gas Exploration & Production ETF (NYSEARCA:XOP) rallied 26%. At the same time, the oversold Midstream oil sector ETF (NYSEARCA:AMLP) rallied close to 28%. AMLP is a favorite ETF for high-yield investors as it pays a very generous dividend yield, currently at 11.8%.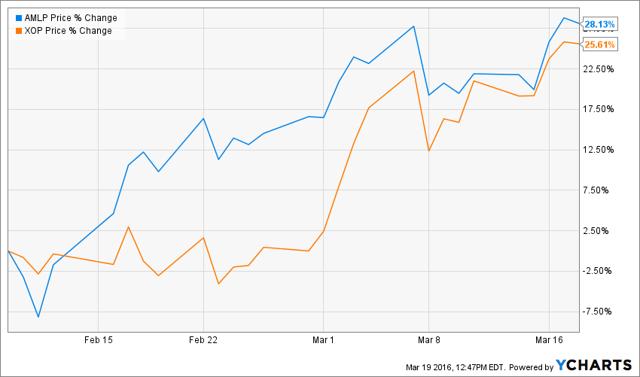 Today, there are other sectors that will also greatly benefit from higher oil prices. Two of these sectors, the business development sector and the high-yield closed-end funds space, also pay very generous yields similar to the midstream ETF AMLP. These two sectors are second beneficiaries from higher oil prices, and can be traded using their corresponding exchange traded products:
UBS ETRACS Wells Fargo Business Dev Co ETN (NYSEARCA:BDCS) - yield of 9.5%. BDCS is an ETN that tracks the largest listed business development companies.
Shares High Income ETF (NYSEARCA:YYY) - yield of 11.4%. YYY is an ETF that tracks some of the most popular listed high-yield closed-end funds.
The Extent of Damage Done to BDCS and YYY
The business development sector and high yield closed-end funds were hammered in 2014 and 2015 along with oil prices, as investors worried about their exposure to the commodity. To get a better idea of the extent of damage low oil prices have inflicted on the prices of these two sectors, we can look at the chart below that depicts oil price WTI crude, business development companies (BDCS), and closed-end-funds (YYY) from June 30, 2014, until Dec. 31, 2015.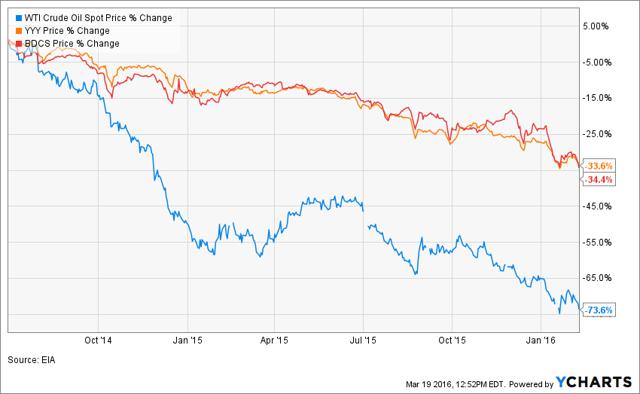 The collapse of the WTI crude price by 74% during the period resulted in a large sell-off for BDCS and YYY, by about 34% each.
Recent Price Recovery
Since these two sectors are second beneficiaries from higher oil prices, it is natural that their recovery will take more time than the recovery in oil-related sectors. This opens the door for income investors to enter these two high-yield sectors, which still have good upside potential. We should note that the price recovery of the related two ETFs has already started. Since Feb. 9, 2016, the exchange-traded note BDCS increased by 15.4%, while the ETF YYY increased by 11.4%.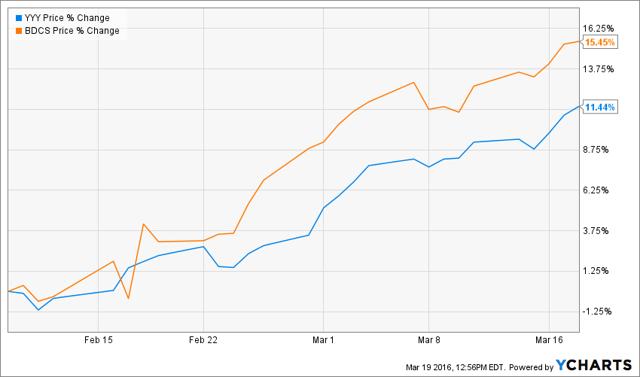 Today, both securities still trade at a discount from their average prices during 2012-14, prior to the oil market crash. BDCS trades at a 25% discount from its average recent historical price of $25/share, while YYY trades at a 27% discount from its average price of $23/share.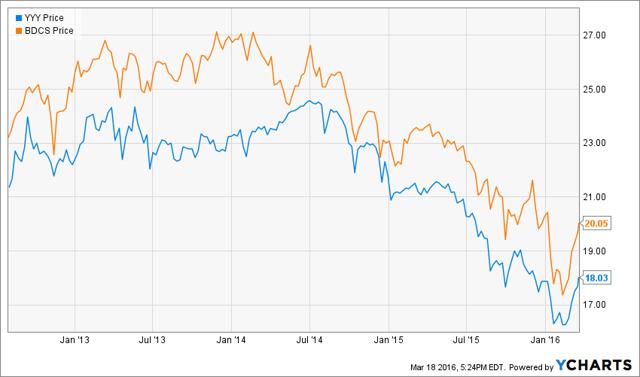 Business Development Companies
I recently wrote an article on Seeking Alpha explaining why investing in business development companies is possibly one of the most profitable high-yield investments for the next two years. I argued in the article why business development companies were very much undervalued, citing historical and absolute valuations, in addition to a manageable exposure to the oil sector.
I also suggested that going long the leverage exchange-traded note UBS ETRACS 2xLvg Long WF Business Dev Co ETN (NYSEARCA:BDCL) could result in investors doubling their money, in addition to a dividend yield of 24%. BDCL is a leveraged X2 ETN, and is designed to generate roughly double the dividend of BDCS and twice the return in price. However, investors are taking twice the exposure and risk. BDCL's variable dividend yield was at 24.1% at the time I wrote my report. Since my article was posted, the price of BDCL is up roughly 21%.
The story of business development companies is even more compelling today due to the following new developments:
In view of the recent oil and commodity recovery, risk exposure to loans related to these sectors is significantly reduced.
The improving U.S. economy should have a positive impact on the earnings of these companies. BDCs tend to thrive during periods of economic growth as their customer loan defaults go down. The U.S. economic indicators currently point to a slow but steady healthy growth.
BDC companies' net asset value should also improve with the recent recovery of the U.S. stock markets.
Finally, relative to their historical valuations, BDC companies are still trading at a discount.
I believe that business development companies' prices are still undervalued at the current price levels. Investing in the BDC sector today is likely to generate good capital gains in addition to generous dividends. The security BDCS currently yields 9.4%, while its leveraged counterpart BDCL has a stated variable yield of around 23%.
Note: The stated yield of BDCS above is based on a trailing 12 months data. I computed the projected yield for 2016 based on data from Morningstar and found that this instrument will yield about 3% more than the current state yield, and should generate a dividend of about 12.4% in 2016.
YieldShares High Income ETF (YYY) - yield of 11.4%
YYY is a fund of closed-end funds. This ETF holds 30 popular closed-end funds (CEFs) selected based on three criteria: fund yield, discount to net asset value, and liquidity. Most of the closed-end funds held by YYY are actively managed by experienced fund managers, such as BlackRock, Eaton Vance or Allianz. Their holdings include high-yield bond funds and dividend stocks. Many boost their income using a covered call options strategy in order to achieve a higher return to investors.
2015 was not a good one for high-yield closed-end funds, which were hit twice as price of oil and commodities collapsed. The first hit they took came from investors' perception that closed-end funds have a large exposure to oil and the metal commodities, and to junk bond debts. They were crushed a second time as some have exposure to emerging market debts and equities. And investors' fears of aggressive interest rate hikes by the Fed did not help.
The story of buying YYY today is very compelling, as several factors are working in favor of the underlying closed-end funds:
In many cases the sell-off was unjustified as many CEFs have very little exposure to junk debt or to the energy sector in general. Prices went into a free fall due to panic selling by investors. Such funds include PIMCO Dynamic Credit Funds (NYSE:PCI), Eaton Vance Limited Duration Income Fund (NYSEMKT:EVV), and two of the BlackRock Funds, (NYSE:BDJ) and (NYSE:BTZ).
Closed-end funds held by YYY are actively managed by professional asset managers, which in many cases had already sold many risky assets prior to the total collapse of commodities and junk bonds.
As oil and commodity prices improve, CEFs that have some exposure to this sector have their risk significantly reduced.
Improving commodity prices will have a positive impact on many emerging market economies which depend on the price of these commodities to balance their budgets. Logically, this should spur new investment interest in these oversold markets and should result in higher stock and bond markets as more money flows into these countries. Closed-end funds that have some exposure to emerging market debts include Aberdeen Asia-Pacific Income Fund Inc. (NYSEMKT:FAX).
Many emerging markets are currently undertaking an aggressive quantitative easing (QE) programs to help lift their economies. These efforts did not get unnoticed by investors. For example the new Chinese QE announcement resulted in a strong rally in the Asian markets. This will also help reduce the perceived risks on investing in CEFs.
Global interest rates are currently running at record low levels. The U.S. Fed reported this week that interest rate hikes will be slower than the markets expected. This will result in higher prices and more demand for high-yielding bonds.
Strengthening in international currencies against the U.S. dollar is likely to continue due to lowered U.S. rate hike expectations. This is positive for certain CEFs that hold international high-yield bonds denominated in foreign currencies, such as AllianceBernstein Global High Income (NYSE:AWF).
The sell-off in 2015 has resulted cheap net asset valuations (NAVs) for closed-end funds in general. Today, most of the underlying CEFs held by the security YYY are still selling at a large discount to their respective NAVs. The following are the top 10 holdings of YYY with the related dividend yield and discount to NAV: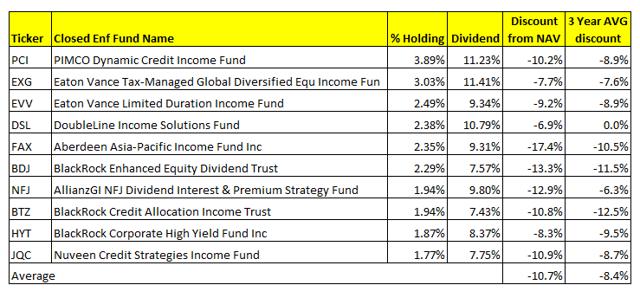 Source: Morningstar and Yieldshares.com.
Today, investors have the chance to buy into some of the best closed-end funds at a discount to NAV averaging around 10.7%. These discounts are still low compared to the three-year average of 8.4% (a 2.3% advantage). The historical discounts have been distorted over the past two years due to the severity of the sell-off. Therefore, it is my opinion that NAV price recovery should be more significant.
CEFL: A Leveraged Closed-End Product With a 20% Yield
Income investors with a higher risk tolerance and want exposure to closed-end funds might want to consider the leveraged product UBS ETRACS Monthly Pay 2xLvg Closed-End ETN (NYSEARCA:CEFL). CEFL is a leveraged 2X exchange-traded note ETN, and is designed to generate roughly double the yield of the YYY and twice the return in price, but investors are taking twice the exposure and risk. The ETN is issued by the Swiss banking giant UBS Bank, and has a variable distribution yield that is currently stated at 20%. Its dividends are paid on a monthly basis to noteholders.
Long-term investors should note that most UBS leveraged securities have an inherent flaw that stems from the fact that they are reset on a monthly basis. This means that they are set in a way that is likely to outperform their underlying assets during market rallies, but at the same time they will underperform their underlying assets during market downturns. The key here is timing. Since I expect YYY to do well in the foreseeable future, I believe that the timing for investing in CEFL is right. Investing in CEFL today should provide investors, in addition to hefty distribution yield of 20%, some price stability and hopefully some capital gains. I am currently long CEFL in my high-dividend portfolio.
Note: This product may not be suitable to many investors due to its higher risk nature (please refer to my footnote below).
Conclusion
Business development companies and high yield closed-end funds are secondary beneficiaries from higher oil prices and still have some room to run. For readers who missed out on my report on business development companies, it is not too late to get into this sector. Also, the story for closed-end-funds is compelling if we take into account all the new positive developments.
Both securities YYY (yield 11.4%) and BDCS (projected yield 12.4%) are highly diversified instruments and can be a great addition to a high yielding portfolio. In the current economic and market environment, these instruments should provide income investors with a solid and exceptionally fat distribution yield.
Join us at High Dividend Opportunities in our journey to uncover high-dividend stocks trading at bargain prices, and benefit from Live Alerts to pick them up. Our service includes a monthly newsletter and a high-dividend model portfolio yielding around 9%. We are dedicated to bring you the most profitable and newest high-dividend ideas. For more info, please click here.
Note to subscribers: There is no need to go long BDCS or YYY as we are already holding their leverage counterparts BDCL and CEFL. We bought them early and we are currently sitting on sizable capital gains. I expect this rally to continue.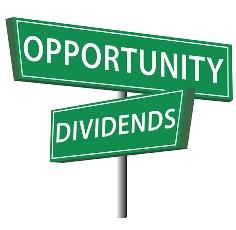 Risks of leverage instruments: CEFL and BDCL referred to above are leveraged 2X exchange notes issued by the Swiss banking giant UBS Bank. Investing in these securities results in holding the credit risk of underwriter UBS Bank. Leveraged securities are risky and only intended for investors with a high risk tolerance as in the case of market declines, losses can be magnified. There are other important reservations relating to these ETNs, which are included in the prospectus supplements posted on UBS Bank website.
Disclaimer: This article is intended to provide information to interested parties. I have no knowledge of individual investor circumstances, goals, and portfolio concentration and diversification. Readers are expected to conduct their own due diligence before making any investment decision.
Disclosure: I am/we are long BDCL, CEFL.
I wrote this article myself, and it expresses my own opinions. I am not receiving compensation for it (other than from Seeking Alpha). I have no business relationship with any company whose stock is mentioned in this article.