Less than two months ago, in anticipation of higher oil prices, we decided to establish a long position in Rowan's (NYSE:RDC) bonds maturing in 2019 with a coupon yield of 7.875%. At the time, I noted that RDC is possibly the second most creditworthy name in the industry, behind Diamond Offshore (NYSE:DO), and it made sense to enter into a position with slightly longer duration to gain exposure to the bonds' price movement.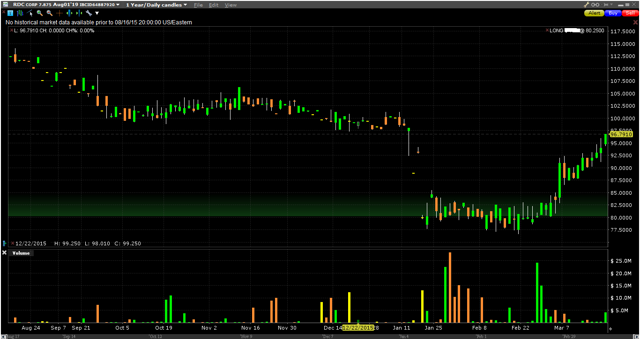 RDC is the only company that has completely finished its capex cycle and, more importantly, carries less exposure to the longer-cycle floater segment. In our view, the jackup segment will experience a quicker recovery if and when the industry begins its turnaround. Since our initial trade, RDC reported its Q4 and 2015 full-year earnings, which showed excellent progress on cash flow generation, as the company ended 2015 with over $480 million in cash.

It is noteworthy that RDC spent $700 million on newbuilds, made a net repayment of $98 million of debt, paid $50 million in dividends in 2015 and still increased cash by $145 million from the beginning of the year.

Cash now fully covers the $368 million bond maturity in 2017. Moreover, cash and expected operating income over the next three years also fully cover RDC's 2019 maturity, which, after recent repurchases, amounts to $436 million. In addition, the company has an untapped revolver with $1.3 billion availability through the facility's maturity in 2021.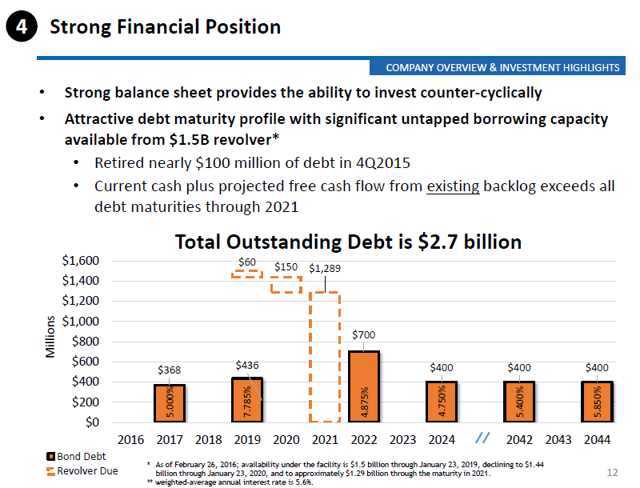 We are firmly convinced that RDC has sufficient means to retire this security at maturity. In light of that, we still view these bonds as worthy of holding, despite a 20% run-up in the price since our purchase. We expect a further 7-10% move in the price of the bonds over the next 12 months, which, coupled with a 7.875% yield, should make income investors considerably happy.
Disclosure: I am/we are long RDC 2019 BONDS.
I wrote this article myself, and it expresses my own opinions. I am not receiving compensation for it (other than from Seeking Alpha). I have no business relationship with any company whose stock is mentioned in this article.