Fannie Mae (OTCQB:FNMA) and Freddie Mac (OTCQB:FMCC) are two of the strongest if not the strongest and best companies in the United States. Their combined resumes, absent conservator accounting manipulations, include decades of routine and consistent profitability encouraging middle class homeownership. In 2008, when their levels of capital were at their highest point in known history, Fannie Mae and Freddie Mac were seized by the Federal Housing Finance Agency (FHFA) in conjunction with the United States Treasury. If the government, Deloitte and PwC's defense for their actions under the veil of conservatorship prevails, equity shares in the GSEs are worthless and so might be shares of any other company put into conservatorship. As a matter of fact, junior investors would likely begin to prefer receiverships to conservatorships in this scenario where motives behind net worth sweeps do not matter for the purposes of § 4617(f) (HERA 2008). Jonathan Macey filed the below response in an Amicus Curiae: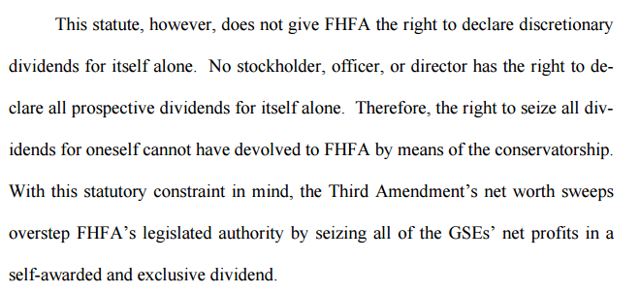 Investment Thesis: If any of the lawsuits against the third amendment net worth sweep, the accounting manipulations, or the merits of conservatorship in general prevail, billionaires like Bill Ackman are betting that the common shares in the long run could be worth upwards of $20. Ackman has provided profitability estimates: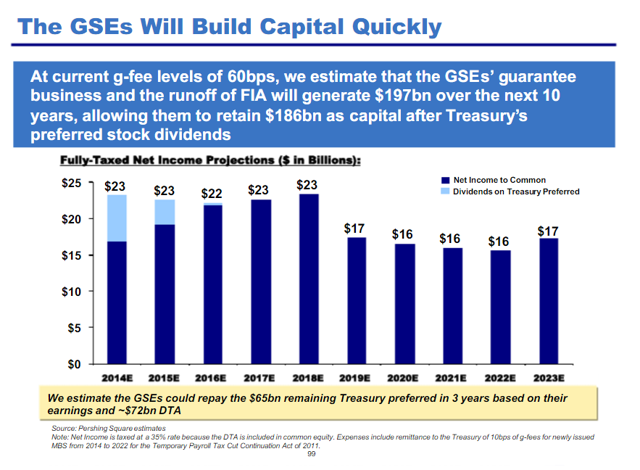 Notice in the latter years the normalized profitability hovers between $16 and $17 billion per year. The government itself is forecasting similar profitability. Forensic accounting reports have suggested that the twins were remarkably profitable throughout the crisis and that FHFA manipulated the financial statements in order to take all the money. The recent Lamberth ruling seems to say that it doesn't matter why the net worth sweep was implemented, which seems to suggest that any conservator can simply enter into a contract that sends the net worth of the conservatee to the conservator without judicial review.
Fannie Mae's prior CFO has outlined the planned takeover in an Amicus Curiae opposing the government's motion to dismiss a case trying to reverse the Net Worth sweep: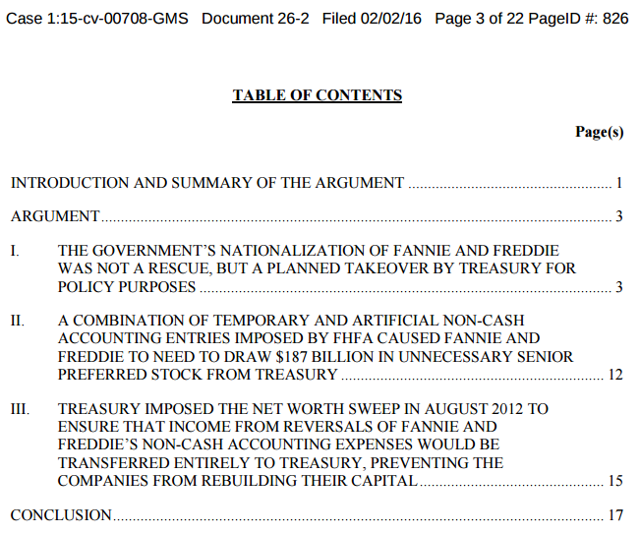 In a newer lawsuit filed by Timothy Pagliara, we find that according to Delaware law, paying dividends that impairs the capital for its preferred stock is illegal:

The government's view on these sorts of state law objections so far has been that HERA prevents judicial review of any sort and that Treasury's interpretation of federal law is the one that the rest of us should accept as the perpetual status quo. The latest move has been one to consolidate legal filings and there is a status conference at 2pm Monday March 28 for Jacobs v. FHFA with your host Judge Sleet. We're also waiting for some action on the motion to compel document production in Judge Sweeney's Court of Claims where the government appears to be asserting blanket privileges inappropriately.
$132.2B - the "Net" Funds Received from Treasury
One of the facts that doesn't get enough attention in this case is the actual amount of money that Treasury sent to the GSEs due primarily to non-cash accounting statements manufactured by FHFA to make the GSEs appear to be in a downward spiral:

There are now lawsuits against Deloitte and PwC alleging accounting fraud. Basically they are saying that the auditor's misstatements were designed and used by the government through FHFA to illegally force Fannie Mae and Freddie Mac to take billions of dollars from the government.
Underlying Motives For Net Worth Sweep Do Not Matter
According to Lamberth's interpretation of HERA, the accounting fraud wasn't even necessary to affect the net worth sweep. That is to say, any adequately capitalized company could be put into conservatorship and have their profits swept indefinitely and in perpetuity without recourse. The government's initial defense primarily consisted of the net worth sweep being implemented as a tool to arrest the downward spiral of the GSEs:

Any company in conservatorship is now subject to discretionary use of the net worth sweep, effectively making conservatorship a vehicle for controlling interests to evade the purpose of capital structure to the detriment of minority stakeholders. The National Black Chamber of Commerce has filed an Amicus Curiae: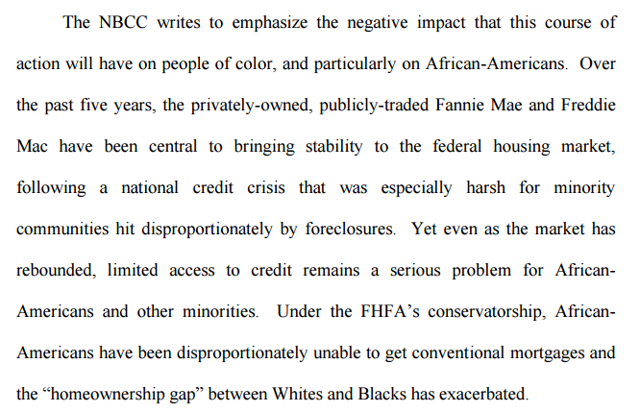 Fannie Mae and Freddie Mac haven't been able to do as good of a job as some may have liked since conservatorship started.
Judge Royce Lamberth's Interpretation of Conservatorship Law
The government claims that why they did what they did doesn't matter. Theoretically, this would make Melvin L. Watt the most powerful man on earth as he single-handedly controls the entire United States' home mortgage market. Although as a matter of public policy, so far there has been a line delineating the difference between debt and equity investors, as the net worth of Fannie Mae and Freddie Mac goes to zero, if the government decides to treat investors in agency mortgage backed securities like investors in the companies that produce them, mortgage backed real estate investment trusts that deal in GSE securities may be put at risk.
Also, since the government is in the name of conservatorship able to trample equity private property rights, the rights of owning equity in your home if you have a GSE mortgage are also at risk under Lamberth's opinion of HERA. This interpretation, if it becomes settled law has the potentially of fundamentally transforming how business is done in the United States.
Mario Ugoletti - Testimony Calls Into Question Evidence Up For Appeals
Ugoletti's written testimony provided for a class action suit raises many questions about the government's decision to take nearly all of the profits of Fannie Mae and Freddie Mac in the form of dividends, as well as the timing of the decision: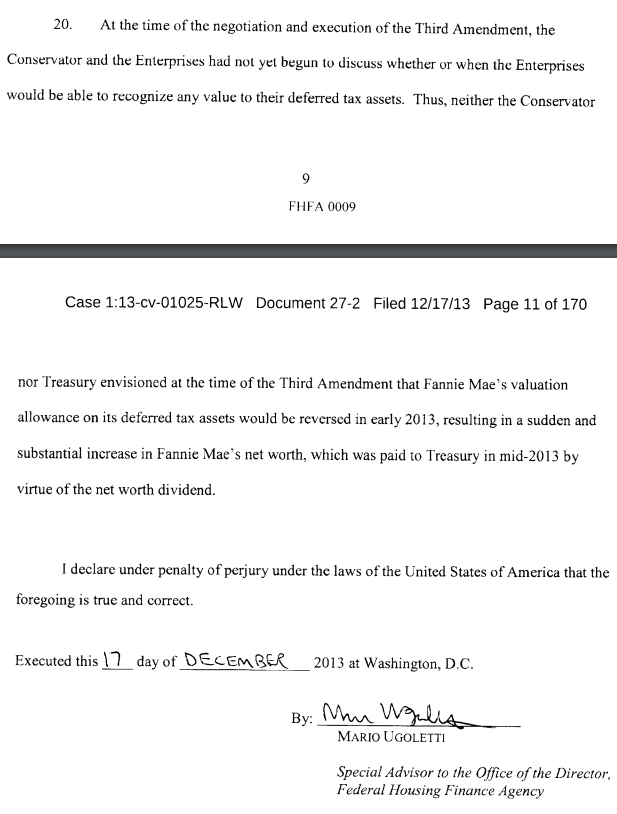 Subsequently, Mario was deposed on a wide variety of relevant topics surrounding FHFA's underlying motives: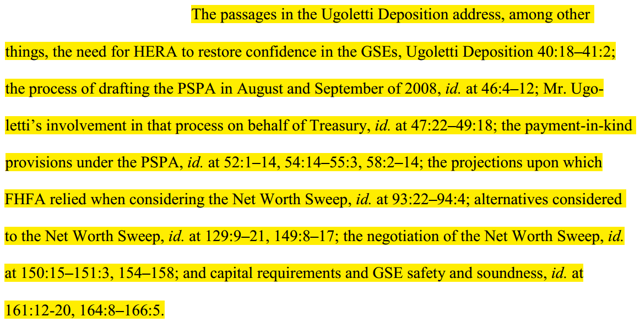 This testimony calls into question evidence submitted by FHFA in the district court: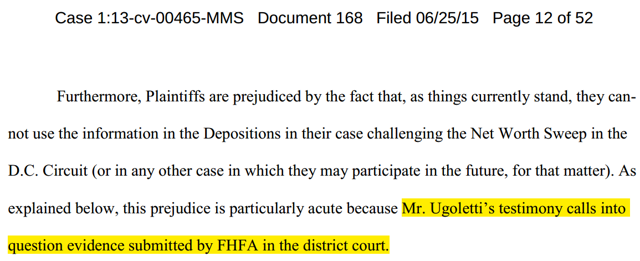 The direct implication is that Ugoletti finally decided to tell the truth. After the Lamberth ruling, when it became clear he no longer had to defend the motives behind the net worth sweep because they were irrelevant, he could talk more openly as he apparently did during his deposition. This is just one example of the government official story shifting. The outstanding question remaining to be answered is why they would change their story along the way and is it because discovered evidence disproved the original story? If this is the case and their earlier story was proven false, why should we believe their current story that they can do whatever they want without judicial review? To me, that sounds further fetched than the earlier story that has since been disproven. According to Tim Howard: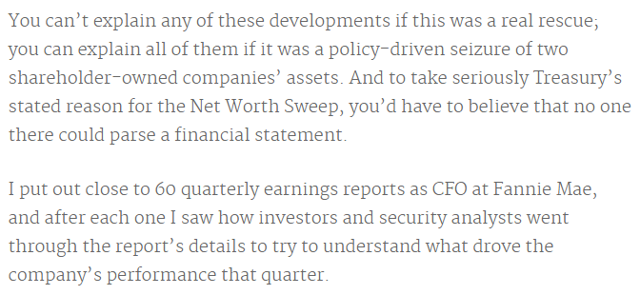 Why should we think that their story that they can do whatever they want is any different? I certainly do not and that's why I own shares as I happily await Oral Arguments on April 15. From there, I anticipate that we will have a ruling around 90 days later, but that's really just a point estimate or an educated guess. I am not a lawyer, but since FHFA officials appear to have lied about why they entered the third amendment, it's certainly possible that they're lying about their authority to enter into the third amendment in the first place. That being said, the government defense is now that a conservator can do whatever they want without judicial review and that includes taking the assets themselves or giving them away to anyone they want.
Regardless, it happened and the twins have been giving all of their money to Treasury for the better part of a decade. The conservatorships of Fannie Mae and Freddie Mac were planned in advance. The nature of the Senior Preferred Stock Purchase Agreements was designed to directly benefit Treasury from FHFA engaging in temporary non-cash adjustments to their accounting statements. Winding up the GSEs by means of taking their net worth to $0 by dividending out all of their money to Treasury is not the same as interest on debt as dividends are discretionary.
Summary & Conclusion
Fannie Mae and Freddie Mac are currently the proving ground for private property rights in America. The government has taken everything from them, and seeing as how they have $5 trillion in assets, it directly affects tens of millions of Americans nationwide and indirectly impacts every single person who rents or owns a home in America as these factors play into market pricing mechanisms.
The irony is that plaintiffs have alleged the government's defense as the fleet of yachts defense:

In fact, moves to restrict the salaries of the employees at Fannie Mae and Freddie Mac simply may permit a larger fleet of yachts for government use. For now, the money goes directly to the General Fund, but I would think that eventually if Lamberth's opinion becomes settled law, then FHFA and Treasury officials might take advantage of their authority by setting aside funding for their own initiatives in the period immediately before the GSEs are placed into receivership in a few years when their net worth is wound down to $0. You'll know it's happening in the unlikely event we get there when and if there is another round of non-cash writedowns on the GSE income statements and balance sheets.
The prevailing government defense is that FHFA can do whatever they want as conservator and owning shares is a bet against that interpretation of law. The government owns preferred shares. I own preferred shares. We both own preferred shares. The primary difference to date between the two classes is Treasury has been controlling the entire process, so it's not a surprise that their preferred shares are taking everything, albeit illegally.
Disclosure: I am/we are long FNMA, FNMAS, FMCKJ, FMCC.
I wrote this article myself, and it expresses my own opinions. I am not receiving compensation for it (other than from Seeking Alpha). I have no business relationship with any company whose stock is mentioned in this article.
Editor's Note: This article discusses one or more securities that do not trade on a major U.S. exchange. Please be aware of the risks associated with these stocks.