Last week, CBS (NYSE:CBS) hosted its annual Investor Day. At the event, CEO and Chairman Leslie Moonves was very enthusiastic about future of the company and how it will become a powerhouse of the media industry.
The most important message from the presentation was that CBS will be very engaged in the creation of its own original content. I believe that this is a field where the company has a real shot against its competitors, and investors should pay close attention to this initiative.
Content is the King
Last year was successful for CBS. The company increased its revenues for FY15 to $13.89 billion and saw a major growth of its affiliate and subscription fees by 15%. Most of the gains came from the Entertainment and Cable Networks segments, while Local Broadcasting failed to beat its previous results:

Source: Earnings Results
That's why the company decided to sell its Radio division, which includes 117 stations in 26 American markets, and become more efficient. It also cut its corporate expenses by 10% so that it could invest more money into two of its major brands: CBS and Showtime.
Last year was very good for the company in terms of original content. CBS maintained its status as the top network for crime genre and its recent comedy programs The Late Late Show with James Corden and The Late Show with Stephen Colbert opened the company to the new demographics, to which it didn't have access before.
Showtime also strengthened its lineup of original programs. The network launched its new series Billions, which tells a story about a hedge fund manager who makes his living by insider trading. The show had strong start and gathered 6.5 million viewers in the first week of broadcasting. It set a Showtime record, topping the 2013 Ray Donovan debut by 7%, and was renewed for the second season. The network also started production of a popular drama Twin Peaks that was aired on TV in the early 90s but was stopped later.
The reason behind betting on own content is due to the high competition and big risk of new entrants in the media business. Being a powerhouse of content will help CBS to license its IPs to services like Hulu, Netflix (NASDAQ:NFLX) and Amazon Prime (NASDAQ:AMZN) that are very popular among consumers, but needs to license a lot of products to stay afloat in the streaming business. At the presentation, Leslie Moonves enthusiastically discussed this topic and said that 80% of the content that is currently being exploited by Showtime and CBS networks is created by the company. This will help the company to bring more attention to its original series and successfully license it for other streaming services.
As for its own subscription services, CBS currently charges $5.99 for the CBS All Access package that includes most of the series produced by the company, and $10.99 for the Showtime OTT that is aimed at broadband-only households that don't have traditional pay-TV service. CBS believes that by 2020, it will achieve 8 million subscribers for both services and expects $2.5 billion in retransmission consent fees and reverse compensation revenue, a $500 million increase from its previous forecasts.
Overall, we could see that CBS tries to monetize its IPs as much as possible and at the same time not lose the quality of its products. Currently, most of the companies in TV business have the same return rate due to the big volatility and uncertainty on the market: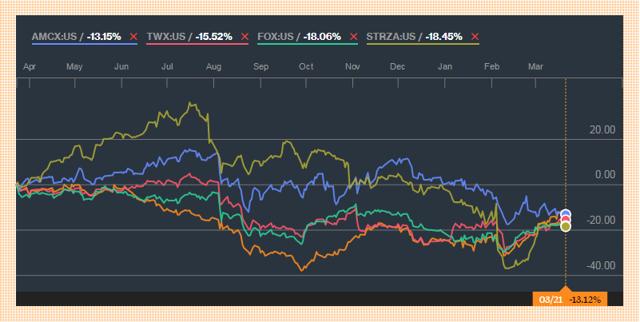 Source: Bloomberg
Note: The list, besides CBS, includes AMC Networks (NASDAQ:AMCX), Time Warner (NYSE:TWX), Twenty-First Century Fox (NASDAQ:FOX) and Starz (NASDAQ:STRZA)
Since all of them are currently on the same level, this opens up a big opportunity for each and every one of them to show that they play the game better than others. I believe that CBS would be one of the front-runners in this race due to the facts that I described above. It seems that most of the analysts also agree with my statement: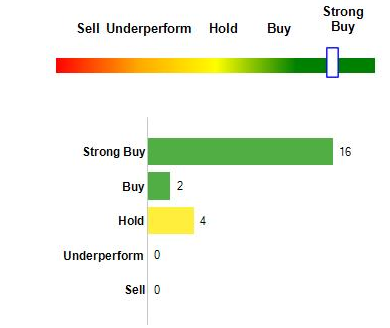 Source: NASDAQ
I believe that the move to focus more on creating and monetizing its own original content will help CBS to increase its presence in the highly competitive TV market and make a lot of profits for investors for the years to come.
Disclosure: I/we have no positions in any stocks mentioned, and no plans to initiate any positions within the next 72 hours.
I wrote this article myself, and it expresses my own opinions. I am not receiving compensation for it (other than from Seeking Alpha). I have no business relationship with any company whose stock is mentioned in this article.