In case you missed it, I wrote a bracketology article yesterday on the Multi-Family sector, including the two campus housing REITs. Later this month I plan to put together a Sweet 16 REIT article in which I will handpick a basket of 16 REITs from every sector and sub-sector. Although the bracketology series will be helpful in building my Sweet 16 REIT portfolio, the most important attribute will be valuation.
In other words, I will not be selecting just the most durable REITs, but also the cheapest ones. I plan to publish the Sweet 16 REIT portfolio in the upcoming edition of The Forbes Real Estate Investor on April 1st. For more information, CLICK HERE.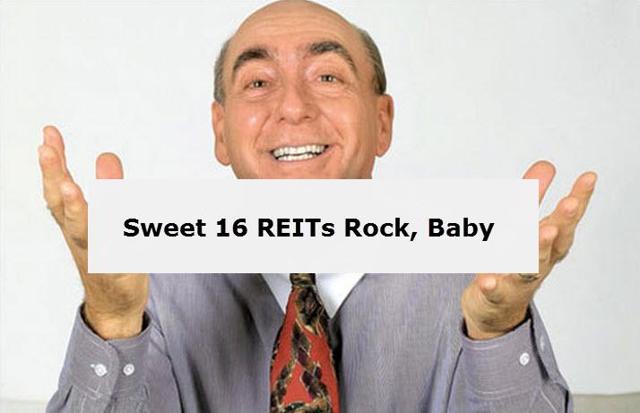 How To Unlock Value In Manufactured Housing REITs
One of the keys of successful REIT investing is watching economic and financial trends and identifying which sectors are poised to outperform the overall REIT market and determining which companies within these sectors should outperform the sector generally.
One of the most widely followed of all economic and financial trends is housing. This sector touches everyone, everywhere and was large enough to push the world into a financial crisis. No small feat. Housing also touches multiple REIT sectors in both the equity and mortgage space. As a result, we watch housing trends carefully and try to determine where to invest and when.
The following are some observations that we have seen within the housing markets and why we believe the manufactured housing market presents REIT investors with an opportunity to outperform the broader market.
Since bottoming out in 2010, the prices of existing homes have rebounded and have surpassed their pre-crisis highs:
Similarly, new home prices have also surpassed their pre-crisis highs:
While the reasons for the increase in housing prices are numerous (availability of credit, price of credit agency incentive etc..) the result has been somewhat obvious: a decline in the affordability of housing:
(For the housing affordability index, a value of 100 means that a family with the median income has exactly enough income to qualify for a mortgage on a median-priced home. An index above 100 signifies that family earning the median income has more than enough income to qualify for a mortgage loan on a median-priced home, assuming a 20 percent down payment. For example, a composite housing affordability index (COMPHAI) of 120.0 means a family earning the median family income has 120% of the income necessary to qualify for a conventional loan covering 80 percent of a median-priced existing single-family home.)
Add these together and we see:
What are the options for those being priced out of the housing market? The first thing that comes to mind is renting an apartment. This is why the following has occurred: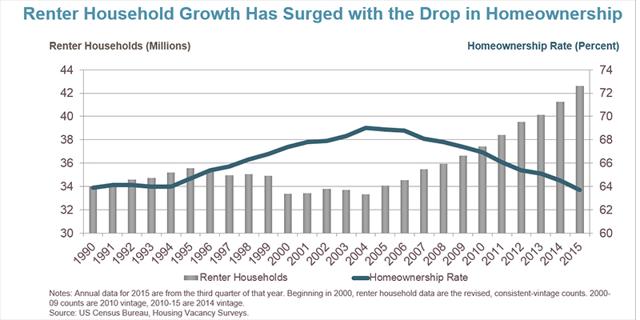 Which has led to the following: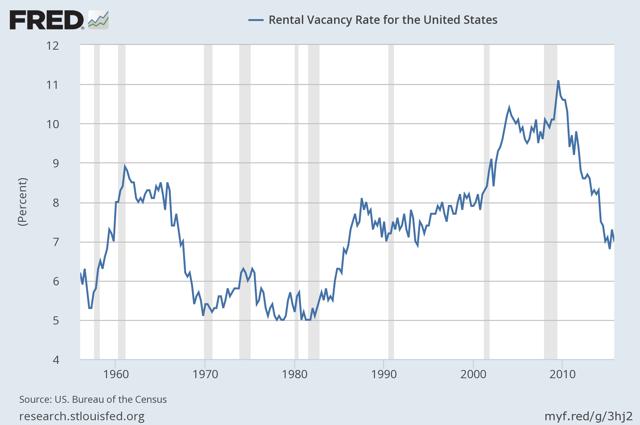 Which in turn has led to the following rents: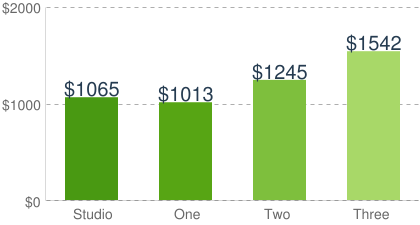 (US Average Rent by Bedroom. The average price of studio, one, two, and three bedrooms' apartments averaged across the United States (here).)
There is, however, one last option: manufactured housing.
A manufactured home is constructed entirely in a controlled factory environment, built to the federal Manufactured Home Construction and Safety Standards (better known as the HUD Code). A site-built home is built "on-site" using traditional building techniques that meet either a local or state building code.
Starting in 1976, the HUD Code established a stringent series of construction and safety standards that ensure that today's manufactured homes are superior to "mobile homes," the term used for factory-built homes produced prior to the introduction of the HUD Code. Today's manufactured homes are dramatically different in appearance from the "mobile homes" of yesterday…with estimates that more than 90 percent of today's manufactured homes never move from their original site. Manufactured homes, like site-built homes, are now available in a variety of designs, floor plans, and amenities. Today's manufactured homes are indistinguishable from site-built homes and are fully compatible with any neighborhood architectural style. (source here)
Remember earlier the cost of housing, or more appropriately, the increased cost of housing, was referenced, this is where manufactured housing looks increasingly compelling. Consider the following chart: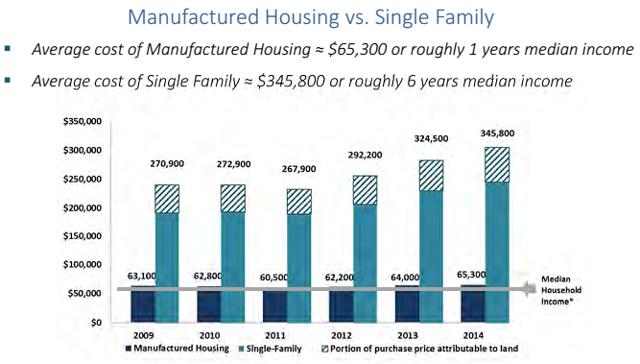 Source: SUI presentation
The interesting thing, and why we believe that the sector is attractive from a macro perspective, is that unlike the alternatives such as multifamily, manufactured housing has not seen the amount of growth and/or development that might be expected. The following chart shows that shipments of manufactured homes has only picked up marginally in the last few years after having fallen considerably over the last decade.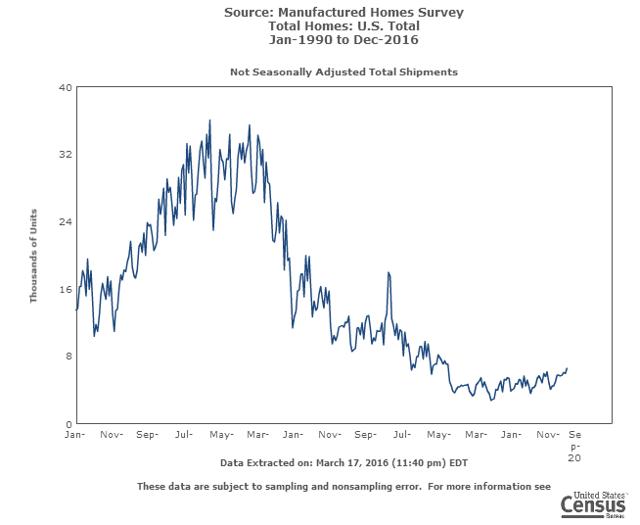 Supply has not increased more than marginally. As a result of supply not keeping pace with demand (as well as an increase in the quality of manufactured housing over the last twenty years), the average sales price of manufactured homes has increased: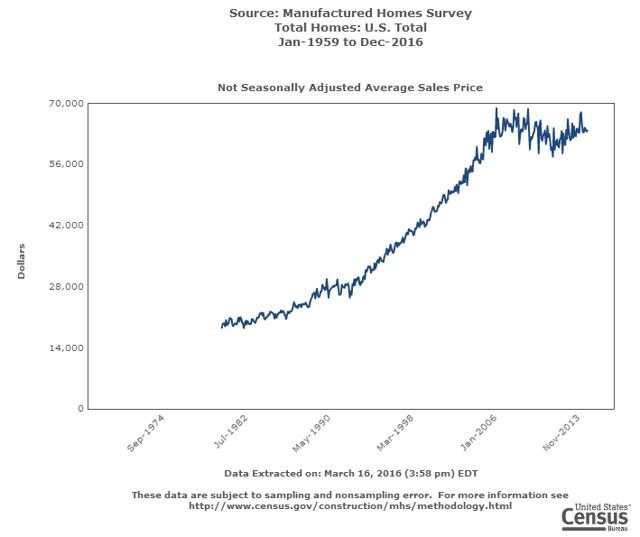 Interestingly, the average price has been steady over the last few years, rather than increasing further. This might imply (and we believe it does) that supply and demand have been roughly in balance at current levels.
Contrast this to multifamily starts: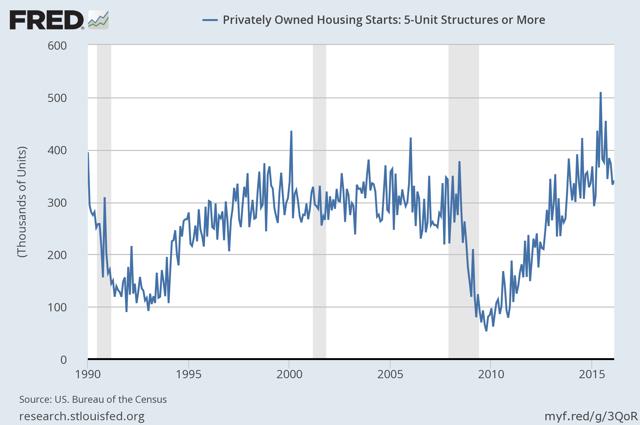 Since the financial crisis, multifamily starts have increased significantly. Should demand wane, absorption will suffer and vacancy rates will begin to rise.
Finally, manufactured housing increasingly plays into the changing demographics of the United States, namely, the graying of the population: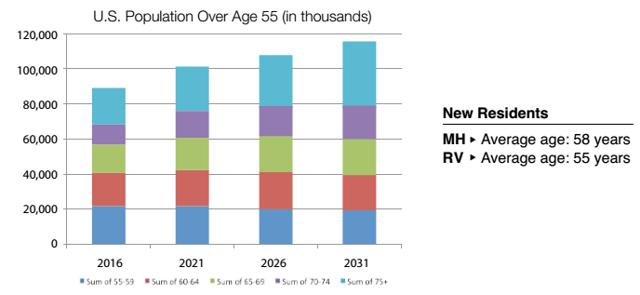 Marcus and Millichap, in their second half 2015 manufactured housing report summarized this thesis very well:
Strong employment growth, rising home prices and retiring baby boomers will bolster manufactured home operations in most metros this year. Healthy job creation is generating a need for housing, and higher home prices in more markets are pushing the cost of a traditional home beyond the reach of many workers. This is resulting in a lack of affordable housing options in many cities. Meanwhile, in other areas of the country, particularly the Sunbelt, the swell of retirees will underpin demand for manufactured homes. Indeed, through the first half of 2015, the shipment of manufactured homes nationwide jumped 8.5 percent following a 5.5 percent climb during the same period one year earlier. As of May of this year, Texas had received the greatest portion of the total homes shipped throughout the country, accounting for 19 percent, followed by Florida and California with 6.5 and 4.3 percent, respectively. Increased demand is contributing to an overall rise in price. During the first quarter of 2015, the average sales price of new manufactured homes in the U.S. edged up 1 percent;
Higher yields and the low cost of borrowing are enticing investors to manufactured home communities. While many existing owners are enlarging their portfolios, other buyers are exchanging out of other product types, attracted by higher cap rates. This has expanded the pool of investors, creating competition for the limited supply of quality assets listed. As a result, transaction activity throughout the U.S. rose 13 percent over the most recent 12 months ending in July. This follows a 42 percent jump one year earlier.
As we see it, an investor has two means of investing in housing alternatives: multifamily housing or manufactured housing. Given the 4% cap rates, current rental rates and supply coming on line in the multifamily housing market, we believe an investor could reap higher rewards in the manufactured housing sector, where the cap rates are higher (approximately 7-8%), supply and demand are in balance and the demographics are favorable.
REITs are involved in the ownership and development of manufactured housing communities. The roles they play in the sector can vary, from ownership of the land (property owner) to ownership of the housing (landlord). In addition, most of the REITs involved in manufactured housing also own recreational vehicle ("RV") sites, which help diversify and further stabilize operating performance. In fact, the stability of net operating income ("NOI") is one of the more attractive features of manufactured housing REITS: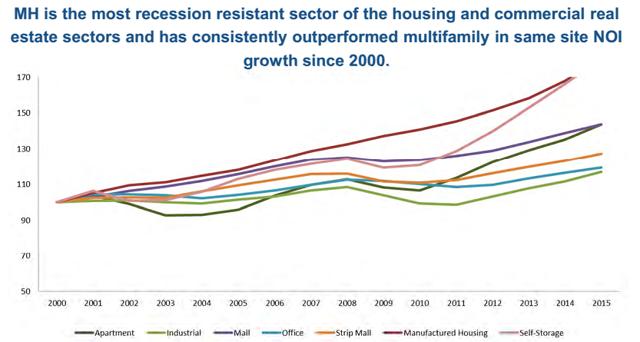 Source: Green Street Advisors
As a result of the supply/demand balance and the favorable the demographic trends, we believe that the manufactured housing sector is well placed to benefit going forward and potentially produce above average returns for investors. As a result of this belief, we will be producing research on the REITs involved in this sector, namely Equity Lifestyle Properties (NYSE:ELS), Sun Communities (NYSE:SUI) and UMH Properties (NYSE:UMH).
Author's Note: I'm a Wall Street writer, and that means that I am not always right with my predictions or recommendations. That also applies to my grammar. Please excuse any typos, and I assure you that I will do my best to correct any errors if they are overlooked.
Finally, this article is free, and my sole purpose for writing it is to assist with my research (I am the editor of a newsletter, Forbes Real Estate Investor), while also providing a forum for second-level thinking. If you have not followed me, please take 5 seconds and click my name above (top of the page).
The only guarantee that I will give you is that I will uncover each and every rock I can, in an effort to find satisfactory investments that "upon thorough analysis promises safety of principal and satisfactory return. Operations not meeting these requirements are speculative." (Ben Graham)
Disclaimer: This article is intended to provide information to interested parties. As I have no knowledge of individual investor circumstances, goals, and/or portfolio concentration or diversification, readers are expected to complete their own due diligence before purchasing any stocks mentioned or recommended.