Background
Orion Marine Group (NYSE:ORN) was founded in 1994 and is headquartered in Houston, Texas. Historically it has provided heavy civil marine construction and project management services; specializing in marine construction on, over and under the water in the continental United States (U.S.), Alaska, Canada, and the Caribbean Basin. The company completed its acquisition of T.A.S. Commercial Concrete Construction, LLC in August 2015. This has expanded the company's reach into commercial concrete construction. The recent acquisition has resulted in the company having two operating and reportable segments - heavy civil marine construction and commercial concrete construction.
Services and Customers
Services provided by the marine construction segment can be broadly classified into three areas - Marine Construction, Dredging services and Specialty Services. Maintenance dredging projects are a source of recurring revenue for the company and are to some extent protected from competition. Dredging in the navigable waters of the U.S. is governed by the Merchant Marine / "Jones" Act of 1920. It requires this activity to be documented with a coastwise endorsement, to be owned and controlled by U.S. citizens and manned by U.S. crews. Specialty services include design, salvage, demolition, surveying, towing, diving and underwater inspection, excavation and repair. Contract revenues generated from private sector customers decreased to 40.1% of total segment contract revenues in 2015, for this segment. The rest came from Federal, State and Local governments. For the years 2012-2014 revenue from private customers for this segment was above 50%.
TAS provides turnkey concrete construction services in light commercial, structural and other areas. Services provided include concrete pour and finish, dirt work, layout, forming, rebar and mesh. Contract revenues in the commercial concrete construction segment are primarily derived from private sector customers. Contract revenues generated from private sector customers represented 91.9% of total segment revenue for 2015.
2015 Company and Stock price performance
Though the company has shown an operating profit only in one of the last five years, its gross margin (with the exception of 2015) and revenues have shown a steady increase over the same period as shown in the graph below.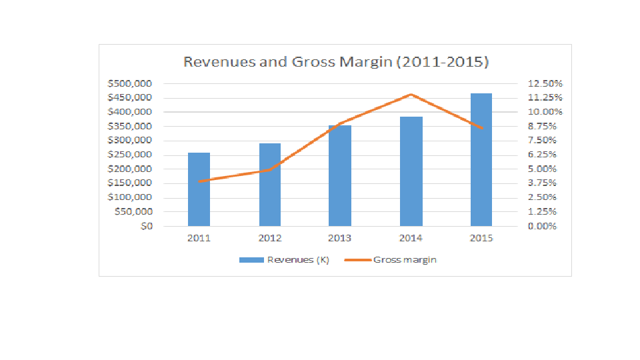 In 2015 the company reported an operating loss of $7.53m on contract revenues of $466.5m. Contract revenues in the Marine Construction Segment decreased ~ 10% in 2015. This segment reported an operating loss of $13.6m on revenues of 347.1m. The company attributes the revenue decrease primarily to project write down costs from five projects managed by the Tampa office, and delays in beginning projects in the Gulf Coast region. Project delays were due to bad weather conditions during the first and second quarters. The Tampa office was affected by the loss of the company's former chief operating officer who was based there, and had significant influence over its operations. Three of the five affected projects continue on and provide no margin, while two have been completed. So these events could effectively be considered to be onetime events. TAS had an operating income of $6.14m on revenues of $119.4m since the acquisition date of August 5, 2015. This offset some of the losses incurred in the Marine segment.
Backlog for the heavy civil marine construction segment at December 31, 2015 was $194.3 million, as compared with $215.9 million at December 31, 2014, a decrease of 10.0%. Backlog for the commercial concrete construction segment at December 31, 2015 was $163.3 million, as compared with $145.4 million at December 31, 2014, an increase of 12.3% from the prior year period. Backlog at any point of time usually represents a portion of the revenue the company can expect to realize in the subsequent twelve month period. The company's stock price reached a multi-year low of ~ $3.3 earlier this year but has since recovered to $5.35 (as of 3/18/2016).
Future expectations and valuation
The company reports that it continues to see solid demand for turnkey solutions in the Marine Construction segment from private customers; driven by increased levels of capex by midstream and downstream oil and gas companies. It also sees opportunities from local port authorities in this segment. In the Commercial concrete construction segment the company sees growth in nonresidential construction as a result of significant population increases in Houston and Dallas. The company is also exploring potential opportunities to bring both the heavy civil marine construction and commercial concrete construction services to work on projects. The company anticipates seeing a weak Q1 2016 and steady improvement over the rest of the year.
The company has grown through acquisitions but has kept its debt at reasonable levels. Following the acquisition of TAS for $110.3m the company had a term loan balance of $133.3 million as of September 30, 2015. As of December 31, 2015 outstanding principal balance had been reduced to $106.6 million. Barring any unforeseen events, 2016 revenues can be conservatively projected to be around $610m. If the company can earn a net operating profit after taxes of 4% in 2016 (the company has exceeded this in the past) on this revenue base, the per share value is around $ 6.0 - a significant upside to the current price.
The company does face some risks in 2016. It is likely that the company's revenues from oil and natural gas capex projects will be negatively impacted, if oil prices remain at the current low levels, or head lower to levels seen earlier this year. However given the recent acquisition of TAS, there is limited downside to owning the stock at current prices.
Disclosure: I am/we are long ORN.
I wrote this article myself, and it expresses my own opinions. I am not receiving compensation for it (other than from Seeking Alpha). I have no business relationship with any company whose stock is mentioned in this article.