Last week we got news about a possible large order of self driving Mercedes Benz cars by transportation network company Uber (Private:UBER). This would be a very huge order for Daimler (OTCPK:DDAIY) (OTCPK:DDAIF), but even without such an order Daimler looks well positioned to remain on growth track.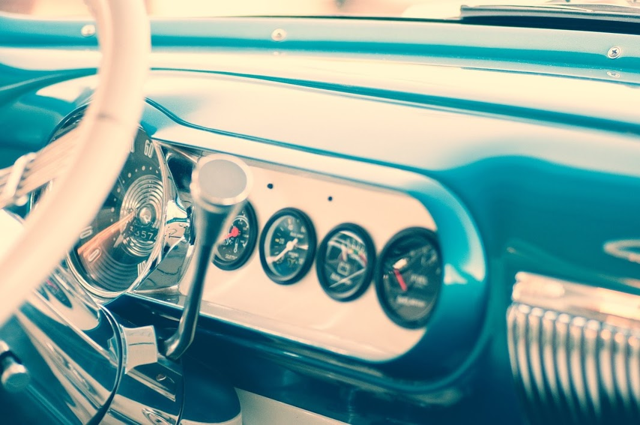 Uber reportedly is looking for a fleet of self-driving cars, and has apparently chosen Mercedes-Benz as a supplier. German Manager Magazin reported that sources in both companies (Uber and Daimler) stated Uber had placed an order for 100,000 self-driving Mercedes-Benz S class cars.
Now an order of 100,000 cars sounds large by itself, but it is even more sizeable when we account for the fact that the S class is Mercedes-Benz top model: One car sells for a minimum of $95,650 in the US (and a price of $92,000 in Europe), and this price does not include any self-driving technology yet.
With a couple of extras and such self-driving technology built in, I believe we can assume a price of at least $100,000 per such car, even including rebates.
The Uber contract would thus be worth $10 billion alone, which would represent a boost of six percent to Daimler's top line. Since higher tier products come with higher margins, we can assume that a fleet of S class models would mean a substantial boost to Daimler's bottom line. But even if this story turns out as not true, Daimler wouldn't be in a bad position.
The company has been growing a lot in 2015, and 2016 looks good so far as well:
In January Mercedes-Benz sold 151,000 cars, up 19.9% over the prior year. Mercedes-Benz saw volume increases in Europe, the Asia-Pacific region and the Americas. In Europe volumes increased 15.2% to 55,000 cars, making Mercedes-Benz the leader in the premium market in Great Britain, Spain, Portugal and Switzerland, where Mercedes-Benz grew more than 20% each. In the Asia-Pacific region Mercedes-Benz grew at an even faster pace, increasing volumes by 37.1% to 63,000 cars. This growth was based on 50% unit growth in China, Mercedes-Benz' biggest market (the Chinese business now has a run rate of 500,000 annually). In the NAFTA region volumes grew 2.3% to 28,000 cars in January.
Volume growth was especially strong in the SUV segment, which saw volumes surge by 62.5% in January (in comparison to January 2015), which bodes well for the company's top line growth, since SUVs usually come with higher selling prices and higher margins than smaller cars (e.g. GL class with a sales price starting at $65,000 versus C class with a sales price starting at $39,000).
In February Mercedes-Benz continued to grow, reporting an 11.2% increase in deliveries. The absolute number was 144,000 cars in February, volumes grew in Europe, the NAFTA region and Asia again. China once again was a huge growth contributor, with sales increasing 27% yoy. SUVs again were the biggest contributor, increasing their volumes from 31,000 to 46,000 in February alone (up 49% yoy).
Year to date company wide deliveries in the car segment are thus up 15.6% to 304,000 cars, poising the company for another record year in 2016.
Daimler's truck business has not reported any numbers for the current year yet, but closed last year with more than 500,000 vehicles sold to its customers, the third year on year increase in a row. The company targets 700,000 truck deliveries in 2020, which shows the company's aggressive expansion strategy in this segment. Daimler plans to do so by increasing its market share (e.g. its market share in the NAFTA region in weight classes 6-8 increased 200 base points in 2015, allowing for 20% volume growth). Daimler plans to open six new regional sales centers for its trucking business, the first of those has opened late last year in Dubai, five more will follow, including ones in Kenya, South Africa and Singapore. With these expansions Daimler seeks to increase its market share and sales volumes in emerging markets in Africa and Asia, where the company's market share is lower than in its established markets in North America and Europe.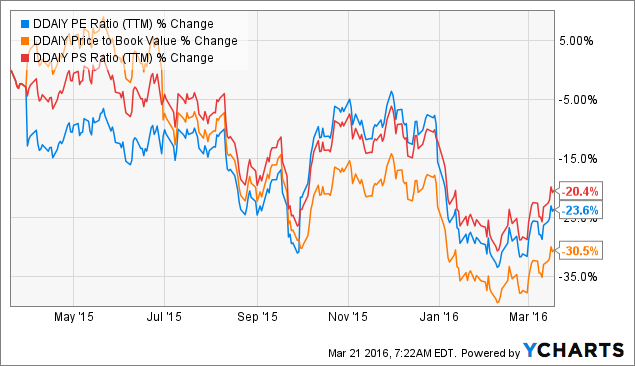 Despite these positives the company's valuation has dropped significantly over the last year, which makes Daimler's shares look attractive right now. Daimler's trailing PE ratio is down 24% over the last year, whilst its price to sales ratio and price to book multiple dropped 20% and 31%, respectively.
Since Daimler's valuation has not been high a year ago, and is even less so now (the company trades at less than nine times trailing earnings, and with its growth momentum 2016's earnings should come in higher), I believe Daimler's shares are attractively priced right now.
Takeaway
Uber is looking for a fleet of self-driving cars, which could result in a very large contract for Daimler. But even if this would not happen, Daimler's growth track is still unbroken. With volume increases in January and February in all markets and positive sales mix due to higher SUV sales, Daimler is poised for very strong quarterly results.
Since Daimler's valuation has come down a lot over the last year, and the company is very inexpensive right now, I believe Daimler's shares look attractive.
Disclosure: I/we have no positions in any stocks mentioned, and no plans to initiate any positions within the next 72 hours.
I wrote this article myself, and it expresses my own opinions. I am not receiving compensation for it (other than from Seeking Alpha). I have no business relationship with any company whose stock is mentioned in this article.
Editor's Note: This article discusses one or more securities that do not trade on a major U.S. exchange. Please be aware of the risks associated with these stocks.