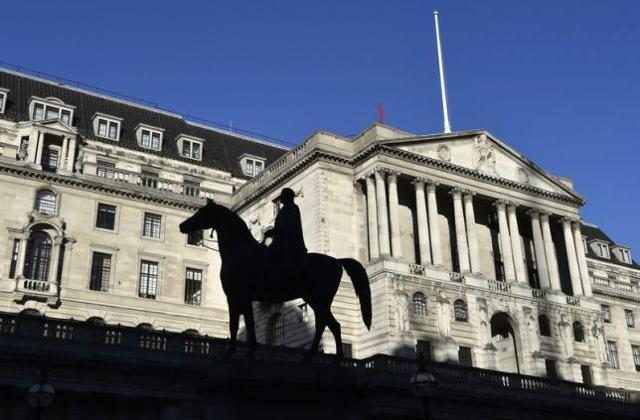 The British pound and the CurrencyShares British Pound Sterling Trust ETF (NYSEARCA:FXB) have had a great run in the last four weeks. So much so we have decided to close our position for the time being. The reason is that there are still a great number of bears on the British pound with many intent on selling the rally. We believe this, along with macroeconomic factors, will inevitably draw the British pound down against the U.S. dollar. Taking profit at this point will allow traders to lock in their gains and buy in again at a cheaper price to do it all over again should they please.
As you will see on the chart shown below, the FXB has rallied very strongly in the last four weeks and put on gains of 4.38 percent for traders.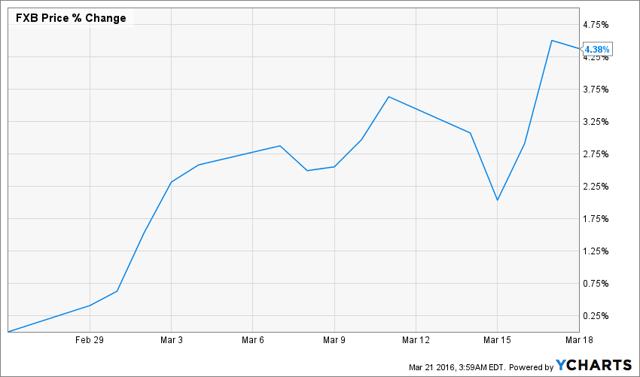 Sourced from Ycharts.com
There are a number of reasons for these gains. One obvious reason is the Federal Reserve's decision to keep rates on hold for another month at least, as well as reduce the number of expected increases this year. The U.S. dollar weakened against most major currencies as a result of that meeting, and the Bank of England's own meeting a day later further compounded the British pound's strengthening.
In its statement it painted a reasonably positive picture of the British economy which appears to have been received favorably. The Bank of England explained that both consumer confidence and business investment are above their historical averages, the labour market was tightening, and rising productivity would likely support real incomes and consumption.
The latest on the Brexit.
Whilst the media opinion on the likelihood of a Brexit occurring seems to change each week, when it comes down to it, we still don't believe voters will vote in favour of an exit from the European Union. The most recent poll shown below by What UK Thinks does only show a narrow lead for remaining in the E.U., but we expect this to widen as the June 23 vote date draws closer.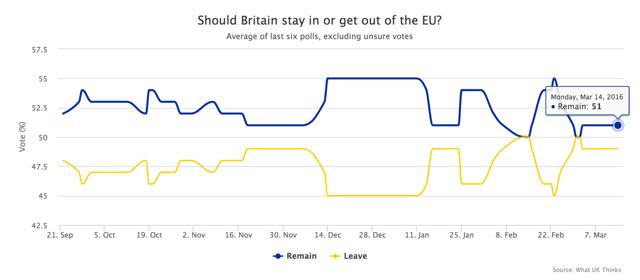 Sourced from the Guardian
We still don't believe the Brexit will happen.
Why are we so confident about the Brexit being averted, you might ask? Well we will never be so bold as to call it a certainty, we just feel there is an increasingly higher probability of Britain remaining in the European Union. After a difficult period following the global financial crisis, the British economy is looking good again. House prices are climbing, employment is strong, and consumer and business confidence is very positive. We just don't expect the public would want to risk this with the economic uncertainty that the United Kingdom would face by leaving the European Union. The global financial crisis is still a very recent event, and few would want to go through that again.
It is fair to say that not every member of the voting public necessarily cares about the economy. But there are compelling arguments that we feel will hit home with them. A recent report by PricewaterhouseCoopers revealed that a Brexit could lead to almost one million job losses by 2020. With around 30 million employed persons in the UK at present, that equates to 1 in 30 workers losing their job. Additionally, a weaker British pound as a result of a Brexit will make traveling so much more expensive. We believe the British pound's weakness against the euro, shown below, would intensify further for example.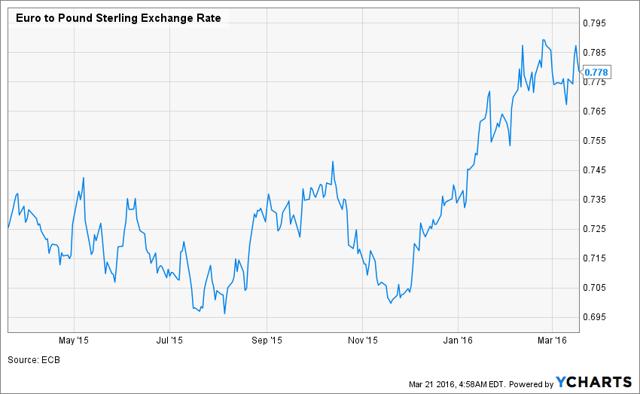 Sourced from Ycharts
We're stepping away from the British pound.
As we said at the top, we have closed our long position on the British pound against the U.S. dollar for now. The gains since February 26 have been very strong and we expect there to be selling pressure on the pound as the U.S. dollar starts to find its feet again and Brexit concerns continue to flare up.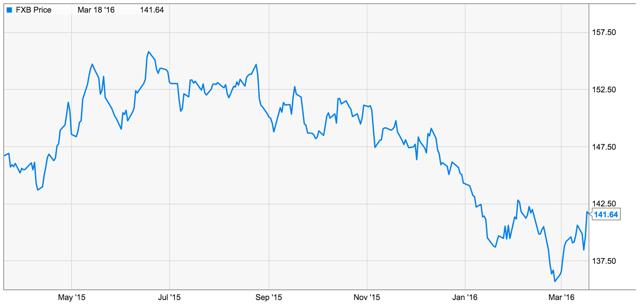 Sourced from Ycharts
We believe that FXB has a strong chance of dropping down to around 138.00 and see that as a great point to buy back in. If the United Kingdom votes to stay in the European Union on June 23 then we expect FXB will climb back to pre-Brexit levels of around 155.00. This would mean a return of 12.3 percent if buying in at 138.00. Alternatively, patient investors which are holding FXB currently could just sit tight and wait for those gains.
Whichever you are, we wish you the best of luck with your trades!
Disclosure: I/we have no positions in any stocks mentioned, and no plans to initiate any positions within the next 72 hours.
I wrote this article myself, and it expresses my own opinions. I am not receiving compensation for it (other than from Seeking Alpha). I have no business relationship with any company whose stock is mentioned in this article.